Instagram is a popular social app for both iOS and Android devices. There are many concerned parents out there who want to know what their children are doing on social media and how they are representing themselves there, but protecting children on social media can present many challenges for parents.
Here, we will share you easiest way to track and view your child's Instagram account and activity.
Part One: Reasons Why It's Important to Check Your Child's Instagram Account
Kids on social media networks can be a scary scenario for parents, however with proper guidance, the effects of modern gadgets on child development can also be largely beneficial. Here are some reasons for every parent to start monitoring their child's Instagram activity.
Cyberbullying: Most kids who are harassed online by cyberbullies suffer emotional distress but never tell their parents. Monitoring can alert you if someone may be bullying your child – or if your child has been bullying someone else.
Limit screen time: Parents who monitor are more aware of how much time their child is actually spending online, and they are therefore more likely to place and enforce limits on screen time. Kids need time to be active and exercise their minds in other ways.
Safeguard their reputation: Certain things shouldn't be posted online because they will harm your child's reputation or hurt their future chances for a job or college admission. Monitoring lets you know if your child (or their friends) post something damaging.
Protect their personal information: Children unintentionally reveal more about themselves and their whereabouts than they should online, helping dangerous "digital strangers" find them in the real world.
---
Part Two: How to Track A Child's Instagram
If you wanna track your child's Instagram, we would recommend you opt for PanSpy Instagram account tracker. It will help you remotely monitor your child's Instagram activities to increase kids' safety online. Apart from keeping track of a child's Instagram activity, this kid phone tracking app also enables parents to track all the activities including call history, location, E-mails, Document, Calendar, Photo, Video, Social Apps like Skype, Facebook, Snapchat, Kik, Tinder, Line and more on your kid's smartphone. In addition, it works in stealth mode so that you can monitor kid's Instagram without them knowing.
Why Choose This Tool to Track Your Kid's Instagram: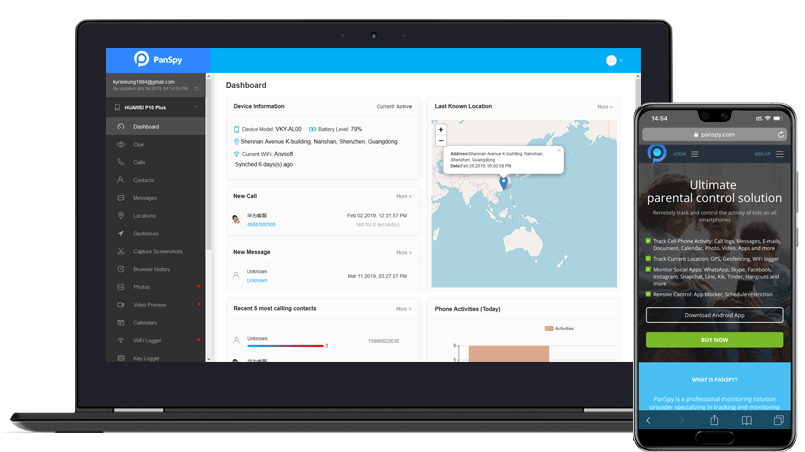 Keep Track of Instagram Activity Easily: With the help of this Instagram tracker, you are able to view all shared links via Instagram direct messages, browse all messages your child sent or received.
View Call Logs: With this application, you can check incoming, outgoing, missed or rejected phone calls including contact names, phone numbers, call duration, timestamps, chronology. Also, you can access information about a calling person from the address book.
Monitor Web Browsing History: It allows users to access target device's browsing history including link of browsing website, the correct records of browsing date and time.
Check Instant Messaging Chats and Other Social Apps: Thanks to PanSpy, monitoring Instagram messages becomes easier. In addictions, you can view chats conversation from other social apps like Hangouts, Tinder, Viber, Skype, KIK, Wechat, Line and other IM chats.
Track GPS Location and Set Geofences: Want to know about the exact whereabouts of your kids? PanSpy gives you ability to check the route history of the device and accurate the real-time location of the device. You can even create a well-thought-out Geo-fence for your kid's safety.
Remote Control: You can monitor and block harmful apps and games as well as schedule restrictions on device usage time.
Four Steps to Track Instagram on your child's Mobile Phone
Step 1: Create A PanSpy Account
Firstly, click the Sign Up option on the top right corner of this page to create a PanSpy account. Then, enter your valid email ID and password for registration. After that, you will receive a confirmation link. Simply navigate to your Email address, tap the link to activate your account. Then follow the Setup Wizard to complete the following setup process.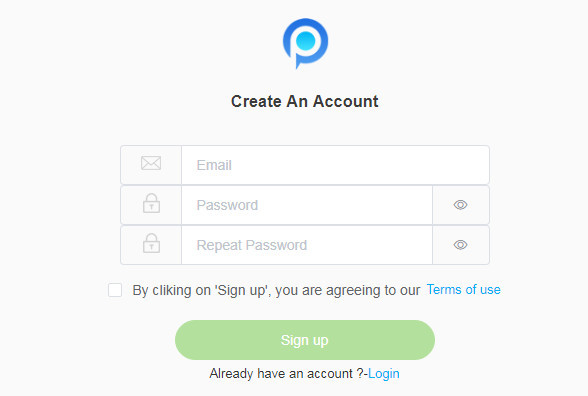 Step 2: Select A Subscription.
Currently, there are two different editions available, one is Premium Edition, the other is Ultimate Edition. Both editions support for 1-month subscription, quarter subscription and 1-year subscription, you can check the pricing details here. Simply select a subscription you need. Then a remote control panel will load on your computer. With your PanSpy Account, you can log in anytime.
Step 3: Install and Set Up PanSpy App on Target Phone.
After successfully subscribed the service, PanSpy will send you a download link for installing the apk to the target phone. Simply download and install the PanSpy app on the target phone. Login in with your PanSpy account and authorize PanSpy to access data on the monitored mobile phone according to the instructions. Once done, you can choose to remove the app icon or keep it on the homescreen.
Step 4: Start Tracking Your Kid's Instagram.
After the setup process on the cell phone is complete, turn back to the PanSpy Control Panel on your computer. Now, you will get complete access to the target phone and all supported features are listed on the panel so that you can click each category to view the data including calls, messages, emails, apps, photos, browsing histories, Viber, Snapchat, WhatsApp, Line, Facebook, etc. Simply click Social Apps > Instagram on the left side of the dashboard to start monitoring on your kid's Instagram activity.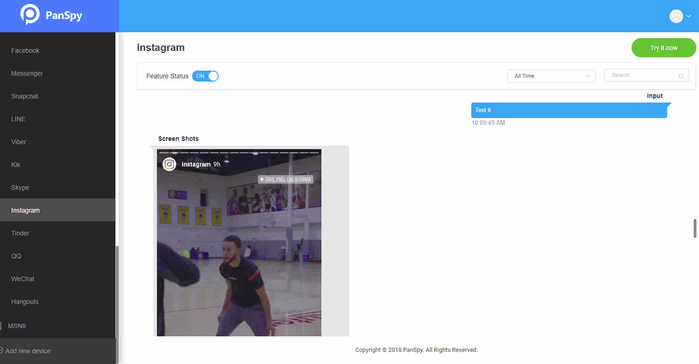 Note: for the first time you enter the dashboard or control panel, it takes some time to sync all data from monitored device. PanSpy will fail to sync newest data if the monitored device is powered off or disconnected to the internet.
---
Instagram can be a fun social app for kids to play with. However, Instagram can also present privacy concerns and content that's inappropriate for younger children. To protect your kids from potential risks of Instagram, parents should learn how to track a child's Instagram account and activity.
Reminders: All apps or tools introduced in this article shall be for legal use only. Please follow the Terms & Use and End User License Agreement (EULA) before trying any of them. Any consequences of improper use should be borne by users.