Smartphones have become a prominent part of everyday work and personal life. The recent explosion of iPhones, Androids, and other smartphones have provided people with the ability to access the entirety of the Internet on-the-go and at any given moment. However, this huge culture shift in personal technology delivers an endless river of information that negatively impacts us psychologically – being linked to fueling anxiety, stress, concentration, sleep and much more. Most people are glued to their smartphones all the time. Worse, a lot of those people would rather look into their phones than have a conversation with a real person. Are you addicted to your phone.In this article, we will share you some effective cell phone addiction solutions to get rid of smartphone addiction.
Part 1. What Is Cell Phone Addiction?
Cell phone addiction is a disorder involving compulsive overuse of the mobile devices, usually quantified as the number of times users access their devices and/or the total amount of time they are online over a specified period. Cell phone addiction is so common, especially teen cell phone addiction, it becomes an acute question in many modern families. Kids aren't the only ones who suffer from overuse, experts say. It's hard to overcome because using mobile devices is now an endemic part of the modern world.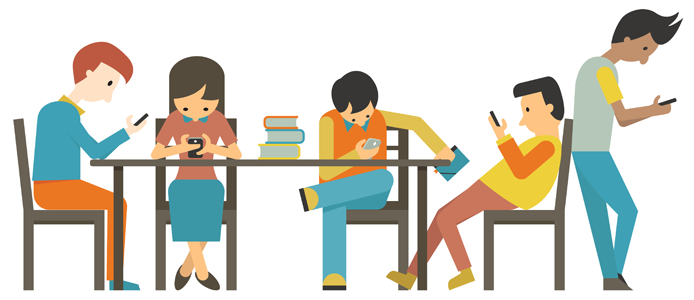 Although phone addiction is not yet classified as a psychological disorder, experts have identified problematic patterns and behaviors. One of the most telling characteristics is the fear of losing access to one's phone or not having connectivity. Here are signs and symptoms of cell phone addiction.
A constant need to use a cell phone more often. Do you find yourself mindlessly reaching for your phone? Or refreshing your social media feeds, even when you just checked them minutes ago?
Has put a relationship or job at risk due to excessive cell phone use. For instance, checking your phone instead of working on an important assignment, or checking Facebook during a romantic dinner—your phone is interfering with your life and you are addicted.
Withdrawal, when cell phone or network is unreachable. A drug-like withdrawal when not allowed to use the cellphone. The effects can include shaking, sweating, headaches, and nausea.
Depression. Turns to cell phone when experiencing unwanted feelings such as anxiety or depression.
---
Part 2. 4 Solutions to Break Your Phone Addiction?
Download a helper app. Download an application to help cut down on cell phone use. There are apps that can help curb your overreliance on your device. You're able to set time limits for certain apps, forcing you to step away from Facebook.
Create no-phone time zones. Set time periods in which you shouldn't use your phone (i.e., 9 p.m. to 7 a.m.). This means that for at least 2 hours of your day(when you're most productive work happens) you close off your phone and stay completely dedicated to the work in front of you.
Kick your device out of bed. Turn phone off before going to bed. Switching off the phone before going to sleep will help you sleep better as well.
Take distracting apps off your home screen. Part of the problem with phone overuse is that all of the addicting apps are right there. Removing the Facebook app makes access more difficult, and can help you avoid the first step in the cycle of constantly flipping from app to app.
---
Part 3. How to Help Your Child Break Cell Phone Addiction?
With the development of technologies and a wide variety of the latest mobile devices available in the market. It is a mobile phone addiction, and its symptoms can be found among people almost in any part of the world. Especially, it is a problem for the younger generation. The best possible ways of helping your child get over excessive use of cellphones are:
Use a parental control app. For example, PanSpy - this application allows you to view installed Apps on the target device, block harmful applications and monitor the frequent using ones. This will help beat phone addiction.



Family fun time. Spend your weekends doing fun family activities. We love roller skating, walking, swimming. Have fun being active together and your kids will get into healthy habits. Then you won't worry about them chilling out for a bit on a mobile device.
Kick your device out of bed. Turn phone off before going to bed. Switching off the phone before going to sleep will help you sleep better as well.
Smart phone free time. If you have older children who are more in control of their own phone, it's good to teach them to have some smart phone free time to show them that the world does continue even when they aren't hooked up.
Summary: All in all, a parental control and monitoring application such as PanSpy that allows parents to monitor themselves and their children does a great favor to get rid of addiction to excessive cellphone usage. Hopefully, those cell phone addiction solutions mentioned in this article will help you solve this modern problem.
---
START MONITORING NOW:
Reminders: All apps or tools introduced in this article shall be for legal use only. Please follow the Terms & Use and End User License Agreement (EULA) before trying any of them. Any consequences of improper use should be borne by users.