Set limitations on your smartphone
Put on some restrictions on your smartphone can help you come out of TikTok addiction much easier. For example, you can limit the usage of TikTok app on your smartphone, and here is how to do it:
How to set limitations on the usage of TikTok on an iPhone/iPad
If you are using an iPhone/iPad, you can set limitations on the usage of TikTok on the iOS device with the build-in tool named Screen Time. And you can follow the steps below.
Open Settings on your child's iPhone or iPad, scroll down to find and click on Screen time.
Tap App Limits on the panel, and click on Add Limit.
Select TikTok app under Creative category. And click on Next, set your desired time limit such as 2 hours. Once it reached the time you set, you can't use the TikTok app anymore on your iPhone.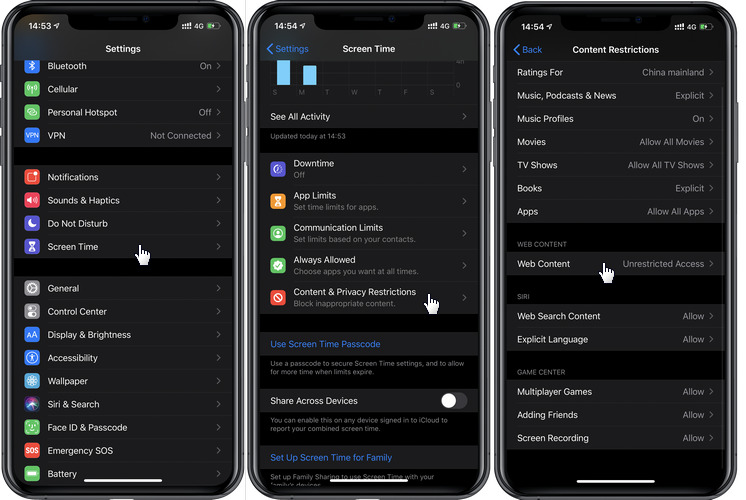 Set limitations on the usage of TikTok on Android device or tablet
To set limitations on Android device or tablet, you can install mobile monitoring app on your device. PanSpy is a smartphone monitoring tool that designed for parental control and mobile monitoring. It helps you track all kinds of activities on the target device and put restrictions on the device usage. Here are the steps:
Step 1: Create a PanSpy account.
First of all, to start with the service, you need to create an account. Go to PanSpy official website and click SIGN UP on the upper right corner to create your account. You need to use a valid Email address and will receive the confirmation email, you may need to check junk or spam folder to find it. Simply click on the link to activate your account. And then you can sign in the account to continue.
Step 2: Install PanSpy on your smartphone.
Once you successfully sign in your account on the console, you will see the setup wizard to walk you through.
Select Android and set a name&age on the page, and then it will ask you to download PanSpy app on your device. So enter panspy.me on the browser address bar, download and install PanSpy app. Open it and sign in your PanSpy account, then you need to authorize the app. All Important permissions need to be authorized, and the Optional permissions are according to your own needs.
Step 3: View all activities on the console.
After you finish all the steps above, you can now sign in your PanSpy account on the Control Panel to view all activities on your device. It needs some time to upload all data to the server when you use it for the first time.
Step 4: Put restrictions on the device usage.
If you can't help using your phone at bedtime, you can limit the usage of it with PanSpy. Click on Remote Control feature, find Schedule Restriction, and set time restriction on the panel so that you can't use your smartphone at the period of time.