How to Monitor Your Child's Android Device
If you are on a quest for the best solution to your problem how can I monitor my Childs text messages for free then, you have come to the right place. We find a great tool for you that will assist you in solving such problem. PanSpy, a professional monitoring solution provider specializing in tracking and monitoring tools for smartphone users, helps you get access to Contacts, Calls, Text messages, location, photos, and multiple social apps like WhatsApp, Skype, Facebook, Instagram, Snapchat, Line, Kik, Tinder, Hangouts etc.
Why Choose PanSpy to Monitor My Child's Text Messages:
Access to text messages: This feature of PanSpy is the best solution to your problem how can I monitor my childs text messages for free. Engaging with PanSpy messages function, you can easily access the sent and received SMS of the target device.
Location tracking feature: The most demanding feature of any monitoring app is location tracking. This feature enables parents to track the live location of the target device of their kid. It will show you exact location as long as target device is connected to the internet and turned on.
Completely work in stealth mode: This is an amazing feature of PanSpy that makes it complete spying tool. PanSpy works silently in the background of the target device and records every single activity that is performed on the target device.
Web browsing monitoring: Web browser monitoring function of PanSpy is integrated features that enable the user to easily access the web browsing history. It will show you history from a web browser such as Google Chrome, Mozilla Firefox, Safari, and others.
Other Features of PanSpy
Track Cell Phone Activity: Call logs, Messages, E-mails, Document, Calendar, Photo, Video, Apps and more
Track Current Location: GPS, Geofencing, WiFi logger
Monitor Social Apps: Whatsapp, Skype, Facebook, Instagram, Snapchat, Line, Kik, Tinder, Hangouts and more
Remote Control: App blocker, Schedule restriction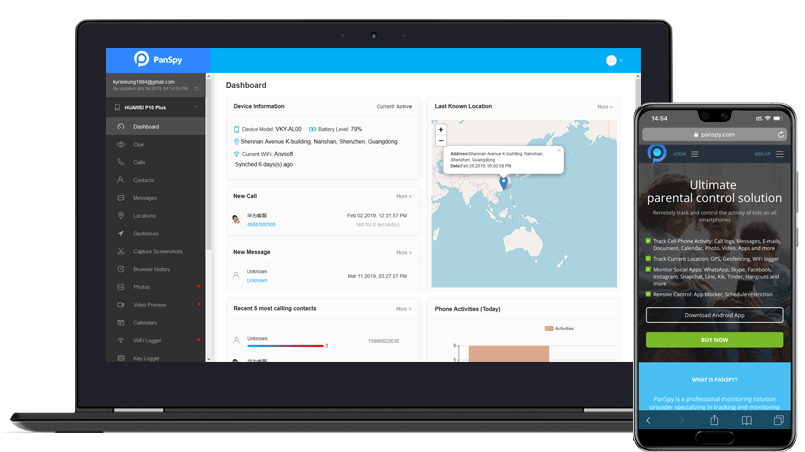 With this ultimate parental control solution, you can remotely track and control the messages of kids on their Android devices by only three steps. And here's how: