3. Use Google's 'Find My Device' to Track Your Google Phone
If you lose your phone, you can find, lock, or erase it. If you've added a Google Account to your phone, Find My Device is automatically turned on.
To find a lost Google phone, that phone must:
Be turned on
Be signed in to a Google Account
Be connected to mobile data or Wi-Fi
Be visible on Google Play
Have Location turned on
Have Find My Device turned on
Part 1. Remote Track Lost Google Device
Step 1: Go to android.com/find and sign in to your Google Account.
If you have more than one phone, click the lost phone at the top of the screen. If your lost phone has more than one user profile, sign in with a Google Account that's on the main profile.
Step 2: The lost phone gets a notification.
Step 3: On the map, you'll get info about where the phone is.
Note: The location is approximate and might not be accurate. If your phone can't be found, you'll see its last known location, if available.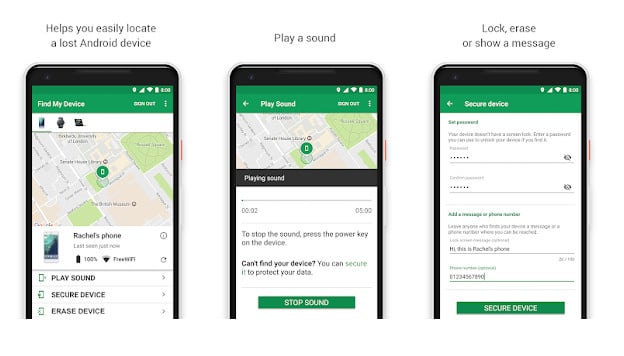 Part 2. Track Lost Google Device via "Find My Device" App
Step 1: On another Android phone or tablet, open the Find My Device app.
If the other device doesn't yet have the app, you can download it from Google Play
Step 2: Sign in. If your own device is lost, tap Continue as [your name]. If you're helping a friend, tap Sign in as guest and let your friend sign in.
Step 3: Follow the same steps as listed on Part 1.