A cell phone has become an irreplaceable gadget not only for you but for your children as well. They play, read, study, and entertain while holding their favourite device in hands. Therefore, you should have a frequent conversation with them about the time they spend on phones and tablets, discuss the content they share online, keep track of the contacts they talk with. Want to make sure your children aren't talking to the wrong sorts of people? Find out with PanSpy - Contact Tracker by remotely checking all contacts saved in their phones or tablets.
Now, let's learn how to hack phone contacts remotely.
What Can PanSpy Track about the Contacts on Android Phone
PanSpy is a fully-featured mobile phone tracking tool that lets you monitor contacts, WiFi logger, Geofencing, Calendar, E-mails, Video, text messages, calls, current GPS location, SnapChat, WhatsApp and many more on the target device. With this Mobile Phone Contacts Tracker, you are able to:
View any contact from a contact list and download contact lists from the target device to your own device.
View names and numbers stored in the address book.
Look through other contact details, such as emails, home address, job info.
Refresh button helps you update the contacts instantly.
Other Features of PanSpy
Track Cell Phone Activity: Call logs, Messages, E-mails, Document, Calendar, Photo, Video, Apps and more
Track Current Location: GPS, Geofencing, WiFi logger
Monitor Social Apps: Whatsapp, Skype, Facebook, Instagram, Snapchat, Line, Kik, Tinder, Hangouts and more
Remote Control: App blocker, Schedule restriction
How to Hack Phone Contacts on the Target Device Remotely
Step 1: Create A PanSpy Account
Go to the PanSpy official website on your browser (both desktop or mobile are available), click on Sign Up button and use an authentic email address to sign up PanSpy. After successfully created a PanSpy account, you will receive a confirmation link, simply navigate to your Email address, tap the link to activate your account, then follow the Setup Wizard to finish the following setup process.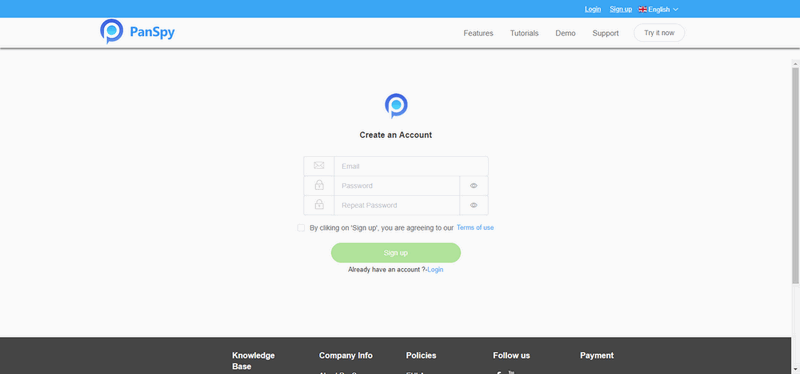 Step 2: Select A Subscription and Install the PanSpy App
Currently, PanSpy offers two different editions i.e. Premium Edition, Ultimate Edition. Both editions support for 1-month subscription, quarter subscription and 1-year subscription, you can check the pricing details here. Simply select a subscription you need and move forward.
Once successfully subscribed the service, you will get a download link. So just download and install the app. Then login your PanSpy account, and follow the instructions given to set and give the app permission to access data on the monitored Android phone. After completed the setup process on target device, you can choose to delete the app icon or keep it on the homescreen.
Step 3: Start Hacking Phone Contacts
Now, turn back to your computer Control Panel. All supported features are listed on the panel so that you can click each category to view the data. Simply click the Contacts on the left side of the dashboard to start tracking phone contacts.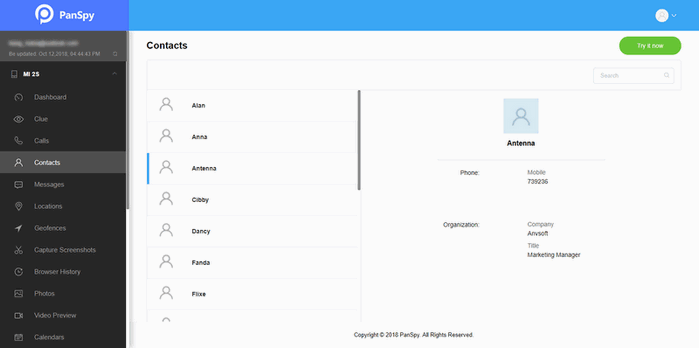 Note: For the first time you enter the dashboard or control panel, it takes minutes to sync all data from monitored device.