Being a parent not only brings in a lot of happiness, but also immense responsibility during their age of growth. Growing kids do need a lot of care and most importantly supervision especially in these times of digital world as unfortunately kids are more prone to get trapped in the open and hidden dangers of technology. Isn't it ? Many a time we must have noticed that Kids tend to take it to their ego when their parents scold them or ask questions pertaining to their activities and thus stop sharing their day to day affairs with their parents. This is when the need of spying on your kid becomes relevant as otherwise you woold never get to know what they are up to behind your back. After all, which parent woold not want to follow every move of their kid and of course this is to safeguard them in the best way possible.
Thus, in this article of ours we will share with you the Top Spy Apps which help you the best with Parental Control on your Kid's smartphone. We will also give you details, as to the price, URL and the most important features of the applications.
Tracking someone's location should be your pressing need when you wanna know exactly where the person is now. There are various reasons why you might want to find a person's location. You may want to keep track of your kids for their safety and your sanity. You may have some off the wall reason for tracking someone using his or her phone. Whatever your reason, there are several options now available for tracking somebody's location. There are also a lot of programs available that give you ability to keep track of a person's location by his or her cell phone.
What Can I Do with PanSpy's Location Tracking Feature
PanSpy is a professional mobile phone traCking application that gives you ability to monitor WiFi logger, Geofencing, Calendar, E-mails, Video, text messages, calls, current GPS location, SnapChat, WhatsApp and many more. If you are worried about the whereabouts of your child or worried that your child is visiting dangerous or inappropriate locations, this mobile phone tracker would do you a great favor to track the location your child is visiting by checking the name of the WiFi access point his phone connects with. With the help of PanSpy, you can:
Monitor Wi-Fi Networks on Android Devices: Track visited Wi-Fi hotspots and ientify the most visited places.
Track Your Kids Using Wi-Fi Signals: Look through Wi-Fi networks and find out details about the connection (type, time).
Other Features of PanSpy
Track Cell Phone Activity: Call logs, Messages, E-mails, Document, Calendar, Photo, Video, Apps and more
Track Current Location: GPS, Geofencing, WiFi logger
Monitor Social Apps: Whatsapp, Skype, Facebook, Instagram, Snapchat, Line, Kik, Tinder, Hangouts and more
Remote Control: App blocker, Schedule restriction
How Can I Track the Locations of My Child/Employee via PanSpy
PanSpy, a professional monitoring solution provider specializing in tracking and monitoring tools for smartphone users, helps you get access to Contacts, Calls, Text messages, location, photos, and multiple social apps like WhatsApp, Skype, Facebook, Instagram, Snapchat, Line, Kik, Tinder, Hangouts etc. With this ultimate parental control solution, you can remotely track your child's location via their Android device. And here's only three simple teps on how to make it:
1. Create a PanSpy account
Open PanSpy official website on your browser (both desktop or mobile are available), find Sign Up button and click on it. Use an authentic email address to sign up PanSpy. After successfully create a PanSpy account, it will send a confirmation link to your Email to activate your account, simply navigate to your Email address, tap the link to activate your account, then follow the Setup Wizard to finish the following setup process.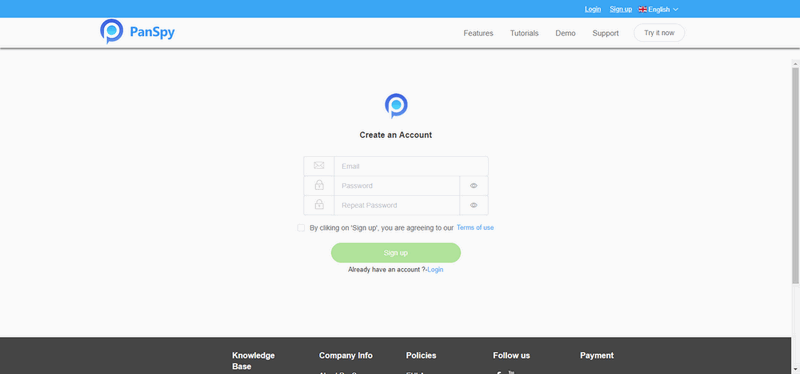 2. Select a subscription and install the PanSpy app
You need to select a subscription before using PanSpy app, currently it offers two different editions, one is Premium Edition, the other is Ultimate Edition. Both editions support for 1-month subscription, quarter subscription and 1-year subscription, you can check the pricing details here.
After successfully subscribe the service, you will get a download link to download and setup the PanSpy app. So simply download and install the app on your child's mobile device, login your PanSpy account, and follow the instructions given to set and give the app permission to access data on the target device. Once you finished all process and started the service, you are allowed to delete the app icon or keep it anyway on the screen.
3. View real time location on control panel
After finished the setup process on target device, you need to turn back to your computer (or your own mobile device) to view the monitored data. You can always access the data on the control panel. And for the first time you enter the dashboard or control panel, it takes some time to sync all data from monitored device. All supported features are listed on the panel so that you can click each category to view the data. To sync latest data from target device, simply click the refresh button. And you should be noted that PanSpy will fail to sync newest data if the monitored device is powered off or disconnected to the internet.
To check your child' location, simply click on GPS location tab on the left.