The availability of the Internet on the smartphone has made our life easier than before. We can access the Internet when we are on the go. Like our computer's web browser, android phone's browser also keeps a list of the sites that we open or visit.
If you are a parent, you might want to give your child their privacy but you also have to make sure they are not visiting the seedier parts of the internet. Similarly, if you are an employer, you might be interested to know what your employees do on the internet with the company's phone. Whatever the reason why you want to access someone's search and web browsing history on their Android devices, there are a few ways to do so.
Here we will talk about some methods to view android phone browser history. You can follow any of them.
1. How to Check Browser History on Your Own Android Device
If you use the Android browser to surf the Internet, then you might also want to know which websites you have visited today, yesterday or the last seven days. For this purpose, the Android browser has a so-called history in which all visited web pages are saved and listed. If you would like to access the browser history within the Android browser, then you can find it as follows:
Check Browsing History in Chrome for Android
Simply open Chrome on you Android phone.
Go to the browser menu by tapping on the three dots at the upper right corner, and History.You will get a list of all the pages you visited with Google Chrome.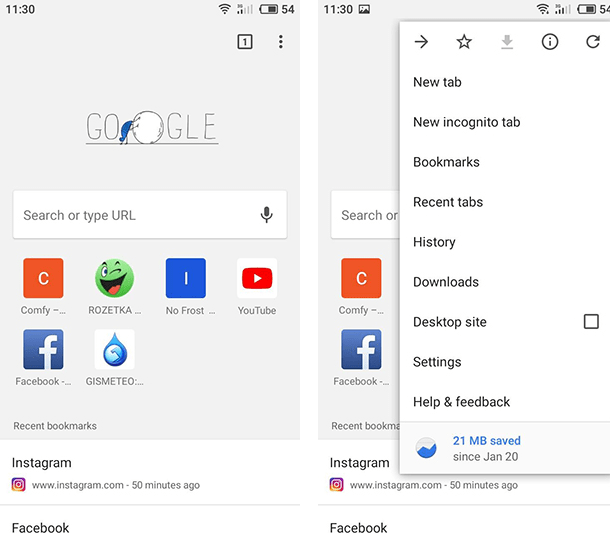 Check Browsing History in Mozilla Firefox for Android
Start the browser and go to the tab History.

Otherwise, open the browser menu by tapping on the three vertical dots in the upper right part of the screen, and select History.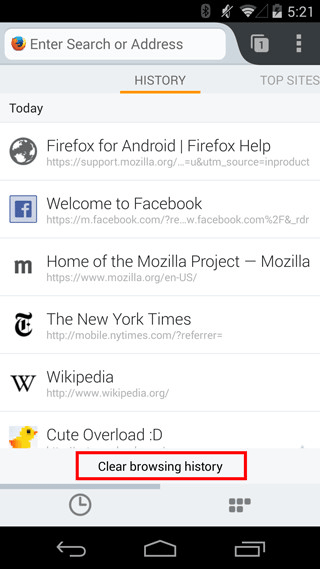 2. How to Check Other's Browsing History on Android Phone Remotely
If you wanna know how to view or track browser history of someone else's Android device, then you need the help of a third-party tool like PanSpy. This application is a fully-featured phone tracking solution that allows you to access browsing history of the target device remotely including the link of browsing website, the correct records of browsing date and time, and available information for browsing histories. Along with monitoring the web browser history on Android phone, you are also able to spy on their SMS, location, contacts, call logs, Keylogger, Apps, E-mails, IMs chats like Facebook, WhatsApp, Snapchat etc. A wide range of Android devices including Samsung, Huawei, HTC, Oppo, Sony, LG that is running on Android version 5.0 or higher are supported.
Key Features of PanSpy
Track Cell Phone Activity: Call logs, Messages, E-mails, Document, Calendar, Photo, Video, Apps and more
Track Current Location: GPS, Geofencing, WiFi logger
Monitor Social Apps: Whatsapp, Skype, Facebook, Instagram, Snapchat, Line, Kik, Tinder, Hangouts and more
Remote Control: App blocker, Schedule restriction
Three Steps to Check Private Browsing History on Android Phone with PanSpy:
Step 1: Create A PanSpy Account.
Go to the PanSpy website, click on Sign UP button. Enter your authentic e-mail to create an account. You will receive a confirm e-mail to activate your account. Then follow the Setup Wizard to complete the setup process.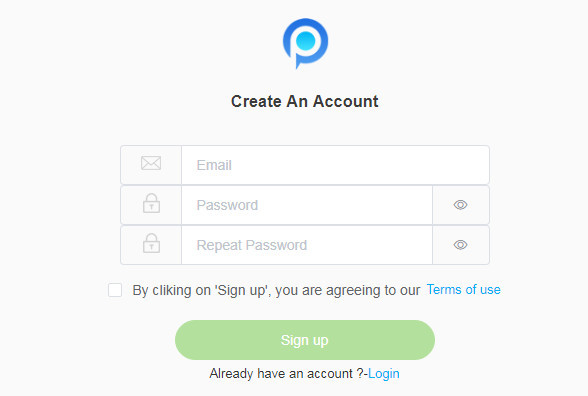 Step 2: Install Application and Set up.
Simply select a subscription you prefer from the two editions: Premium Edition and Ultimate Edition. After that, you will get a download link to download and setup the PanSpy app. Now, download PanSpy app on your target phone. Then follow the instructions given to set and give the app permission to access data on the target device.
Step 3: Start Tracking the Browsing History on Android Phone.
Once completed the setup process on target device, turn back to your computer, on the PanSpy window, you can click on to the left side of the control panel to view the browsing history.you can view all the the browser history of the target phone.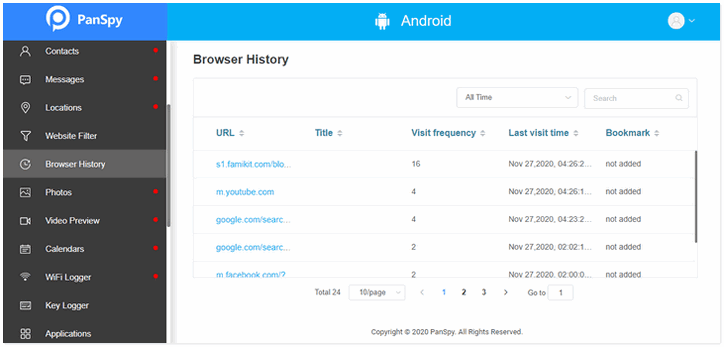 That's it. Now you have learnt how to check your browsing history in Chrome or Mozilla Firefox for Android phone.