On Facebook, you can connect with any number of users and view their profiles, as long as the profiles are not private. The private account has their profile information hidden and only their friends can view the profiles of a private account. This is a great privacy feature to prevent anyone from viewing your profile information if they are not on their friend list. But it is a bit of problem for parents to monitor their kid's activities. Moreover, a maximum number of kids has blocked their family members on Facebook, so it becomes more difficult to keep track of what they post or who they connect with. So, in this article, we will tell you how to view private Facebook profile.
Part 1. How to View a Private Facebook Profile Without Being Friends
As a concerned parent, you will be troubled by your kid's Facebook activity, especially if their profile is hidden. So, these parents need a Facebook hidden profile viewer that will help you overcome the restriction on private profiles and view their activity without any problem. If you are looking for such a program, then PanSpy monitoring tool can help you.
PanSpy is a child monitoring tool that is used by parents to keep track of their kid's activities on Facebook. With the help of this Facebook tracker, you are allowed to remotely monitor Google Facebook on your target's phone. Apart from spying on Facebook, this all-inclusive mobile phone tracking app also enables you to monitor all the activities including call history, location, E-mails, Document, Calendar, Photo, Video, Social Apps like WhatsApp, Skype, Facebook, Instagram, Snapchat, Kik, Tinder, Line and more on the target phone. Plus, it is fully compatible with Android and iOS devices and it works in stealth mode so that you can spy someone's Facebook messenger without them knowing.
Features of PanSpy:
Read Private Messages on Facebook: You are allowed to view all private messages sent and received from Facebook Messenger.
View Photos and Videos on Facebook: You can keep a close eye on the photos and videos your kid sends and receives and take precautions if there is any inappropriate content.
Get Access to All Web History Through Facebook Messenger: You are able to browse through all Facebook activity and find out whether your child understands the risks and dangers that Facebook brings and if s/he is ready for online communication.
Trace Liked Pages and Groups on Facebook: Understand your kid's interests better from the pages they like and follow, and interest groups they join.
Block Use of Facebook Messenger: Also, you can block Messenger app on your kid's phone remotely during study time.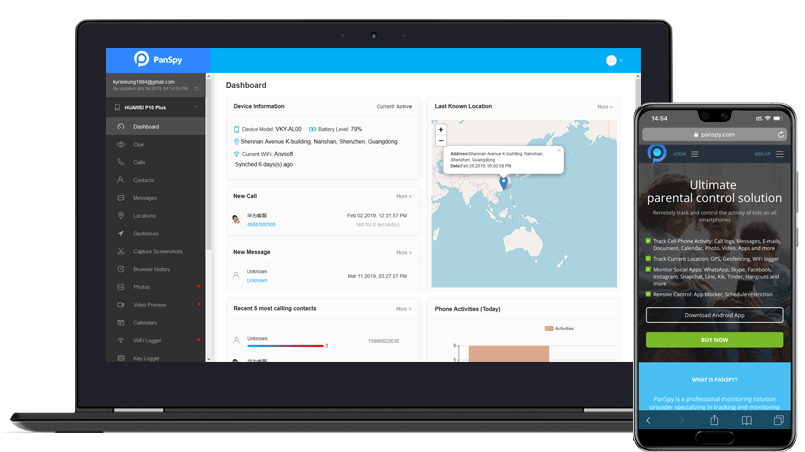 Four Steps to View a Private Facebook Profile Without Being Friends
Step 1: Create A PanSpy Account.
Firstly, create an account for PanSpy by clicking on the Sign Up option on the top right corner of this page. Then, enter your authentic email address and make the password for it. After that, PanSpy will send you a confirmation link. Simply navigate to your Email address, tap the link to activate your account. Then follow the Setup Wizard to complete the following setup process. Choose the operating system that is running on the target device. Here, we are selecting Android.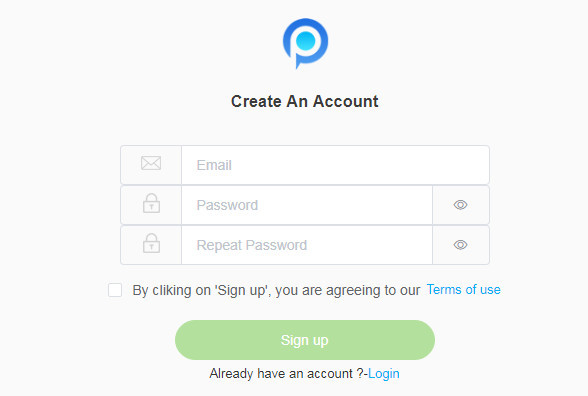 Step 2: Select A Subscription .
Currently, PanSpy offers two editions: Premium Edition, Ultimate Edition. Both editions support for 1-month subscription, quarter subscription and 1-year subscription, you can check the pricing details here. Simply select a subscription you need and move on. At last, you can see a control panel on your computer.
Step 3: Install PanSpy App on Target Phone.
After successfully subscribed the service, you will get a download link, simply download and setup the PanSpy app on the target phone. Login in with your PanSpy account and authorize PanSpy to access data on the monitored mobile phone according to the instructions. Then, you can choose to delete the app icon or keep it on the homescreen.
Step 4: Start Tracking Someone's Facebook .
After completed the setup process on the cell phone, turn back to the Control Panel on your computer. Now, you gain all access to the target phone and all supported features are listed on the panel so that you can click each category to view the data including calls, messages, emails, apps, photos, browsing histories, Viber, Snapchat, WhatsApp, Line, Facebook, etc. Simply click Facebook on the left side of the dashboard to start spying on Facebook chat history.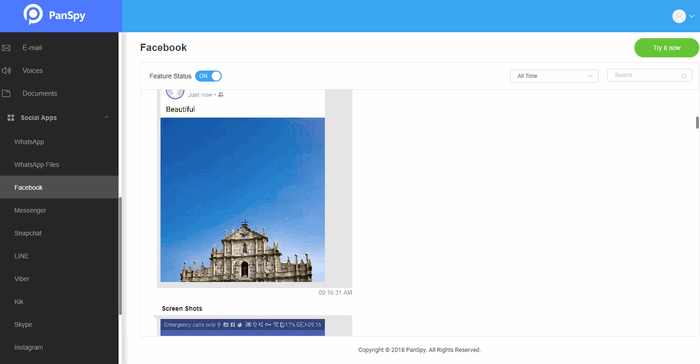 Part 2. View Private Facebook Profiles With Social Engineering
Not all people restrict their account to only friends. Some people use the Friends of friend's option to hide their private information. So, all the friends of friends of the target will be able to view the profile information of the target. What you need to do to view private Facebook profile of someone is to add the target's friends into your friend list and then you might be able to view their profile if they have kept their privacy option to friends of friends. Moreover, this way, you will have some mutual friends, and then the target might accept your friend request. Though, you might need to falsify your identity if you don't want them to know about you.
Whenever you click on someone's picture or name, whether it's someone on your friends' list of friends or search results from the Facebook database of users, you'll find that you have three options to the right side of the person's bio photo. You can either send them a request to add you as a friend, send them a message, or view their friends. Facebook's help section states that anyone who you add as a friend or send a message to "…will have temporary access to view a small portion of your profile. They will see Basic Info, Personal Info, Work Info, Education Info, and Friends."
Part 3. Use PictureMate to View Facebook Profile
PictureMate is a free extension for Google Chrome that you can use to view someone Facebook without needing to add them as your friend. It is a great tool especially if you want to view private Facebook profile pictures secretly. It is especially useful when you want to know which people the target associated with by viewing the pictures in which they are tagged. Even though this does not always meet the requirement, it sometimes is very helpful. Here are the steps that you need to follow to view Facebook photos without signing in.
Step 1: Visit the PictureMate website and add the Google Chrome extension to your browser.
Step 2: Restart the browser after installing the extension. After restarting the browser, you will see the extension in the top corner.
Step 3: Now, you can conduct a Facebook search and see pics of the targeted person. The extension will offer the result of all the pics posted by somebody else on which the targeted person is tagged.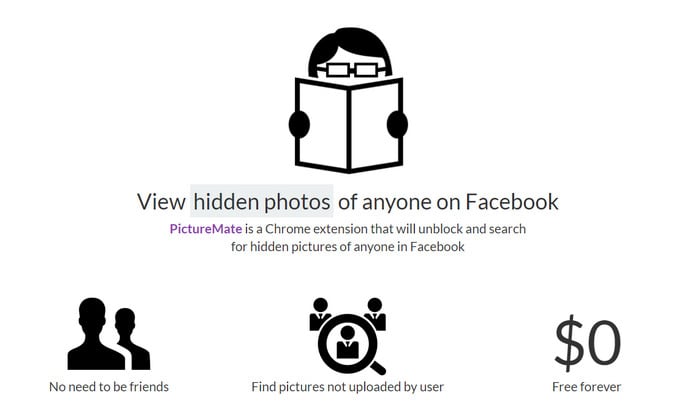 Making an account private is a privacy feature that prevents strangers from viewing your profile activities. But, this feature is a pain in the neck of parents who want to track their kid's activities anonymously without becoming their friends. So, these parents can use the tips provided in this article to view private profile Facebook.