Worried about misplacing your phone or (worse yet) having it stolen. Have you ever reached in to your pocket to pull out your phone and realised that it is missing? Did you leave it at the restaurant? Or maybe at home? Did someone steal it?
In this guide, we will show you two easy ways to easily track/locate lost Android phone.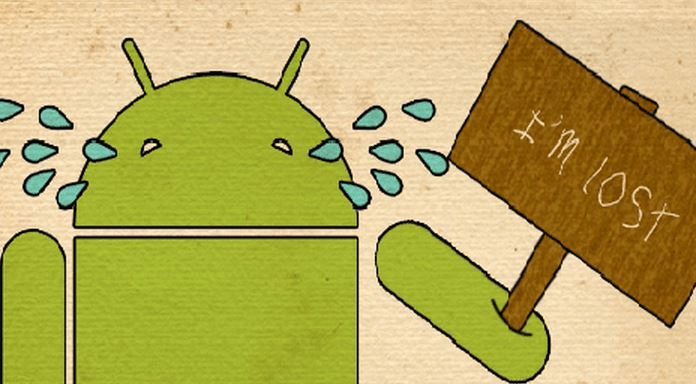 Part 1: Track Your Lost Android Phone Using Third-Party Tracking App - PanSpy
If you wanna gain a real-time location of your phone effortlessly, consider taking the assistance of a third-party tracking app - PanSpy. This mobile phone tracking App enables you to monitor the route history of the device and accurate the whereabouts of the device in real-time. Furthermore, you are able to track messages, contacts, call logs, Keylogger, Apps, E-mails, Document, Calendar, Photo, Video and much more on any Android devices.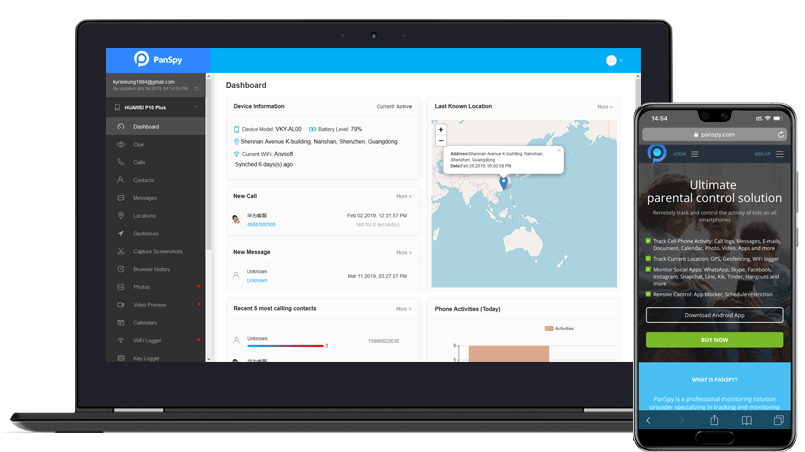 Top Features of PanSpy:
Track the real-time location of the phone: You are able to monitor recent GPS location on a virtual map, watch through route history and check recent locations of target device. You can even create a well-thought-out Geo-fence.
Monitor social apps: You can spy on other Instant messaging application like Tinder, Whatsapp, Skype, Facebook, Instagram, Snapchat, Line, Kik, Viber, Hangouts and more.
Easily track call logs: PanSpy also gives you ability to spy on every single incoming and outcoming call including contact names, phone numbers, call duration if you need to view call details from target device.
Check Web browsing history: With the help of PanSpy, you can access target device's browsing history including link of browsing website, the correct records of browsing date and time.
Remote Control: Schedule restriction, App blocker.
Four Steps to Track and Locate Your Lost Android Phone
Step 1: Create A PanSpy Account.
Firstly, please create a PanSpy account by clicking the Sign Up option on the top right corner of this page. Then enter your valid email address and make the password for it. After created a PanSpy account, you will receive a confirmation link, simply navigate to your Email address, tap the link to activate your account, then follow the Setup Wizard to complete the following setup process. Choose the operating system that is running on the target device. Here, we are selecting Android.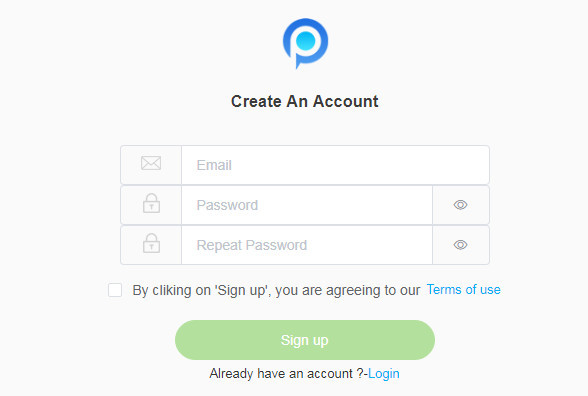 Step 2: Select A Subscription.
Currently, PanSpy only offers two editions: Premium Edition, Ultimate Edition. Both editions support for 1-month subscription, quarter subscription and 1-year subscription, you can check the here. Select a subscription you prefer and move on. At last, you can see a control panel on your computer.
Step 3: Install PanSpy App on Target Phone.
After successfully subscribed the service, you will get a download link, simply download and setup the PanSpy app. Login in with your PanSpy account and authorize PanSpy to access data on the monitored mobile phone according to the instructions. Once you completed all process, you can choose to delete the app icon or keep it on the homescreen.
Step 4: Start Tracking the location of the target device via the Control Panel.
Once finished the setup process on the target phone, check the control panel on your computer. Now, you have unrestricted access to the target phone and easily hack the activity on it, including calls, messages, emails, apps, photos, browsing histories, Viber, Snapchat, WhatsApp, Line, Facebook, etc. All supported features are listed on the panel so that you can click each category to view the data you want. Simply click Locations on the left side of the dashboard to get started.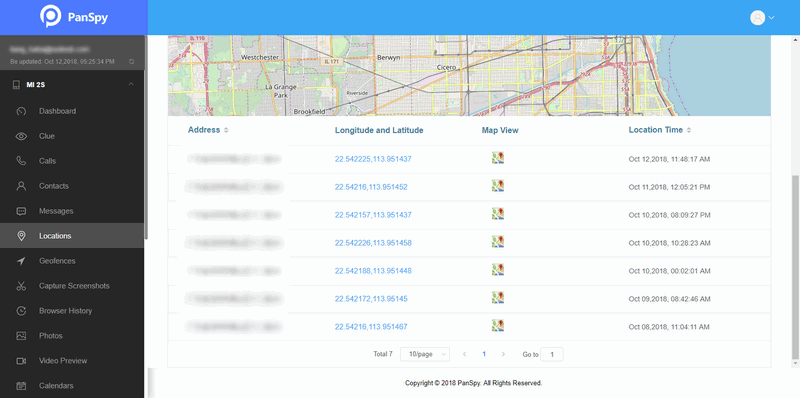 ---
Part 2. Find Your Lost Android Phone Using Its IMEI Number
Did you lose your Android smartphone without installing a tracking app? Don't worry. Your best shot at finding your lost phone is through its IMEI (International Mobile Equipment Identity) number and you may need the help of your network operator and the law enforcement agencies to get this done.
Find Your Phone Using Its IMEI Number:
Get the IMEI number of your Android phone.
Getting to know the number is easy. The fastest way is to dial *#06#, a command to make the unique ID appear.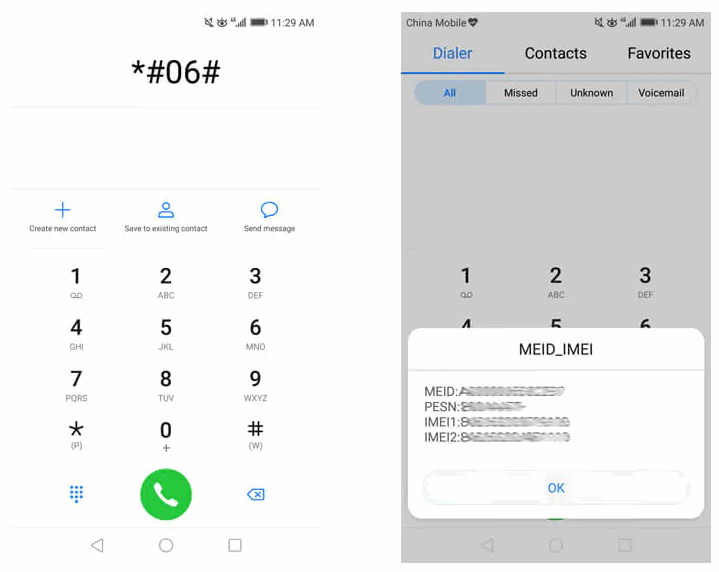 Another easy way to find the IMEI number is to navigate through "Settings" and tap "About Phone" to check the IMEI code of your Android phone.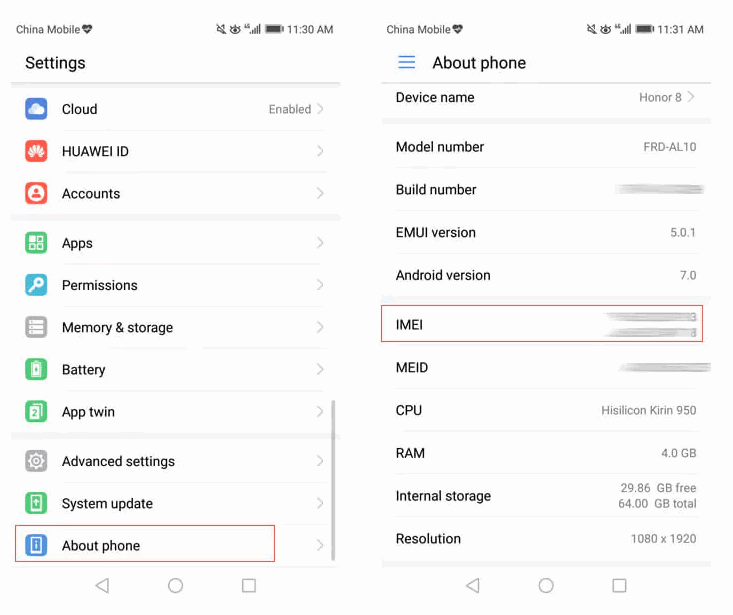 In most cases, the IMEI number exists on the reverse side of a phone, or underneath the removable battery. If your phone is lost, but its packaging is kept, you are still able to find the IMEI number on the label.
Start Tracking Your Lost Android Phone.
After obtaining IMEI number, you can take the assistance of any dedicated IMEI online search portal to track your phone. For instance, TrackMyIMEI, TrackIMEI, etc. can be used to track your phone.
---
Summary: We hope this article was informative to you. You can try one of the above-mentioned ways to find your lost Android phone. But if your phone is stolen or found and it's then factory reset, you will not be able to rely on any apps or services to find it; a factory reset will wipe out any of the original data, accounts, or passwords that are needed to remotely find your Android phone.
---
START MONITORING NOW:
Reminders: All apps or tools introduced in this article shall be for legal use only. Please follow the Terms & Use and End User License Agreement (EULA) before trying any of them. Any consequences of improper use should be borne by users.