People say it's a nature for a man lying. To find out what he is hiding from you, just go get his cellphone which definitely gets you something you are unexpected before. However, those alert men can usually delete their messages after they viewed them in case of being caught. WhatsApp, one of the most popular social apps with millions of tons of users sharing information on it. If you would like to access to your boyfriend's deleted WhatsApp messages then you can't miss this guide which offers you how to see deleted WhatsApp messages both on Android and iOS devices.
Part 1: Remotely Track WhatsApp Messages on Android with PanSpy
To see your boyfriend's deleted WhatsApp messages, the most effective way is tracking his phone in a real-time manner. There are monitoring apps which can upload WhatsApp data of target device so you don't have to worry about the failure to get one's deleted messages.
One of the most trustworthy monitoring apps is PanSpy which is a professional tool for tracking contacts, messages, call, calendar, emails, photos, videos, location, WhatsApp, Facebook, Snapchat, Twitter, Kik, WeChat, Viber, Skype and more social apps in stealth mode. You just install PanSpy on your boyfriend's Android with permissions required fully authorized, then it will automatically upload WhatsApp messages of two ways and screenshots of chat box of target device every 30 mins. I'll break it down for you.
With PanSpy, you are able to:
Track all WhatsApp chats
Oversee all WhatsApp related data including date, time and duration of every call, messaging and more.
Read text messages
View all text messages, both incoming and outgoing on the application WhatsApp.
Browse pictures & videos
Multimedia messages, photos, and videos shared in WhatsApp and stored in the gallery can be easily tracked with PanSpy.
Monitor all WhatsApp activity
Access all tracked data directly from your control panel any time.
How PanSpy works
Step 1: Create a PanSpy Account
To activate its usage, you need to visit PanSpy Official Website to create an account. Just tap on Sign UP button on the top right, enter your authentic email address instead of target one's and make a password of it. After a while, you'll receive a confirmation link in your email box. Once you activate it, you can follow the setup wizard to finish setup procedures.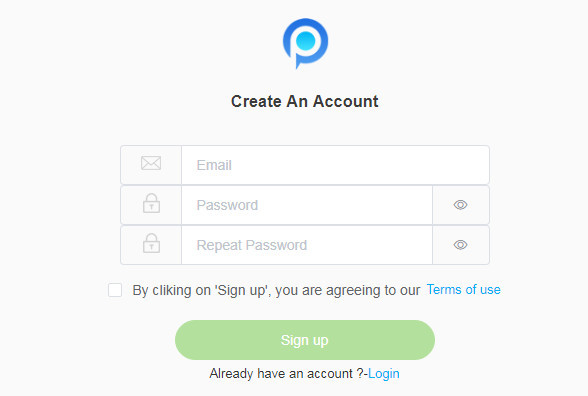 Step 2: Install PanSpy App on Your Boyfriend's Android
Go to target Android and enter panspy.me on browser to install PanSpy app on it. Then login your account which you previously registered with to authorize PanSpy to access data on monitored device according to instructions given on screen. Finally you are able to decide to keep the app icon or not. If you have any problems during the set-up, you can simply refer to this page.
Note: There is no need to root your Android.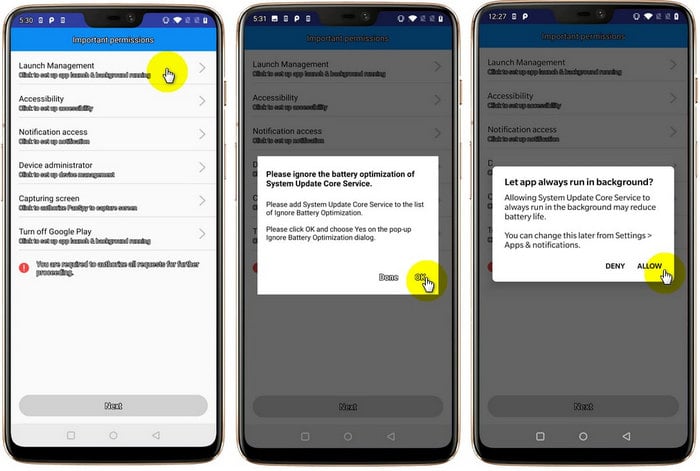 Step 3: Start Tracking WhatsApp Messages on PanSpy Console Panel
After install PanSpy app on target device with permissions required fully authorized, just go back to PanSpy console panel (both available for desktop and mobile) then refer to Social Apps >> WhatsApp on the left panel to start tracking WhatsApp chats, photos and videos shared. Navigate to Key Logger >> WhatsApp, you'll get keystrokes entered in WhatsApp. Refer to Remote Control >> Capture Screenshots, you will get screenshot of it. For more other features, you can just tap on each of them to explore.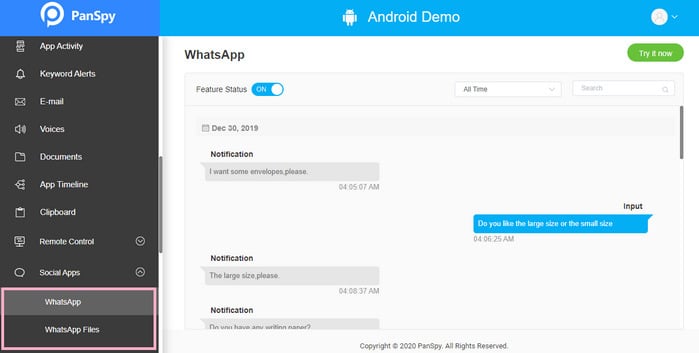 ---
Part 2: Recover Deleted WhatsApp Messages with Syncios
Another way to see your boyfriend's deleted WhatsApp messages is to use a recovery tool to retrieve them. Here we show you how to get it with an established recovery tool named Syncios Data Recovery if the target device is iOS device.
Step 1: Download Syncios Data Recovery on your computer and run it.
Step 2: Connect your boyfriend's iPhone to computer via USB cable.
Step 3: Since Recover from iOS Device is selected by default, you just tap on Start to scan the device after it is successfully detected. Then you will be directed to an interface which enables you to select WhatsApp under the category of Deleted data to start recovering.
Step 4: Wait till the deleted WhatsApp data are successfully analyzed by Syncios. Since both existing and deleted WhatsApp chats are displayed on the interface, you can just choose Show only deleted files if you are just curious about your boyfriend's deleted data to see what he is hiding from you. And you can even download them to your computer.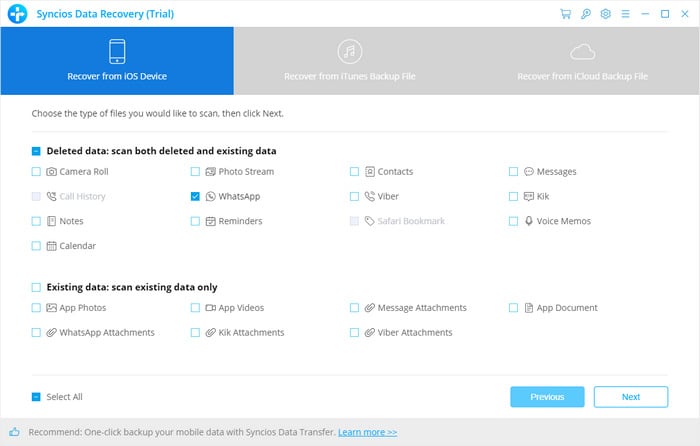 ---
Summary: When it comes to tracking deleted WhatsApp messages, the obvious one is to recover the deleted data; the alternative is to use a monitoring app to real-timely track WhatsApp chats. So which one do you prefer? PanSpy is for all-round tracking on Android while Syncios Data Recovery is for data recovery on iOS.
---
START MONITORING NOW:
Reminders: All apps or tools introduced in this article shall be for legal use only. Please follow the Terms & Use and End User License Agreement (EULA) before trying any of them. Any consequences of improper use should be borne by users.