Step 3: Start Monitoring Target Device on Control Panel
After finish the setup process on target device, now turn back to your computer (or your own mobile device) to view the monitored data. You can always access the data on the control panel. And for the first time you enter the dashboard or control panel, it takes some time to sync all data from monitored device. Now if you want to hack your husband's Facebook, you can simply refer to the left panel, tap on Social App and then click on Facebook.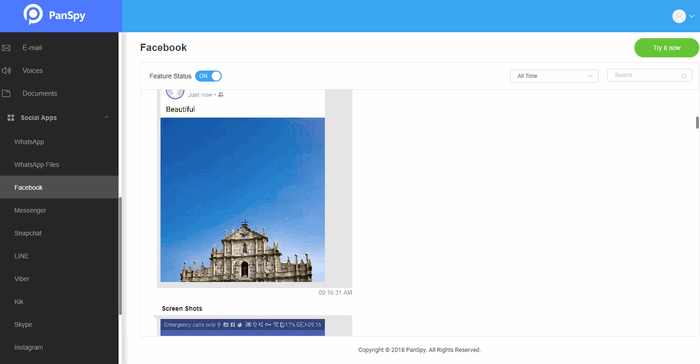 All supported features including Schedule Restriction, Contacts, Messages, Locations, Photos, Social Apps, Brower History and more are listed on the left panel so that you can click each category to view the data. To sync latest data from target device, simply click the refresh button. And you should be noted that PanSpy will fail to sync newest data if the monitored device is powered off or disconnected to the internet.
Summary
We mentioned above the possible signs of cheating behaviors. What's more, a detailed demonstration of how to use monitoring app---- PanSpy to secretly access to your husband's facebook without being noticed is given here.