If you just buy your child or spouse a new Samsung Galaxy S20/S20+/S20 Ultra, and you want to monitor the usage of it for some reasons. You may wonder if there is any handy app to track the Samsung Galaxy S20? When you enter your question on the browser to search for an answer, you can see many apps or services with much useless information there. How to find a truly helpful app within them? No worry, this article lists top 3 apps that can help you track the Samsung device easily. Please simply read on this article.
1. XNSpy
XNSPY is the cell phone spy app that has been taking care of all your personal and professional digital safety needs. It helps you track all kinds of data such as phone calls, SMS, location, photos and videos on the device. It provides monthly, quarterly and yearly payments. Basically, it supports most of the features without root needed, but some of XNSPY features are only compatible with rooted Android devices.
To use XNSpy to monitor the Samsung Galaxy S20, you need firstly register an account. Most importantly, you need to have physical access to the device and install an app on it, After you finish these steps, you can view the data on the other device. Moreover, XNSpy also supports for iOS devices (both Jailbreak & No-Jailbreak), if you also have a iOS device to track, you can have a try on it.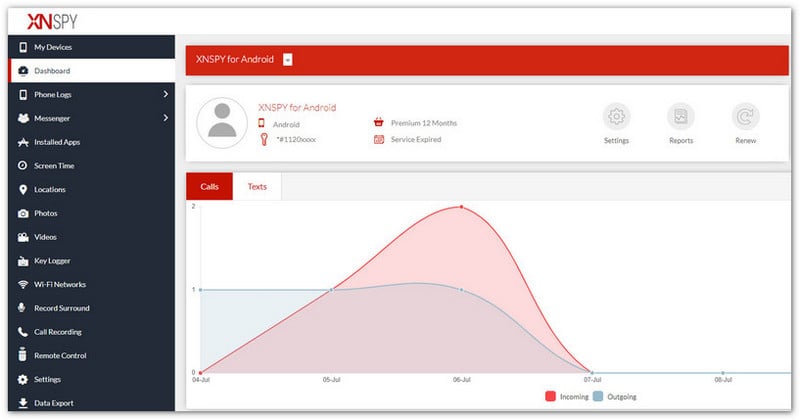 2. Spyzie
Spyzie is an another smartphone spy app which enables you to track the device remotely. And it supports all kinds of data on the device as well without root needed. Spyzie offers 3 versions of subscription, including basic, pro and ultimate edition, all of them allow you to subscribe monthly, quarterly and yearly.
Before get started with Spyzie. You should be noted that you need to have access to the target device. To track the Samsung Galaxy S20 with Spyzie, similarly, register an account and install an app, select your subscription plan, and you can view the data remotely then.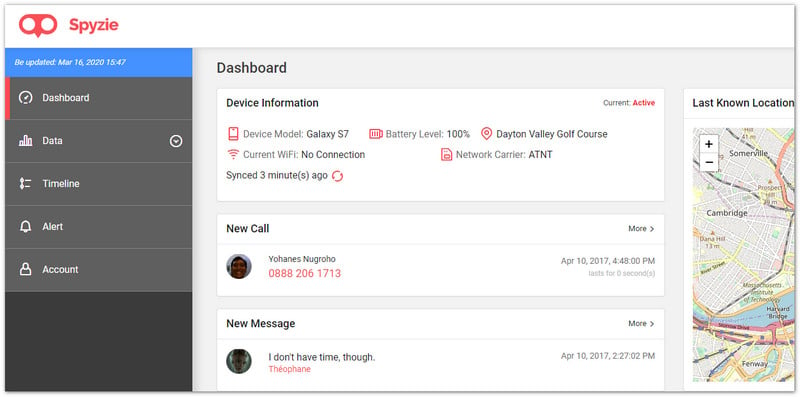 3. PanSpy
PanSpy is a professional smartphone monitoring tool that designed for users to track the Android devices running Android 5 and later, no root needed. With several simple steps, you can view all kinds of data on the target device remotely, including Contacts, Messages, Call logs, Location, Call recordings, photos, videos, WhatsApp, Instagram, Facebook and 10+ more data. So if you want to track all kinds of activities on the Samsung Galaxy S20, PanSpy can be your best option.
Features of PanSpy
Track Cell Phone Activity: Call logs, Messages, E-mails, Document, Calendar, Photo, Video, Apps and more
Track Current Location: GPS, Geofencing, WiFi logger
Monitor Social Apps: Whatsapp, Skype, Facebook, Instagram, Snapchat, Line, Kik, Tinder, Hangouts and more
Remote Control: App blocker, Schedule restriction
PanSpy offers 3 days free trial to each new user with limited features so that you can know if it could satisfy you before paying the subscription. Besides of the trial version, it has two other editions: Premium and Ultimate version. It depends on your own request, you can pay it monthly, quarterly and yearly, and the price is the lowest among these 3 apps. Worth a try! You can simply get started or view the demo below.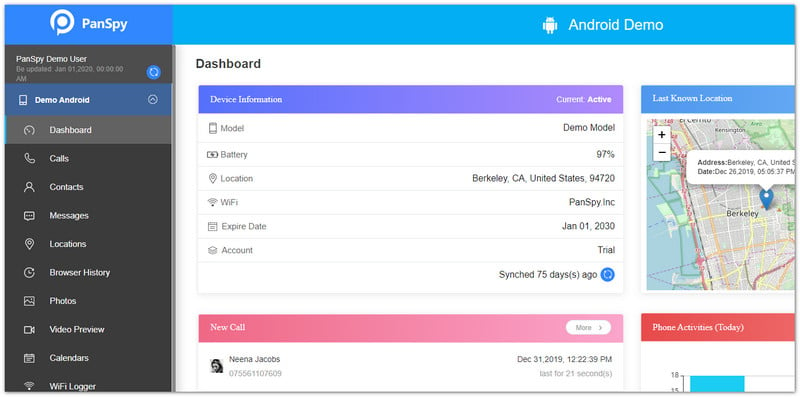 ---
Summary: There are massive smartphone monitoring apps on the Internet, and these 3 apps are the most helpful ones to track a Android device like Samsung Galaxy S20. With several simple steps, you can view real-time data on a control panel remotely. Besides of data tracking, you can also block the usage of the device remotely as well. They give us parents a great method to monitor our children so that we can take good care of them. If you have any other ideas or encounter some problems while tracking your Samsung Galaxy S20, please feel free to contact us. We will help you find solutions immediately.
START MONITORING NOW: