Losing our smartphones would be a nightmare since our smartphones can have our crucial information. Therefore, if you have lost your device (or if it has been stolen), then you can use a Samsung phone locator know its precise location. Additionally, there are times when concerned individuals would like to know the whereabouts of their kids, spouse, and loved ones. In this case, they need to use an Android tracker app to locate Samsung phone. You can do it by making circles for your family/friends or by using a spying app.
1. Track Samsung Live Location/Emails/Calls/Social Apps/Activities Using PanSpy
To track someone's real-time location instantly and easily, PanSpy is highly recommended. It is an all-in-one mobile tracking tool, which help you to monitor recent GPS location on a virtual map, watch through route history and check recent locations of target device. Apart from tracking someone's location, this mobile GPS location tracker also lets you spy on text messages, calls, Snapchat, WhatsApp, web browsing history, website bookmarks, calendar, photo, video, apps, E-mails, etc on target phone remotely and secretly.
Features of PanSpy
Track Cell Phone Activity: Call logs, Messages, E-mails, Document, Calendar, Photo, Video, Apps and more.
Track Current Location: GPS, Geofencing, WiFi logger.
Monitor Social Apps: WhatsApp, Skype, Facebook, Instagram, Snapchat, Line, Kik, Tinder, Hangouts and more.
Remote Control: App blocker, Schedule restriction.
Within four steps, you can start to track someone's location:
Step 1: Create A PanSpy Account
Open www.panspy.com. Navigate Sign Up button on the top right corner of its official page and enter your valid e-mail to create an account. Soon later, you will receive a confirmation link, simply navigate to your Email address, tap the link to activate your account, then follow the Setup Wizard to complete the following setup process. Choose the operating system that is running on the target device. Here, we are selecting Android.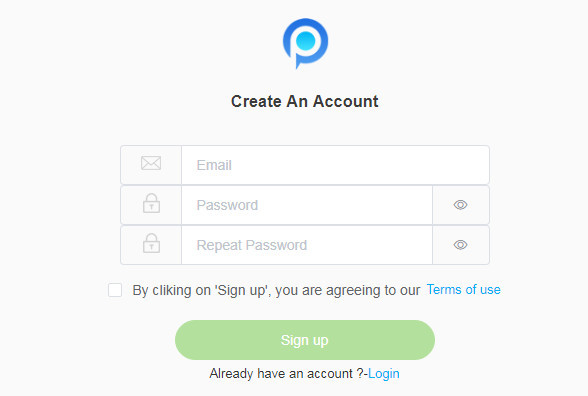 Step 2: Select A Subscription
Currently, there are only two editions: Premium Edition, Ultimate Edition. Both editions support for 1-month subscription, quarter subscription and 1-year subscription, you can check the here. Select a subscription you want and move on. At last, you can see a control panel on your computer.
Step 3: Install PanSpy App on Target Phone
PanSpy will provide you a download link after the subscribtion. Get your target Samsung Galaxy S10 and download PanSpy on it using the download link. According to prompts to install PanSpy. Login in with your PanSpy account and authorize PanSpy to access data on the monitored mobile phone. Then, you can choose to delete the app icon or keep it on the homescreen.
Step 4: Start off with Tracking the Location
After finished the setup process on target device, turn back to the control panel on your computer. All supported features are listed on the panel so that you can click each category to view the data. To track someone's location, simply click on Location tab on the left side of the dashboard.
Note: for the first time you enter the dashboard or control panel, it takes some time to sync all data from monitored device. PanSpy will fail to sync newest data if the monitored device is powered off or disconnected to the internet.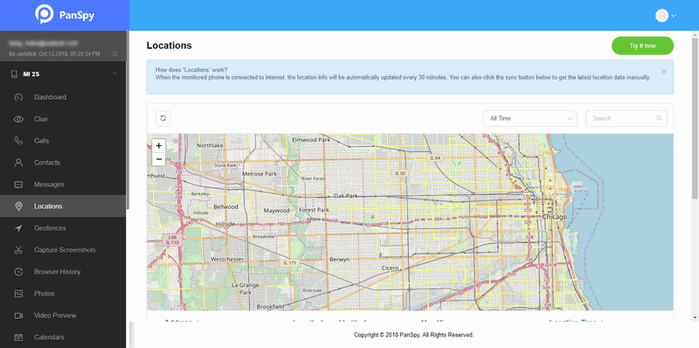 ---
2. Track Samsung Live Location with "Samsung Find My Mobile"
In order to access your Galaxy S10 remotely, you will need access to your Samsung Account. It is the same email address or account that you use for different Samsung Services. If you used your phone number to signup for Samsung account that can also be used to access the services in order to locate Galaxy S10.
Open Samsung Find My Mobile on any other phone or computer with internet access. Log in using your Samsung account credentials.
Once you are logged in on the right side you will see all the options that you can perform using this service in order to locate lost Galaxy S10.
If your phone is connected to the internet and its location services are on then you will see its live location on your screen via Google maps.
If you didn't have Samsung account on your Galaxy S10 before you lost it, then you can use the method 1. Maybe it will be handy in order to find your phone.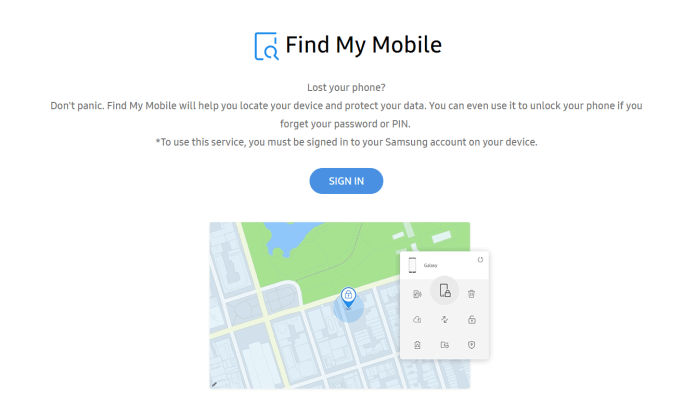 ---
3. Track Samsung Live Location with "Android Find My Device"
This method is more generalized and it works on almost every Android device. You just need internet access and access to location services on your phone. For this method to work, you need to have access to the Gmail account that you used on your Samsung phone to access the Google Play Store and Services on your phone. It is the same email ID that you use while setting up your Android phone.
First of all, open Android Find my Device on any phone or computer with Internet access. You can also download its app from the Google Play Store.
Once done, log in using your Gmail ID.
Now you will see the location of your phone along with all the features mentioned above like Ring, Lock and Wipe.
If your phone is not connected to the internet at that time or the thief switched it off after stealing it, then you will see the last location where it was online and connected to the internet.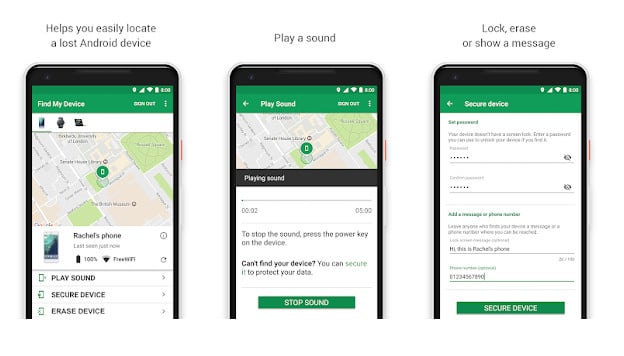 That is all about how to track and locate lost Galaxy S10 or S10+. If this guide helped you to get back your Galaxy S10. Please do share with us in the comments.
Reminders: All apps or tools introduced in this article shall be for legal use only. Please follow the Terms & Use and End User License Agreement (EULA) before trying any of them. Any consequences of improper use should be borne by users.