Why you need to locate the Huawei P40 or P40 Pro
Ensure your husband/wife/children's safety: Our family's safety is so important that we can't ignore it. If your wife/husband was traveling outside alone, or your child was on the way school/home, you may need to get aware of their live location in order to ensure their safety. If they own a smartphone like Huawei P40/P40 Pro, we can then locate the Huawei P40/P40 Pro to track their location.
Locate lost/stolen device: There are also some cases that you unfortunately get your Huawei P40/P40 Pro lost or stolen. And when it happens, you may wonder if there is a way to find your lost device back. So you need to remotely locate your Huawei P40/P40 Pro so that you can have the chance to get it back.
You may have other reasons to locate your Huawei P40 or P40 Pro remotely. Anyway, this article will list 3 great ways to help you locate your Huawei P40 or P40 Pro. Now let's not keep you waiting and get started.
Part 1. Locate your Huawei P40 using Google Find My Device
In terms of an Android device, Google service can help you a lot. Google offers Android users to locate their device with Find My Device service, which you can use to locate your Huawei P40 or make it ring when you lost it. And you are able to erase all data on the device remotely in some emergency cases. Of course, before using Find My Device service to locate the device, make sure you have sign in your Google account on the Huawei P40. Otherwise, you can't make it. Here are the steps:
Step 1. Sign in your Google account.
You can download the Find My Device app on any other of your device from app store to use the service, or simply go to Google Find my Device website if you don't want to bother. And then login the same Google account which you had signed in your Huawei P40 device. Accept all the terms, and you will see all associated mobile phones with this Google account next.
Step 2. Locate your Huawei P40.
If there are other devices listed, please select the Huawei P40 among them, and after a while, the app/site will show the current location of the device. Please note that if the Huawei P40 was powered off or had no internet connection, the last known location will be listed there.
Step 3. Ring or erase the Huawei P40.
Besides of location, you will also see there are other options available on the site/app. You are allowed to ring the Huawei P40 if you just forget where you leave your device in. Or you can secure the device with PIN code or directly erase all contents on the device if your device was stolen so that you can prevent your personal data from leaking out.
If you use the Android browser to surf the Internet, then you might also want to know which websites you have visited today, yesterday or the last seven days. For this purpose, the Android browser has a so-called history in which all visited web pages are saved and listed. If you would like to access the browser history within the Android browser, then you can find it as follows: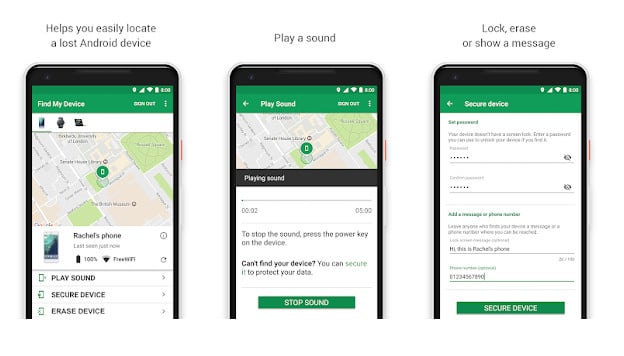 ---
Part 2. Locate your Huawei P40 using Huawei Cloud Service
Huawei itself allows you to locate the device with Huawei cloud service. It works like Apple iCloud find my iPhone. Also, you need to make sure you have signed in your Huawei Account before use this service. And now let's take a look at how to use this feature to locate your Huawei P40.
Step 1. Login your Samsung account.
Open your browser, go to Huawei cloud page, and then sign in with your Huawei account which you had already signed on your device. You will see all the HiCloud data including a Find My Phone option, click on "Find My Phone".
Step 2. Locate the Huawei P40.
Select the Huawei P40 device on the page so that you can see its current location which will display in the middle of the page. Similarly, if your Huawei P40 has no Internet connection or powered off, it will show the last known location on the map.
Step 3. Lock or erase the Huawei P40 if needed.
Similar to Google find my device service, Huawei also enables you to lock down your lost Huawei P40, ring it for a while or directly erase all data remotely. To keep your data not leaking out after lost your device, you can perform the option.

---
Part 3. Remotely locate your Huawei P40 using a professional monitoring app
Step 1: Create A PanSpy Account.
First of all, go to official site to sign up an account. You can find the Sign Up button on the upper right corner of the site. And you need to use a valid Email address, since you will receive a link which allows you to activate your account. Note that you may need to check your junk or spam folder on your Email to find the confirmation Email, simply click on the link and now you can sign in your account.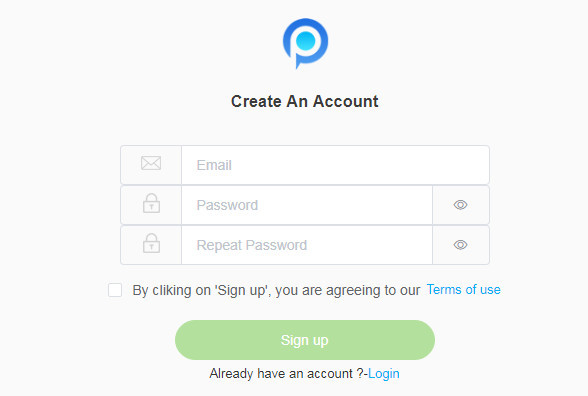 Step 2: Setup your PanSpy account.
After you sign in your account, there will be setup wizard to walk you through the setups. Select Android device option and set a name and an age. Click on Next to proceed.
And then you need to download and install PanSpy App on your Huawei P40. Enter the download link panspy.me on your browser address bar to download and install the app. Open it and sign in your PanSpy account you just created.
Step 3: Setup PanSpy App on Huawei P40.
You now need to setup both important permissions and optional permissions on the device. All the important permissions are needed, optional permissions depend on your own needs, you can jump some of them. But to locate your Samsung device, remember that the Location service and Location feature must be turned on.
Step 4: View Huawei P40's Location.
Now you can view the location on the other device or a computer. Basically, most of the features are paid, but Location data is available with the free trial version though. Simply sign in your PanSpy account on the console, click on the Location button on the left of the panel. You can view the location of your Huawei P40.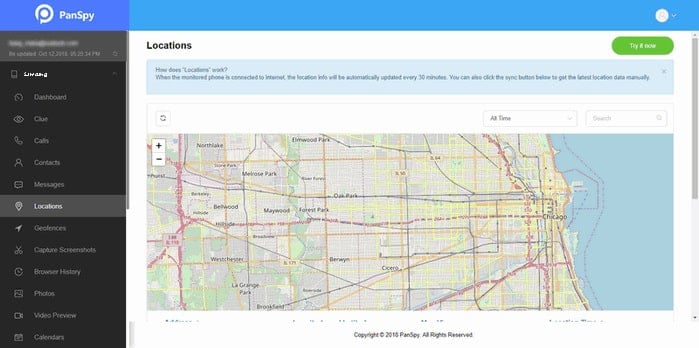 ---
Recommendation: Make a full backup of your Huawei P40 in case of any loss
Sometimes, if we lost our smartphone or get it stolen, we may never find it back. Of course, we can buy a new device, but what really matters is the data on it. If you lost the smartphone, your data is gone forever as well. Actually, our personal data which saved on our smartphone are so important that we are unaffordable to lose. Our daily life memories, private data, working data, which truly mean a lot. So we highly recommend you to make full backup of your device regularly, only in this way won't you take any risk of losing personal data when you unfortunately lost your smartphone.
Syncios Manager is a free smartphone backup tool, it allows you to backup all kinds of data on the device such as contacts, messages, call logs, photos, videos, music and apps etc. to your computer. And you can restore these data to your device whenever you want. This program is super easy to use: Download and install the program on your computer, and then connect your Huawei P40 with an USB cable, and you are allowed to select your desired data to backup. So if you want to make full backup of your Huawei P40, we sincerely recommend this handy tool to you. You can learn more details or download this program on this page.
---
Summary: All the methods are introduced to help you locate your Huawei P40, and we hope they can truly help you no matter you want to monitor your family members or just to try to find the lost device. You can see that you need to take advanced measures before locating your device. If you lost your device but you didn't make preparation on it, you may barely to find it back. And we recommend you to locate the device as soon as possible after you get your Huawei P40 lost or stolen. Otherwise, if it gets powered off when the battery life over or reset by the thief, you can hardly to find it as well. Last but not the least, don't forget to backup your device regularly in case of data loss.
START MONITORING NOW: