3. Remotely locate your Huawei P40 using a professional monitoring app
Besides of find my device, there are other professional apps that you can trust. PanSpy, an ultimate monitoring app designed for Android device users to monitor their smartphone, you can use it to monitor your children or employees as well. It allows you to view all kinds of data on the target Android devices, including Contact, Calls, SMS, Photos, Location, Videos, WhatsApp, Instagram, Facebook and more. To locate your Huawei P40 remotely, please follow the detailed steps below:
Step 1: Create A PanSpy Account.
First of all, go to official site to sign up an account. You can find the Sign Up button on the upper right corner of the site. And you need to use a valid Email address, since you will receive a link which allows you to activate your account. Note that you may need to check your junk or spam folder on your Email to find the confirmation Email, simply click on the link and now you can sign in your account.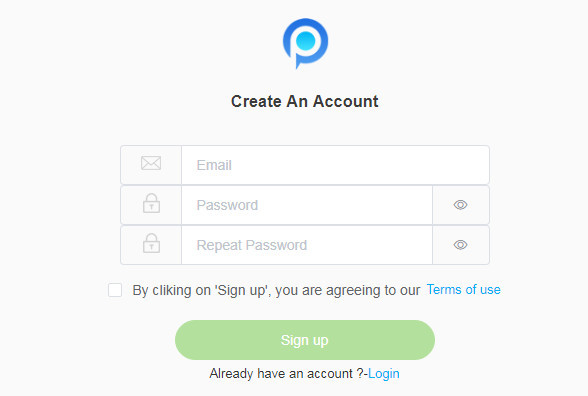 Step 2: Setup your PanSpy account.
After you sign in your account, there will be setup wizard to walk you through the setups. Select Android device option and set a name and an age. Click on Next to proceed.
And then you need to download and install PanSpy App on your Huawei P40. Enter the download link panspy.me on your browser address bar to download and install the app. Open it and sign in your PanSpy account you just created.
Step 3: Setup PanSpy App on Huawei P40.
You now need to setup both important permissions and optional permissions on the device. All the important permissions are needed, optional permissions depend on your own needs, you can jump some of them. But to locate your Samsung device, remember that the Location service and Location feature must be turned on.
Step 4: View Huawei P40's Location.
Now you can view the location on the other device or a computer. Basically, most of the features are paid, but Location data is available with the free trial version though. Simply sign in your PanSpy account on the console, click on the Location button on the left of the panel. You can view the location of your Huawei P40.