How to stop others from tracking your device?
Unfortunately, if you truly find there are something wrong with your device and make sure that someone was tracking your device, how to stop it immediately? How to remove the tracking apps and services from your device? The following options will tell you how to make it.
Step 1. Find and remove unknown apps and files.
As we mentioned below, firstly check if your smartphone has been installed apps or services you don't know. For iPhone, it's hardly to install an app running in the background; For Android device, you can go to Settings>>Apps>>Installed Apps, check if there is a suspicious app. If it was not installed by yourself, you can uninstall it.
Step 2. Stop sharing your location.
For iOS devices, there is a build-in app which designed for sharing your location with your family and friend. However, it may be abused by others. Go to Find app or Settings>> Your Apple ID >>Find, you can check if your location was shared with others, stop sharing your location by turning it off.
For Android devices, you can check which apps and services had access to your location or requesting your location on Settings>>Location. Then you can disable it, or directly turn your Location service off.
Step 3. Upgrade your operating system version.
Basically, no matter iOS device or Android device you were using, the latest version contains user experience improvements and bug fixes, the bugs on the old version can be used to hack your smartphone, so it's a good idea to update your operating system version to prevent your device from being hacked.
Step 4. Change your password and set a stronger one.
Since it's almost impossible to install an app in the background to track your iOS device, the hacker was trying to get your Apple ID and password to view your data. Moreover, even if the tracking app was installed on your iOS device, it's very likely to work anymore after you changed your password, so it's a great way to prevent your device from being tracked by changing your password especially for iOS devices. Of course, remember to set a strong one when changing your password, or it may be cracked easily.
Step 5. Factory resetting your device.
Unfortunately, if you've tried all the steps above but you still think someone is tracking your device? You can try the final method: Factory resetting your smartphone. It will erase all your apps and files, and whatever tracking apps and services installed on your device will be removed. Factory resetting is an ultimate option to prevent your device from being tracked without any doubt, but you should be noted that it will erase all your data as well, so we recommend you to backup your device before doing this. For iOS devices, go to Settings>>General>>Reset>>Reset all settings and contents; And for Android device, go to Settings>>System>>Reset options>>Factory reset.
These are all the options and suggestion we can give to help you get rid of tracking. Since our data and privacy are the most important stuffs on our smartphone, we should be always take care of them. We can take the steps above to prevent bad things happen to us, and always keep your smartphone on your side which will avoid it being tracked by others.
Recommendations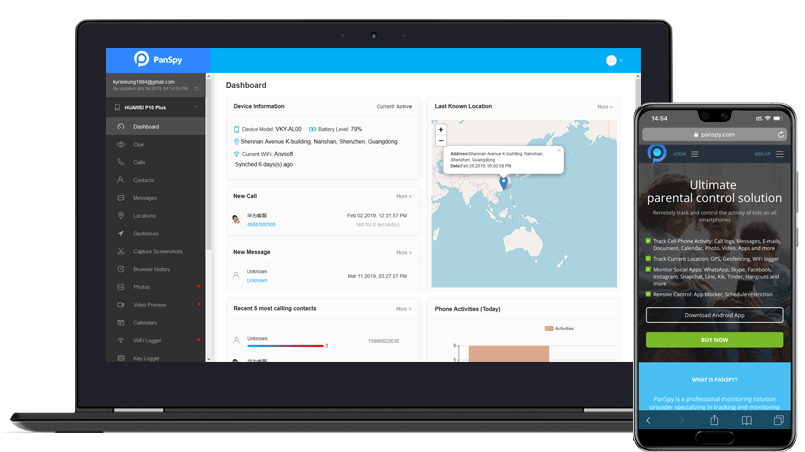 So far, you've learned how to prevent your smartphone from being hacked by others. And this part we want to recommend you a legal mobile monitoring app to help you monitor your children and employee. The most impactful app is PanSpy, a professional monitoring solution provider specializing in monitoring tools for Android smartphone users. With this handy app, you can view all kinds of data on the target Android device even remotely control the device. You can click on the following button to learn more.
Mobile Monitor

Parental Control

Employee Monitor
Reminders: All apps or tools introduced in this article shall be for legal use only. Please follow the Terms & Use and End User License Agreement (EULA) before trying any of them. Any consequences of improper use should be borne by users.