How to hack Android phone camera without physical access is a frequently asked question; however, if you are not equipped with intensive knowledge of programming and scripting, it is barely possible to hack someone's camera photos or videos. People spend much time in searching for spy apps to hack their spouse or children's phone camera with fear of malicious apps to steal their credential information. No worries, this article is going to show you how to use trustworthy monitoring app PanSpy to hack Android phone camera.
Part 1: What Is PanSpy Hack?
PanSpy is a professional monitoring solution provider specializing in tracking and monitoring for Android devices. It allows users to hack not just phone camera, but also including contacts, text messages, calls, email, real-time GPS location, Snapchat, WhatsApp, Facebook Messenger, Twitter, Skype and many other social apps.
Features of PanSpy
Track Cell Phone Activity: Call logs, Messages, E-mails, Document, Calendar, Photo, Video, Apps and more.

Track Current Location: GPS, Geofencing, WiFi logger

Monitor Social Apps: WhatsApp, Skype, Facebook, Instagram, Snapchat, Line, Kik, Tinder, Hangouts and more.

Remote Control: App blocker, Schedule restriction.
---
Part 2: Why Hack Android Phone Camera with PanSpy?
Here are several reasons why people prefer to choose PanSpy as tracking solution compared with other monitoring apps in market.
Fast Installation
Just visit panspy.me on browser of target device to install PanSpy app which is only 5.7MB and you may finish installation in seconds.
Web Panel
You can visit any browser both available for mobile and desktop to visit PanSpy console panel to start tracking without extra app to install.
Stealth Mode
You are allowed to delete the app icon after you finish authorizing permissions required so as to track in stealth mode. Moreover, PanSpy runs in the background without notifications.
No Root
There is no need to root your Android which saves your device from being exposed to new threats for enterprise data and applications.
---
Part 3: How to Hack Android Phone Camera with PanSpy?
To hack Android phone camera with PanSpy, only 3 steps will make it. Let me break it down for you.
Step 1: Create a PanSpy Account
To activate its usage, you need to visit PanSpy Camera Tracker to create an account. Just tap on Sign UP button on the top right, enter your authentic email address and make a password of it. After a while, you'll receive a confirmation link in your email box. Once you activate it, you can follow the setup wizard to finish setup procedures.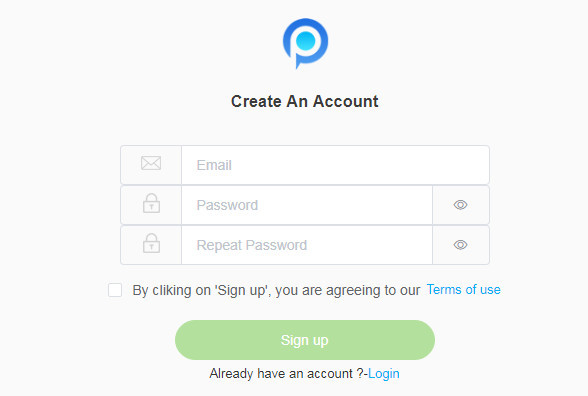 Step 2: Install PanSpy App on Target Android
Go to target Android and enter panspy.me on browser to install PanSpy app on it. Then login your account which you previously registered with to authorize PanSpy to access data on monitored device according to instructions given on screen. Finally you are able to decide to keep the app icon or not. If you have any problems during the set-up, you can simply refer to this page
Step 3: Hack Android Phone Camera without Physical Access on PanSpy Dashboard
Now you can go back to PanSpy console panel (both available for desktop and mobile) to access to information on target device. Once you log in, you will notice all supported features including Calls, Contacts, Messages, Location, Browser History, E-mails, App Activity, Viber, Snapchat, WhatsApp, Line, Facebook and more are listed on the panel so that you can click each of them to remotely monitor the target device.
If you want to hack target phone's photos, you just tap on Photos option on the left, then all the camera photos will be displayed on the interface. Refer to Video Preview, you are able to view the camera videos of target device. What's more, you can click the download sign to download your desired photos or videos. You should be aware that the videos and photos are uploaded on WiFi network by default and you can refer to Sync Setting to enable Synchronization via mobile data traffic.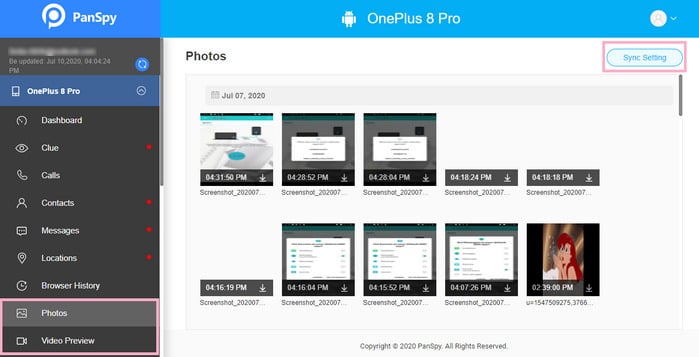 Summary: Hacking Android phone camera is never a tough job with PanSpy. Since it is safe and practical, PanSpy is widely used by concerned parents to set parental control on kids' device and those who want to catch cheating spouse. If you are one of those, what are you waiting for? PanSpy is absolutely the choice.
Reminders: All apps or tools introduced in this article shall be for legal use only. Please follow the Terms & Use and End User License Agreement (EULA) before trying any of them. Any consequences of improper use should be borne by users.