There are several reasons that make you wanna know the exact whereabouts and traveling conditions of your vehicle. We face many dangers every day. May it be at our house, workplace, or on the road. As drivers, we are very much concerned about our safety and that of our family. Or, you have a poor sense of direction and tend to forget which way to go in the parking lot all the time. Thankfully, there are a lot of GPS apps that are designed to provide convenience and reliability for users around the world. GPS trackers play an important role to ease our worries. From tracking any location, person, vehicle to navigating around in unknown territory, Android smartphone's GPS feature comes handy all the time. Let's take a quick glance at top 3 car GPS tracking apps for Android.
Number 1. PanSpy
PanSpy is an all-inclusive car GPS tracking app for Android aimed at tracking your vehicle instantly and easily. With the help of this car GPS tracker, you are able to check the route history of your car and accurate the whereabouts of the vehicle in real-time. It is fully compatible with Android (Android 5+) and works in secret. Apart from GPS tracking feature, this application also enables you to monitor text messages, calls, Snapchat, WhatsApp, web browsing history, website bookmarks, etc remotely.
Features of PanSpy
Track Cell Phone Activity: Call logs, Messages, E-mails, Document, Calendar, Photo, Video, Apps and more.
Track Current Location: GPS, Geofencing, WiFi logger.
Monitor Social Apps: WhatsApp, Skype, Facebook, Instagram, Snapchat, Line, Kik, Tinder, Hangouts and more.
Remote Control: App blocker, Schedule restriction.
Price: Premium version starting from $9.95.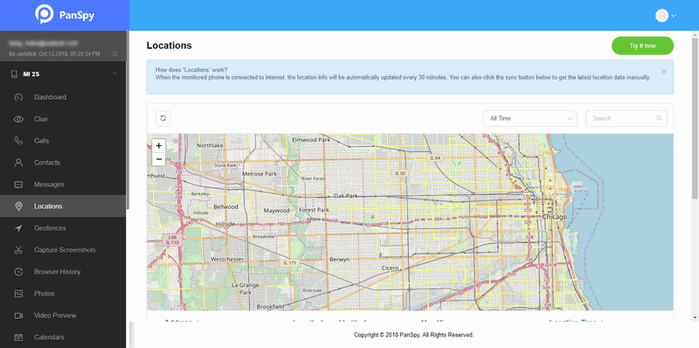 ---
Number 2. Spyzie
Spyzie is another feature-rich GPS car tracker for Android that you can possibly come across. It is very easy to use when it comes to locating a car's exact location on a Map directly from your device. This tracking with GPS is usually done in real time, that is, it tracks the target device in a synchronized manner as the device moves per time. Spyzie comes with a web-based user-friendly dashboard accessible from any device. It gives real-time location update and access to important device data such as photos, messages, browser history, notes, etc.
Monitor Internet Activities: View Web Browsing History, Bookmarks, Wi-Fi Network, Block Website and much more.
Easy access to multimedia files: View all the pictures including photos, screenshots, and pictures from any apps saved on the monitored device. Check all the videos including clips, films, and screencasts saved on the monitored device.
Remotely track real-time location: Track the live location of the monitored device at any time, record and storage system which enables the owner to have a record of the places visited by their vehicle.
Block application and time restriction: Block apps from your kid's phone. You can also set a time limit on apps.
Access messages and view call history: You can track every single sent and received messages from the target. You are also allowed to instantly view the complete call history on a monitored phone.
Price: Premium version starting from $29.9.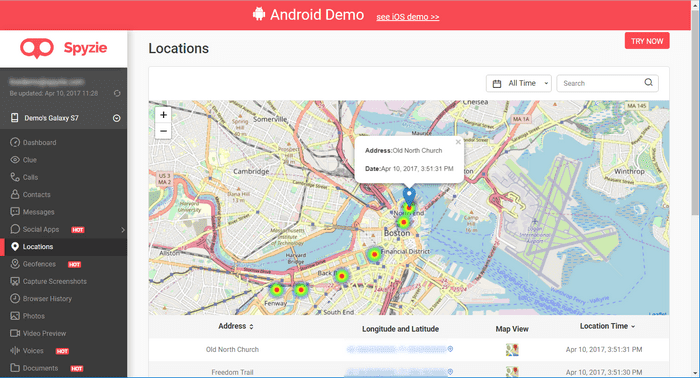 ---
Number 3. Google Maps
Google Maps is predominantly winning the crown of being the best GPS tracking apps for Android users of this generation. Not only does it make navigation and location finding easier and faster, it helps you discover the best destinations and locality and gives unmistakably accurate information you need to reach the desired location.
Easy-to-use and quick-to-locate, get there faster with real-time updates.
Special features to discover best destinations.
Guide for top-rated restaurants and tourist places.
Offline maps to search and navigate without internet connection.
Price: Free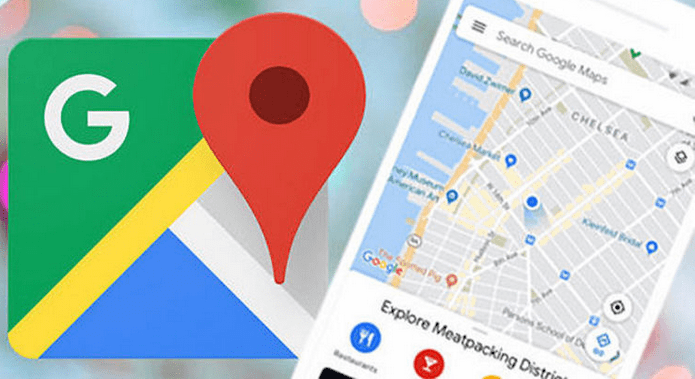 ---
How to Track A Car Using An Android GPS Tracker
Perhaps you want to know where your teenagers are going when they borrow the car or maybe you need to manage your employees while they are out of the office. Whatever the case, PanSpy is a smart way to keep track of a car. Within simple steps, you can start to track a car's location:
Step 1: Create An Account
Go to the PanSpy website, click Sign UP button. Enter you e-mail and create an account. You will receive a confirm e-mail to activate your account. Then login in your account.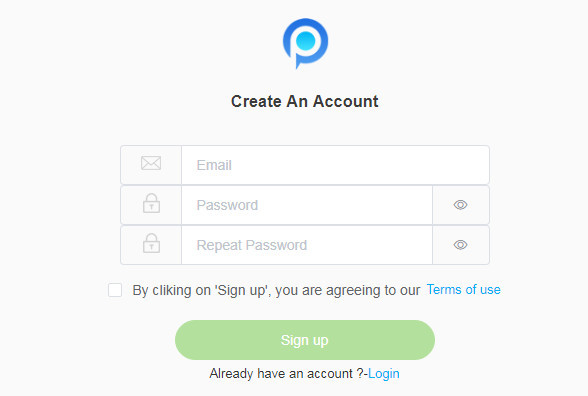 Step 2: Install Software
Log in to your Control Panel and follow the instructions. Download PanSpy app on your target phone
Step 3: Start Monitoring
Log in to PanSpy Control Panel to start tracking GPS location, instant messages, browsing history and any other activities taking place on the monitored device.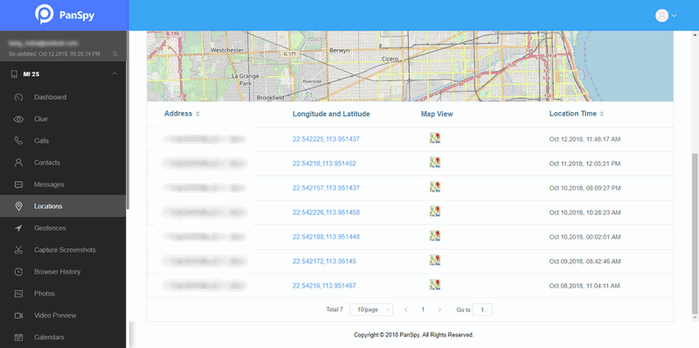 ---
Car GPS trackers for Android devices are one of daily digital essentials for users who love advanced ways to navigate, locate their devices and know the whereabouts of their vehicle. Each of them has unique features for users. You can download the most suitable car GPS tracker from the list above depending on your exact needs.
Reminders: All apps or tools introduced in this article shall be for legal use only. Please follow the Terms & Use and End User License Agreement (EULA) before trying any of them. Any consequences of improper use should be borne by users.