Keylogger, also known as keystroke logger, is a surveillance technology for monitoring and recording of each keystroke typed on keyboard without physical access. With a keylogger app installed on target device, people can get information like chat messages, web searches, login credentials and anything the person typed on their keyboard. This article is going to show you why people use remote keylogger and how to use it on Android. Let's get started!
Part 1: Why People Use Remote Keylogger?
For supervising kids' online activities or setting alert words
Children nowadays spend lots of time in scrolling on their phones, making parents worried that they may browse something inappropriate. So for concerned parents, it is necessary for them to install remote keylogger on kids' phones to supervise their online activities. Also, alert words can be set to avoid cyberbully to some degree.
For observing employees' activities on company owned phones
Flexibility, freedom, and equality are advocated in today's workplace. With the introduction of these, there are more telecommunication and file work which also arise employers' concerned about employees' slacking off on the job. So if there are keylogger on their phones, employer can be informed of who is not doing the right things in work hour.
For catching a cheating spouse
Those who are having an affair are exceptionally alert and may hold back every evidence of it. For catching a cheating spouse, people can install keylogger on the target device so as to get information in real-time manner without physical access.
For stealing people's account information
It is illegal to hack someone's phone and get credential information. But still there are hackers spare no efforts to do it with keylogger app installed on victim's phone.
---
Part 2: How to Use Remote Keylogger?
PanSpy is a trustworthy keylogger app for parental control and employee monitoring. It is not only available for keeping track of anything the person typed on keyboard, but also enables you to remotely access to Location, Contacts, Call, Messages, Voice, Videos, Photos, WhatsApp, Instagram, Facebook, Skype, Line, Kik, Tinder, WeChat, Hangouts and more social apps. Apart from that, parents can set alert words in case of cyberbully, set geo-fencing when they are not around with kids as well as block app use and set time restrictions for controlling screen time use. Since PanSpy offers 3-day trial, you can test-drive to figure out how it works and what it is capable of.
Features of PanSpy
Track Cell Phone Activity: Call logs, Messages, E-mails, Document, Calendar, Photo, Video, Apps and more.

Track Current Location: GPS, Geofencing, WiFi logger

Monitor Social Apps: WhatsApp, Skype, Facebook, Instagram, Snapchat, Line, Kik, Tinder, Hangouts and more.

Remote Control: App blocker, Schedule restriction.
With PanSpy Remote Keylogger, you are able to
Monitor all keyboard operations on target phone.

Check all keylogger history remotely from PanSpy

Prevent communication with potentially threat
How PanSpy works
Step 1: Create a PanSpy Account
To activate its usage, you need to visit PanSpy Official Website to create an account. Just tap on Sign UP button on the top right, enter your authentic email address and make a password of it. After a while, you'll receive a confirmation link in your email box. Once you activate it, you can follow the setup wizard to finish setup procedures.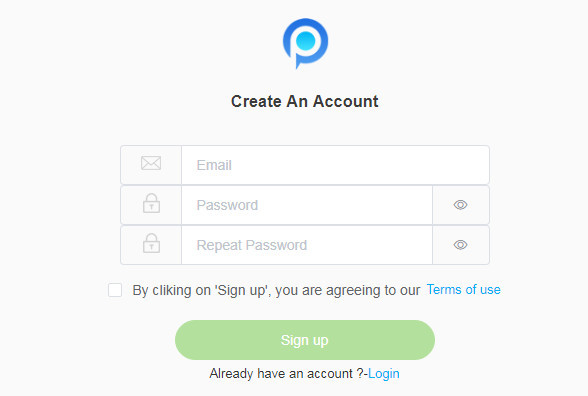 Step 2: Install PanSpy App on Target Android
Go to target Android and enter panspy.me on browser to install PanSpy app on it. Then login your account which you previously registered with to authorize PanSpy to access data on monitored device according to instructions given on screen. Finally you are able to decide to keep the app icon or not. If you have any problems during the set-up, you can simply refer to this page
Note: There is no need to root your Android.
Step 3: Start Remotely Monitoring Keystrokes on PanSpy Dashboard
Now you can go back to PanSpy console panel (both available for desktop and mobile) to access to information on target device. Once you log in, you will notice all supported features including Calls, Contacts, Messages, Location, Browser History, E-mails, App Activity, Viber, Snapchat, WhatsApp, Line, Facebook and more are listed on the panel so that you can click each of them to remotely monitor the target device.
To get what the person typed on their keyboard, you can simply tap on Key Logger on the left. As you can see PanSpy allows you to get what the person typed under each of app use. If you would like to know about the chat messages on social platforms, you can refer to Social Apps. For alert setting, just click on Keyword Alerts.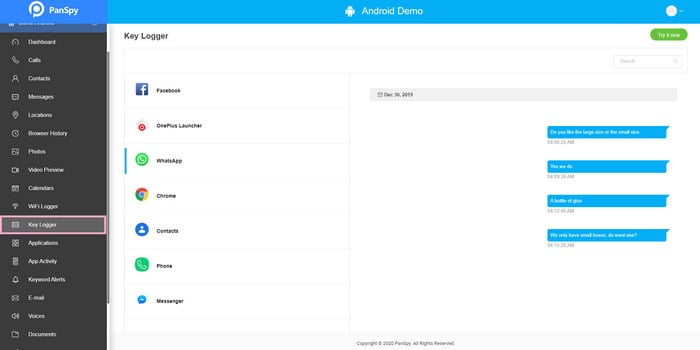 ---
Summary: After reading, you must have got what is keylogger and why people use it. Also we offered a step-by-step explanation on how to use the trustworthy Android keylogger PanSpy. For security and privacy, you should definitely choose a reliable and reputed keylogger app and PanSpy is such an app that may satisfy you. By the way, you should never use the keylogger feature for anything related to fraud, such as stealing someone's financial credentials which may get you into trouble.
Reminders: All apps or tools introduced in this article shall be for legal use only. Please follow the Terms & Use and End User License Agreement (EULA) before trying any of them. Any consequences of improper use should be borne by users.