Cell Phone tracking is an activity that is increasingly assuming significance these days, due to the rise in infidelity. Are you a concerned parent who wants to protect your children and needs keep an eye on their cell phone actions? Want to know why your spouse coming late from the office? Or worried about getting your Samsung Galaxy device stolen or losing it. No matter what the reasons are, if you are looking for a way to track a Samsung phone. You are at the right place. In this article, we will talk about two possible ways to help you track a Samsung phone remotely.
Two Ways to Track A Samsung Phone
There are a handful of cell phone tracking apps on the Google Play Store which can be a lifesaver in case you want to find a lost phone or, even worse, a stolen phone or keep track of your kids' phone. To track a Samsung phone remotely, we wanna recommend you two Samsung tracking Apps.
Let's follow this guide to learn how to track a Samsung phone remotely via mobile phone tracking Apps.
1. How to Track A Samsung Galaxy Phone Using PanSpy
PanSpy is a powerful phone tracking solution which allows you to access the live location of the target device. You can track the location of any Android device including Samsung, Huawei, HTC, Oppo, Sony, LG that is running on Android version 5.0 or higher. It comes with various features like it enables you to access messages, location, contacts, call logs, Keylogger, Apps, E-mails and much more of target smartphone user.
Features of PanSpy
Track Cell Phone Activity: Call logs, Messages, E-mails, Document, Calendar, Photo, Video, Apps and more
Track Current Location: GPS, Geofencing, WiFi logger
Monitor Social Apps: Whatsapp, Skype, Facebook, Instagram, Snapchat, Line, Kik, Tinder, Hangouts and more
Remote Control: App blocker, Schedule restriction
Here are three steps to track a Samsung phone:
Step 1: Subscribe PanSpy.
Go to the PanSpy website, click Sign UP button. Enter you e-mail and create an account. You will receive a confirm e-mail to activate your account. Then login in your account.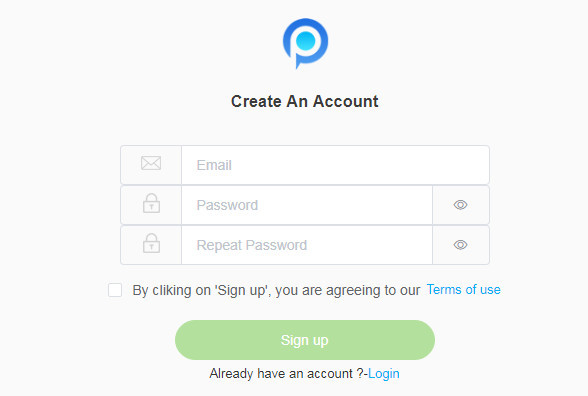 Step 2: Install Application.
Log in to your Control Panel and follow the instructions. Download PanSpy app on your target phone.
Step 3: Start Tracking the Samsung Phone.
Log in to PanSpy Control Panel to start tracking GPS location, instant messages, browsing history and any other activities taking place on the monitored Samsung phone.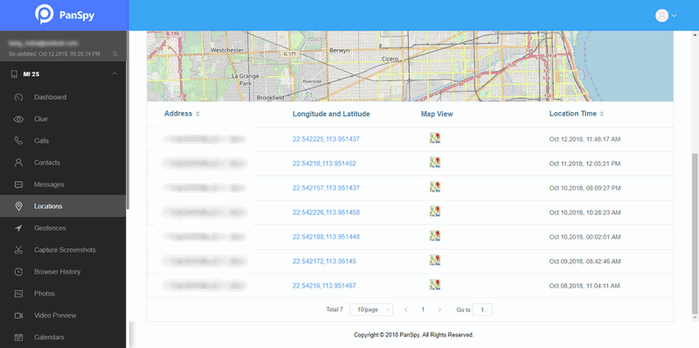 2. How to Track A Samsung Galaxy Phone Using Samsung Find My Mobile
As a Samsung user, you might be able to easily track the live location of Samsung device using Samsung's own tracking service Find my mobile. For this to work, you need a Samsung account and registered your device before you track it.
Features of Samsung Find My Mobile
You are able to locate your device wherever you want by changing the GPS
You can trace out the current, approximate location of the lost device even can lock the screen
If your device is near to you, it will ring for 1 minute at its maximum volume
Following are easy steps to track a Samsung Galaxy phone using Samsung Find My Mobile
Note: Your Samsung device has access to the internet and you need to register the phone with a Samsung account. Find my mobile also needs to be set up on your Samsung phone (enabling remote controls).
Step 1: You have to physical access to Samsung Galaxy device and open Settings on it.
Step 2: Swipe down and choose Lock screen and security option from the list, then open Find My Mobile by tapping on it. Tap on Add Account and enter Samsung account login credentials.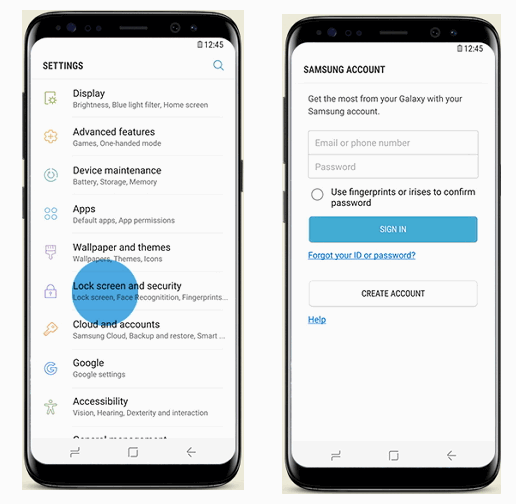 Step 3: After that, open a web browser and type https://findmymobile.samsung.com/ to locate the Samsung Galaxy device and click on the Sign in to open Samsung account on Find My Mobile.
Step 4: Find My Mobile, online dashboard will appear and click on the Locate My Mobile to view the live location of Samsung Galaxy device. You will see three modes including Wipe, Locate, and Ring. Click on the Locate to view the live location.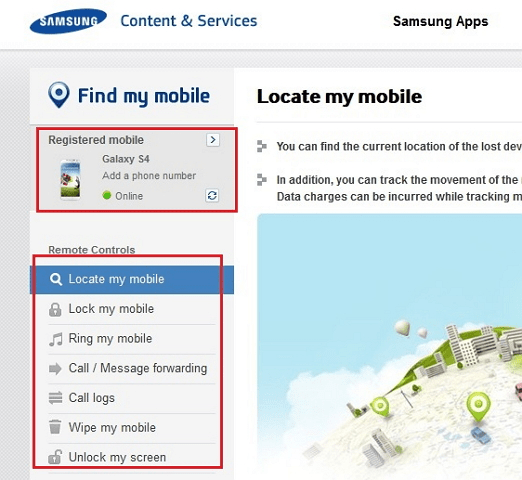 Each Samsung tracking app has its individual features. Hopefully, you will find the best solution to track a Samsung Galaxy phone.