Part 2. How to Block Facebook Website on My Computer
Learning how to block Facebook on your Personal Computer is easy enough. Here, we will share you how to block Facebook website on Windows PC and Mac manually by making some changes to the 'hosts' file.
How to Block Facebook Website on Windows PC
Step 1: Simply launch the Windows Explorer on your system and visit the directory on which Windows is installed. Most of the times, it is the C drive.
Step 2: Browse to C:\Windows\System32\drivers\etc to view a few files. Look for the "Hosts" file.

Step 3: Select the "Hosts" file, right-click it, and open it with Notepad.
Step 4: Scroll to the end of the file and write "127.0.0.1". Press tab and write the URL that you wish to block. In this case, it is www.facebook.com.
Step 5: Simply save the file and restart your computer.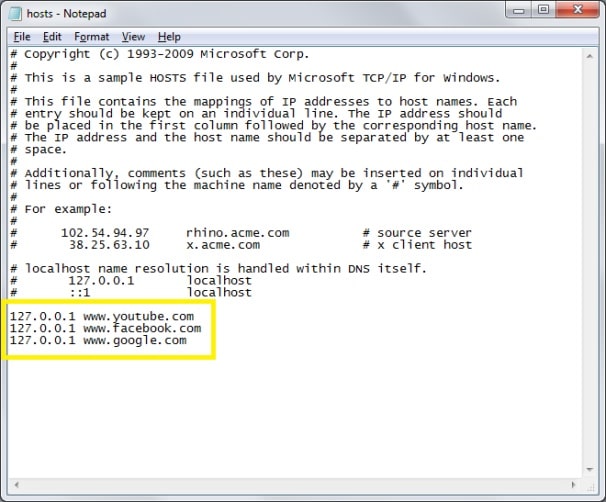 How to Block Facebook Website on Mac
Though the location of the 'hosts' file is different, the method of blocking a website on your Mac is the same. You can always launch the Terminal, open the Hosts file and add the websites you wish to block. Though, you can also take the assistance of the Parental Control app to block certain websites. It can be done by following these steps:
Step 1: Firstly, make a different account for your kids and go to the System Preferences on Mac.
Step 2: From here, you need to launch the Parental Controls section.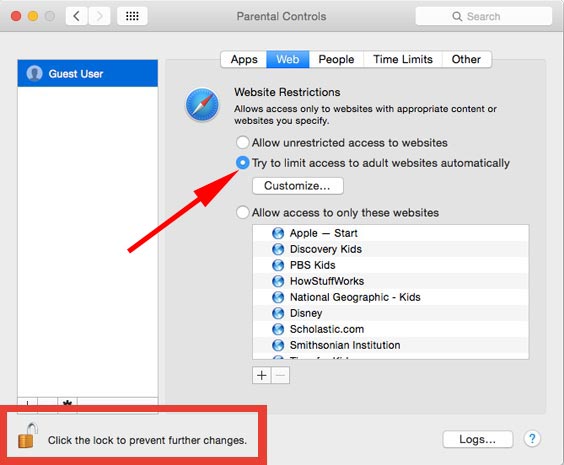 Step 3: Select the account you wish to customize and click on the lock icon at the bottom. You would be needed to provide your password to access these settings.
Step 4:Now, go to the Web tab and under the Website Restrictions section, enable the option of "Try to limit adult websites automatically". Furthermore, click on the "Customize" option to access more options.
Step 5:Click on the Add ("+") icon under the "Never allow these websites" section and manually enter www.facebook.com in this list. Then, save your settings and exit this panel.