As one of the most popular social applications, Facebook Messenger has made it easier for friends and family to communicate across the world. No longer do people have to use snail mail to get in touch with loved ones.
Today people not only use social media for good cause but even for the bad one, which in turn increases the problem in others life. That's why hacking has taken birth, now anyone can hack others Facebook account without them knowing.
Are you interested in learning how to hack someone's Facebook account without them knowing? Well, then you've come to the right place.
Top 3 Reasons Why You Would Need to Hack A Facebook Account
Here to make understand well about the benefits of hacking we are showing you who else make use of hacking method and for what reasons:.
To Keep Your Child Safe: On Facebook, there are criminals and sexual predators that prey on innocent and naive kids. Also, cyberbullying is a common issue among kids and teens on Facebook. So, its parent's duty to keep their children safe from the unwanted things.
To Protect Your Business's Confidential Data: An employer can look up on the Facebook activities and other phone activities which were going on in the user phone without letting them know. You can even check which employee is actually loyal to the company.
To Catch A Cheating Spouse: Many people observe that their spouse doesn't give time to them. The typical problems that could arise in relationships include infidelity, lying, or being too secretive. To clear this doubt now people makes use of the hacking methods and hack the Facebook account without letting them know.
Best Way to Hack Someone's Facebook Account Without Them Knowing
The best method for accessing a person's Facebook needs to be easy, efficient, and with little effort. PanSpy is such a reliable mobile phone tracking application for you to hack someone's Facebook account without their knowledge. Apart from spying on Facebook account, this tool can also help you track all the activities including call history, location, E-mails, Document, Calendar, Photo, Video, Social Apps like WhatsApp, Skype, Viber, Instagram, Snapchat, Kik, Tinder, Hangouts and more on the target phone. What's more, it is fully compatible with Android and iOS devices. It works in stealth mode so that you can hack into someone's Facebook messenger without them knowing.
Why Choose This Tool to Hack into Someones Facebook Account :
Read Private Messages on Facebook: You are allowed to view all private messages sent and received from Facebook Messenger.
View Photos and Videos on Facebook: You can keep a close eye on the photos and videos your kid sends and receives and take precautions if there is any inappropriate content.
Get Access to All Web History Through Facebook Messenger: You are able to browse through all Facebook activity and find out whether your child understands the risks and dangers that Facebook brings and if s/he is ready for online communication.
Trace Liked Pages and Groups on Facebook: Understand your kid's interests better from the pages they like and follow, and interest groups they join.
Block Use of Facebook Messenger: Also, you can block Messenger app on your kid's phone remotely during study time.
Four Steps to Hack Someone's Facebbok Account Remotely
Step 1: Create A PanSpy Account.
Firstly, please create an account for PanSpy by clicking on the Sign Up option on the top right corner of this page. Then, enter your authentic email address and make a password for it. After that, PanSpy will send you a confirmation link. Simply navigate to your Email address, tap the link to activate your account. Then follow the Setup Wizard to complete the following setup process. Choose the operating system that is running on the target device. Here, we are selecting Android.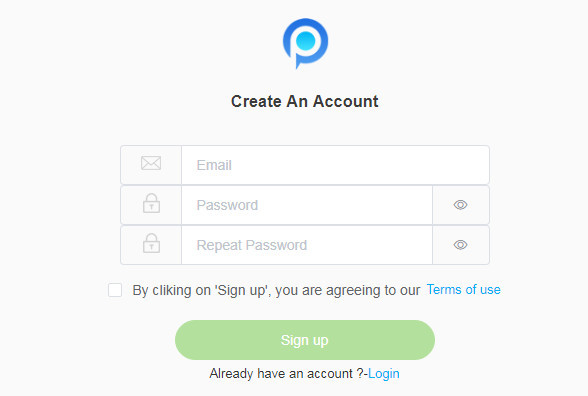 Step 2: Select A Subscription .
Currently, PanSpy offers two editions: Premium Edition, Ultimate Edition. Both editions support for 1-month subscription, quarter subscription and 1-year subscription, you can check the pricing details here. Simply select a subscription you want and move on. At last, you can see a control panel on your computer.
Step 3: Install PanSpy App on Target Phone.
After successfully subscribed the service, you will get a download link, simply download and setup the PanSpy app. Login in with your PanSpy account and authorize PanSpy to access data on the monitored mobile phone according to the instructions. Then, you can choose to delete the app icon or keep it on the homescreen.
Step 4: Start Hacking Someone's Facebook Account Remotely and Secretly.
Once finished the setup process on cell phone, turn back to the Control Panel on your computer. Now, you gain all access to the target phone and all supported features are listed on the panel so that you can click each category to view the data including calls, messages, emails, apps, photos, browsing histories, Viber, Snapchat, WhatsApp, Line, Facebook, etc. Simply click Facebook on the left side of the dashboard to start spying on Facebook Messenger.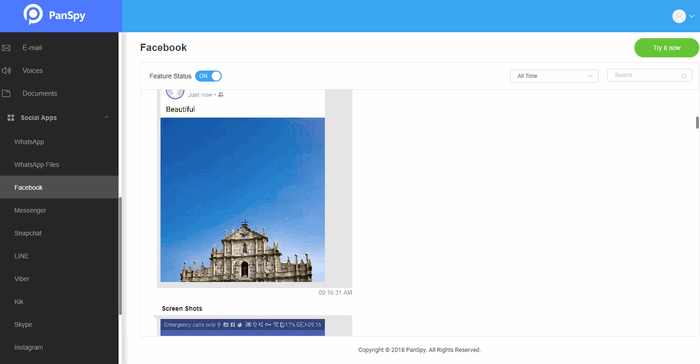 Hopefully, you have learned how to hack someone's Facebook. If you are looking for a safe and secure method then you can try this application.