Part 4: Manage Screen Time and Set Parental Control on Samsung Galaxy S21 with PanSpy
With PanSpy mobile monitoring tool installed on kid's Samsung Galaxy S21, parents can not only remotely manage kid's screen time, set app time limits and track location but also can access all app contents like contacts, messages, videos, photos and social apps like WhatsApp, Snapchat, Instagram and more.
Step 1: Sign up PanSpy with authentic email and then refer to the email sent by PanSy support team to activate your account by yourself.
Step 2: Go to kid's Samsung Galaxy S21, enter panspy.me on browser to download and install PanSpy app on it with permissions required fully authorized. For how it works, you can also refer to this page.
Step 3: After PanSpy app has been well set up on kid's Samsung, parents can visit PanSpy console panel with any browser to remotely track and manage kid's Samsung Galaxy S21.
Manage Screen Time on Samsung Galaxy S21
Tap on Screen Time on left panel, you'll find a bar graph indicating kid's app activities on Samsung Galaxy S21. On the left, you can see Limit Screen Time and Downtime option. Tap on Limit Screen Time, you can control how the maximum time that you kid can use device. Refer to Downtime, you can determine during which time your kid can not access his phone. Also you can go to App Activity to understand how many times your kid's launch each app and how much time they spend on each of them for today, yesterday, last 3 days or last week.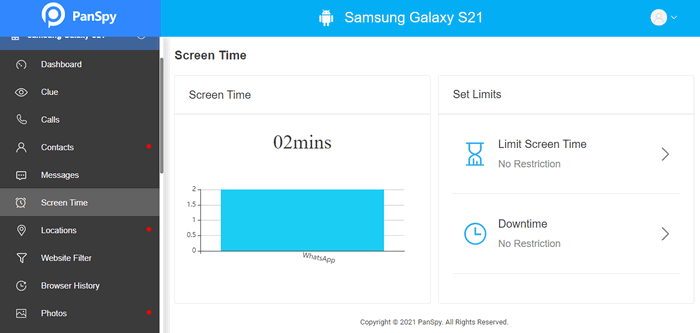 Block App or Set App Time Limits
If you would like to block kid's frequently used apps on Samsung Galaxy S21, just tap on Applications, find the app you want to block and then disable the green button beside the application. Click on Advanced Rules, you can determine how much time your kid can spend on the app or block the app during the period.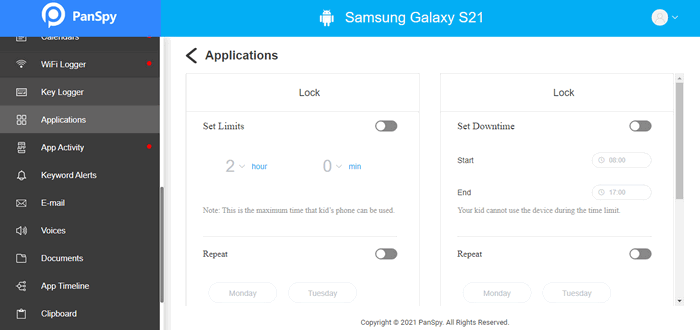 Track Browser History and Block Websites
Tap on Browser History, you can find all kid's web history on Samsung Galaxy S21. If you want to block unwanted websites, just tap on Website Filter.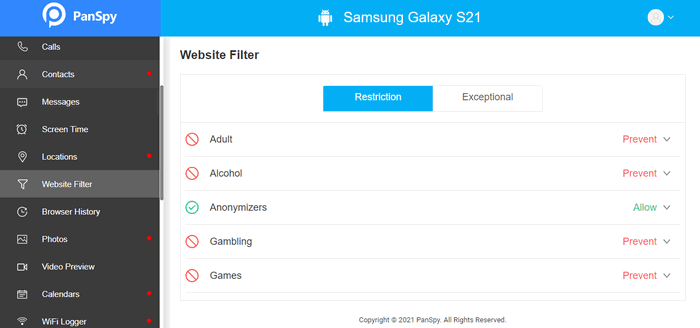 Risky Words Alert
Go to Keyword Alerts, set a word, a phrase or a phone number and then Enable Send me alerts via email. You can also click on Edit to change the email address.
Track Location and Set Geofences
Tap on Location on the left panel, kid's Samsung Galaxy S21 live location will be uploaded. Go to Remote Control >> Geofences >> Start. Mark a location and then set the geofence by creating a circular around the location. Don't forget to enable Send me alerts via email. You can also click on Edit to change the email address.
Track Social Apps
If you want to view kid's WhatsApp messages or attachments, simply go to Social Apps >> WhatsApp then you are able to track all WhatsApp chats, pictures, videos and other activities. For other social apps like Twitter, Snapchat, Tinder, Line and more are also supported.