Method 1. Create Different Profile for Kids
One of Netflix's main methods of providing some level of parental control is by using maturity levels to determine what content your child is permitted to view.
The maturity levels offered include the following:
Little Kids: watch movies and TV shows suitable for all ages.
Older Kids:watch movies and TV shows suitable for older kids.
Teens: watch movies and TV shows suitable for teens.
Adults: watch all movies and TV shows, including mature content.
If you have a younger kid at home, Netflix gives you an option to create a profile that will only show age-based appropriate shows and you can be sure that your kid is watching only what he is intended to and not something he should not.
Setup A Profile for Kids:
Step 1: Go to Netflix.com and log in.
You'll see the login icon at the top-right of the Netflix homepage.
Step 2: Click manage profiles.
Doing so will keep you on the page, but place icons over the profiles, indicating you can edit their settings.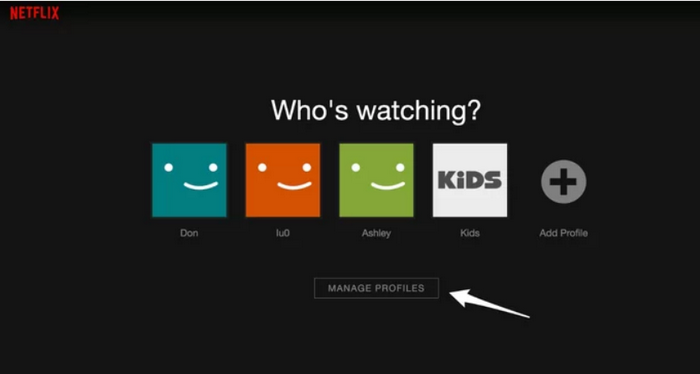 Step 3: Choose the profile you want to manage.
Click on the icon over that profile to get into its settings.
Step 4: Set the maturity level.
Select the profile of your kids and specify the type of content you want them to access. There are different levels of content that you can select.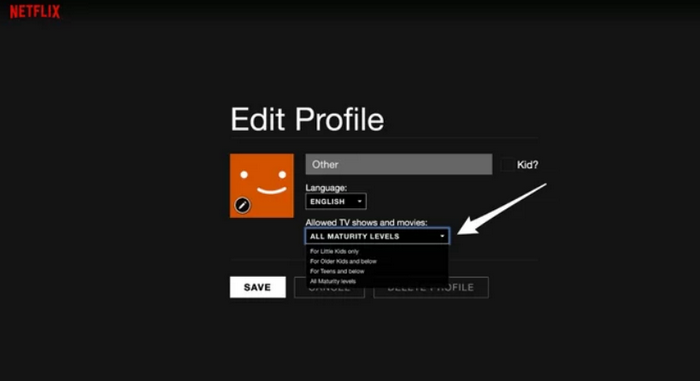 Step 5: Tap save when you're done.
Save your changes and visit your kid's profile. You can view that only age-appropriate content will be displayed there.