Method 2. How to Set Time Limit on Facebook via PanSpy
When it comes to the applications to limit time on Facebook, PanSpy is one of the popular and reliable applications which assists you with this issue. Apart from setting the time limit on Facebook, it enables you to track all activities on smartphone, including text messages, location, contacts, call logs, Keylogger, Photo, Video, Apps, E-mails, multiple social apps like WhatsApp, Skype, Facebook, Instagram, Snapchat, Line, Kik, Tinder, Hangouts etc remotely and secretly. Let's have a look at its key features.
Top Features of This Application:
Remote Control: You are able to block apps as well as schedule restrictions on device usage time.
Easy to track real-time location: PanSpy's location tracking feature is really useful if you want to know someone's exact location. With PanSpy, you can track the location history of the target phone and find out their real-time location. You can even set Geofences.
View call logs easily: With PanSpy, you can monitor incoming, outgoing, missed or rejected phone calls including contact names, phone numbers, call duration, timestamps, chronology.
Monitor Web browsing history: PanSpy also allows users to access target device's browsing history including link of browsing website, the correct records of browsing date and time.
Check instant messaging chats and other social apps: This parental control application makes tracking on messages easier. Besides, you can view chats conversation from WhatsApp, Skype, KIK, Wechat, and other IM chats.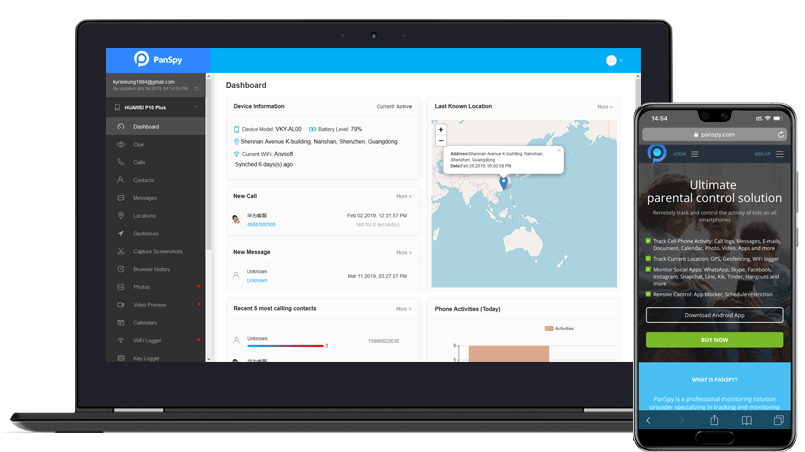 Four Steps to Limit Time on Facebook:
Step 1: Create A PanSpy Account.
Create a PanSpy account by clicking the Sign Up option on the top right corner of this page. Then, enter your valid email ID and password for registration. After that, PanSpy will send you a confirmation link. Simply navigate to your Email address, tap the link to activate your account. Then follow the Setup Wizard to complete the following setup process.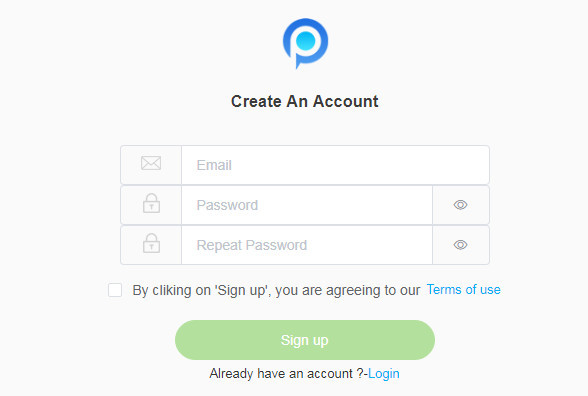 Step 2: Select A Subscription .
Currently, PanSpy offers two different editions, one is Premium Edition, the other is Ultimate Edition. Both editions support for 1-month subscription, quarter subscription and 1-year subscription, you can check the pricing details here. Simply select a subscription you need and you can see a remote control panel on your computer. With your PanSpy Account, you can log in anytime.
Step 3: Install and Setup PanSpy App on Target Device.
Once successfully subscribed the service, PanSpy will provide you a download link. Simply access to your target phone and download PanSpy app using this link and follow the instructions to install PanSpy. Then, login in with your PanSpy account and give PanSpy permission to access data on the monitored mobile phone. Once you finished all process, you can choose to delete the app icon or keep it on the homescreen.
Step 4: Start Limiting Time on Facebook.
After finished the setup process on the cell phone, turn back to the PanSpy Control Panel on your computer. Now, you will get complete access to the target phone and all supported features are listed on the panel. You can click each category to view the data like calls, messages, emails, apps, photos, social app such as Facebook, etc.
In order to set limit time in Facebook, simply click Schedule Restriction on the left side of the dashboard to add a restriction to the target device. Enter the start time, end time, days for the restriction, and then save it. Just confirm it by viewing the restricted message that would be displayed on the device.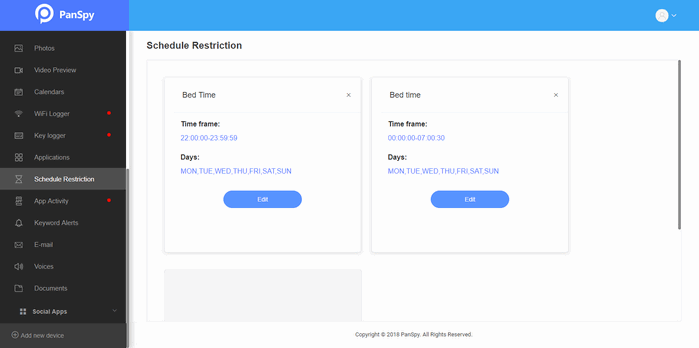 Furthermore, you can go to the Applications section and block any app from the device indefinitely. Later, you can unblock the app as well.