Part 2: How to set parental control on kid's social apps?
Although there are privacy restrictions on various social apps, but they are far from enough to keep kids safe on social platforms and that's why third-party parental control apps matter. Here we'll mainly come up with 2 methods to show you how to set parental control on kid's social apps.
Solution 1: Limit social apps usage and detect risky words
FamiKit is mainly for screen time management and risky words detection. Also, with this app, parents can track kid's browser history and filter unwanted websites. For how to use FamiKit to limit social apps usage and detect risky words, we'll break it down for you.
Features of FamiKit:
View kid's phone activities and get daily report
Create smart schedules and curfews
Block porn or any unwanted websites
Get real-time location and track location histories
Set geofences and be notified
Detect risky words on browsers and social apps
Step 1: Sign up FamiKit to create an account.
Step 2: Search FamiKit on Google Play Store to download and install FamiKit on kid's Samsung Galaxy S21. Sign in your FamiKit account, select kid's role and follow the instructions given on the screen to fully authorize permissions required. After it is well set up, your kid can not uninstall FamiKit without password.
Step 3: Back to parent's device to remotely set parental control on kid's social apps. From the Most Used part of Home page, you'll find kid's frequently used apps and hours used on each of them. Tap on Feature > App Usage, you can set app time limits on them. Parents can either to determine the maximum time that each social app can be used or just simply set a downtime time for them. Find Feature > Safe Social, FamiKit can automatically detect risky words on social platforms so that parents can be alerted.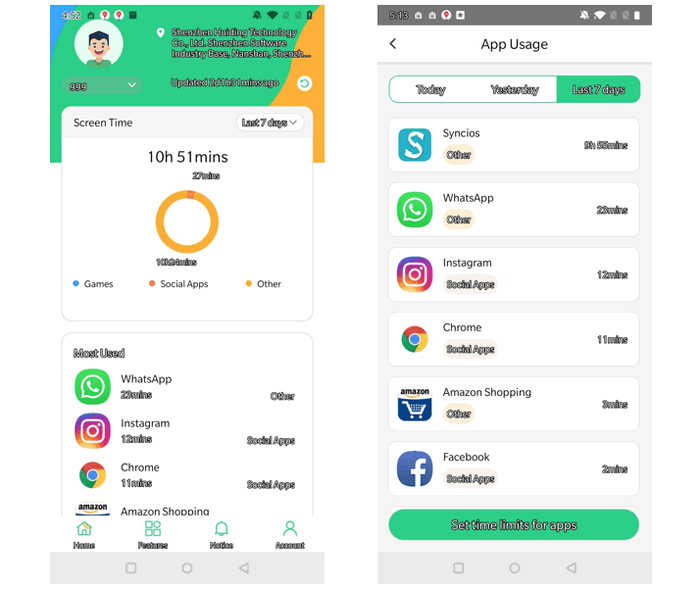 Solution 2: Use PanSpy to monitor kids' social apps
PanSpy is an all-in-one monitoring tool for parents to track kid's Android. With this app installed on kid's device, parents can remotely track social app activities and more.
Features of PanSpy:
Read Private Messages on social apps: You are allowed to view all private messages sent and received from social apps.
View Photos and Videos on social apps: You can keep a close eye on the photos and videos your kid sends and receives and take precautions if there is any inappropriate content.
Get Access to All Web History Through social apps: You are able to browse through all social apps activity and find out whether your child understands the risks and dangers that social media brings and if s/he is ready for online communication.
Trace Liked Pages and Groups on social platform: Understand your kid's interests better from the pages they like and follow, and interest groups they join.
Block Use of social media: Also, you can block social apps on your kid's phone remotely during study time.
Limit screen time: Determine maximum time that kids social apps can be used and set downtime for them.
Step 1: Sign up PanSpy to create an account with authentic email. After that, you can refer to the email sent by PanSpy support team to activate your account by yourself.
Step 2: Go to kid's Samsung Galaxy S21 and enter panspy.me on browser to download and install PanSpy app on it with permissions required fully authorized. Please note that all important permissions are required to be enabled, while optional permissions are up to you. For how it works, you can also refer to this page.
Step 3: Visit PanSpy console panel with any browser to start remotely tracking kid's social media apps. Scroll down to the bottom, tap on Social Apps and you are able to track Facebook, Instagram, Snapchat, WeChat, Twitter, Kik and more.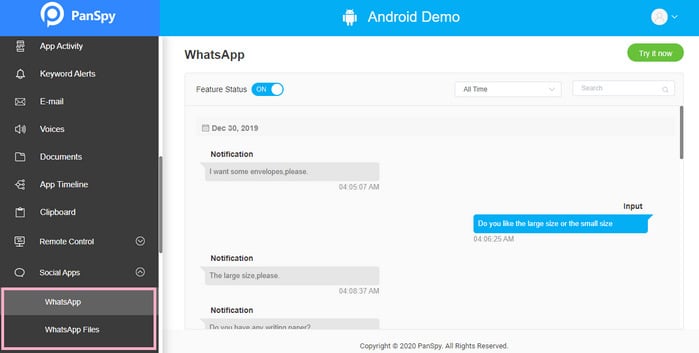 Step 4: Also you are able to use PanSpy to track how much time was spend in these social apps by tap on App Activity on the left. Click on Applications, parents can choose the block desired social apps. Touch Advanced Rules, time restrictions are available for each social applications.