Part 3: Monitor Kid's App Activities on Samsung Galaxy S21 with PanSpy.
As an all-in-one parental control app, PanSpy can track all app activities on Samsung Galaxy S21. And we'll break it down for you.
Features of PanSpy
Track Cell Phone Activity: Call logs, Messages, E-mails, Document, Calendar, Photo, Video, Apps and more.
Track Current Location: GPS, Geofencing, WiFi logger.
Monitor Social Apps: WhatsApp, Skype, Facebook, Instagram, Snapchat, Line, Kik, Tinder, Hangouts and more.
Remote Control: App blocker, Schedule restriction, Screen Management, Web Filter.
Step 1: Sign up PanSpy to create an account with authentic email. After that, refer to the email sent by PanSpy support team to activate your account by yourself.
Step 2: Go to kid's Samsung Galaxy S21 and enter panspy.me on browser to download and install PanSpy app on it with permissions required fully authorized. Please note that all important permissions are required to be enabled, while optional permissions are up to you. For how it works, you can also refer to this page.
Note: The App icon is not available to be hidden for Android 10 and above due to higher privacy protection on those devices.
Step 3: Then you can visit PanSpy console panel with any browser to remotely track kid's app activities on Samsung Galaxy S21.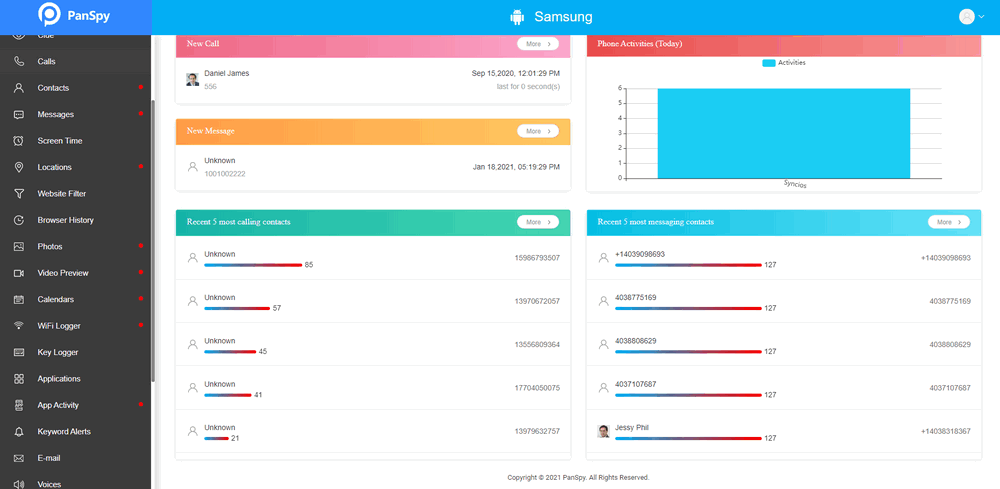 Track App Activities
As you can see from the console panel, you can refer to the App Activity to track kid's app usage like how much time they spend on those apps and their launch times.
Set App Time Limits
If you want to block certain app, tap on Applications, find the target app and then disable the button. Or you can tap on Advanced Rules to set maximum time for the app usage or downtime of it.
Screen Time Restriction
Tap on Screen Time, you'll get a bar graph indicating app usage, beside which you can choose Limit Screen Time and Downtime for the smartphone usage.
Track Contacts, Messages, Call History
With PanSpy installed on Samsung Galaxy S21/S21 Ultra, you can remotely check contact details of target device and call histories on it such as name, phone number, duration, date and call type. Any messages sent or received by target device will be uploaded on PanSpy console panel and you can even check the deleted ones.
Track Photos, Videos and Audios
With the help of PanSpy, you can view or even download all photos, videos and audios stored on target Samsung device.
Track Web History and Block Sites
If you want to figure out what he or she is browsing with phone, PanSpy will automatically upload the URL, title, visit frequency, last visit time and even tells you whether it is bookmarked. Also you can use PanSpy to block websites by categories or customize site access.
Track Social Apps
Importantly, PanSpy supports to track social apps like WhatsApp, Snapchat, Facebook, WeChat, Twitter, Kik and more. You can know what he or she is sharing on these platforms including messages of incoming and outgoing together with multimedia like photos and videos or other attachments.