Part 3: Remotely Track Browser History and Block Websites with PanSpy
PanSpy is an overall parental control tool for content tracking without rooting. With easy set up procedures, parents can fully access kids' Android device and set control on it.
Features of PanSpy:
Track Cell Phone Activity: Call logs, Messages, E-mails, Document, Calendar, Photo, Video, Apps and more.
Track Current Location: GPS, Geofencing, WiFi logger.
Monitor Social Apps: WhatsApp, Skype, Facebook, Instagram, Snapchat, Line, Kik, Tinder, Hangouts and more.
Remote Control: App blocker, Schedule restriction.
Step 1: Sign up PanSpy with valid email address and then refer to the email sent by PanSpy support to activate your account.
Step 2: Go to your kid's Android and enter panspy.me on browser to download and install PanSpy app on it with permissions required fully authorized. For how it works, you can also refer to this page to set up it.
Step 3: After PanSpy app is successfully set up on target Android, now you can remotely access and control the device on PanSpy console panel which is available for both computer and mobile devices.
Remotely Track Browser History on Kid's Android with PanSpy
On PanSpy console panel, tap on Browser History on the left, and then you are able to access the browser histories of kid's Android. Here you'll find the URL, Visit frequency, Last visit time and whether it is bookmarked.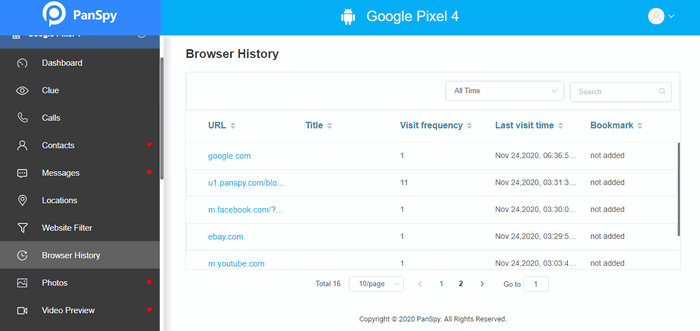 Remotely Block Websites on Kid's Android with PanSpy
For blocking websites, simply refer to Website Filter on the left panel. Here you will find website categories and if you desire to block it by categories, just tap on Prevent. If you would like to customize site access, simply tap on Exceptional >> Add Exceptional, enter the URL that you want to block, select the rule of Prevent and then tap on Add Exception to confirm it.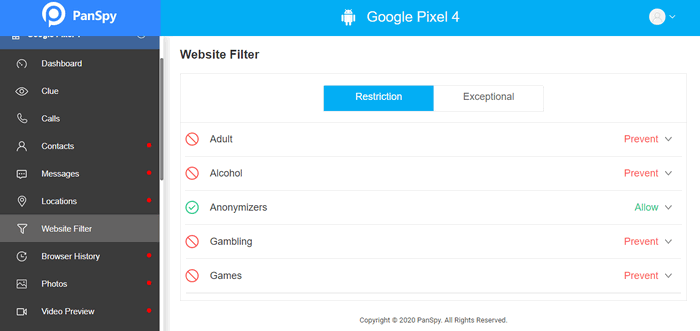 More Features about PanSpy Monitoring Tool
From PanSpy console panel, you can not only track your kid's browser history and block websites, contacts, messages, calls, location, photos, videos, WhatsApp, Facebook and more social apps are supported as well. Besides, PanSpy gives parents chance to set smart schedule, capture screenshot, set geofencing to create safe zones for kids and more.