Part 4: Install a Tracking App to Find Lost Samsung Galaxy S21/S21 Ultra in the Future
No one plans to lose their phones, so the first thing you might need to do is to install a tracking app on your newly purchased Samsung Galaxy S21/S21 Ultra. The most trustworthy and powerful monitoring app I would like to mention here is PanSpy which not only works for Samsung, but also supports all devices running Android 5+ including Google Pixel, OnePlus, Huawei, Xiaomi, Oppo, Vivo, Sony, LG and more.
With PanSpy installed on Samsung Galaxy S21/S21 Ultra, you can check the route history of the device, get accurate whereabouts of it in real-time as well as track all app activities on it. Just follow us to get how to track Samsung Galaxy S21/S21 Ultra with Android tracker PanSpy.
Step 1: Create a PanSpy Account
To activate its usage, you need to firstly Sign Up PanSpy. Just enter your authentic email address and make a password of it. After a while, you'll receive a confirmation link in your email box. Once you activate your account, you can follow the setup wizard to start setup procedures.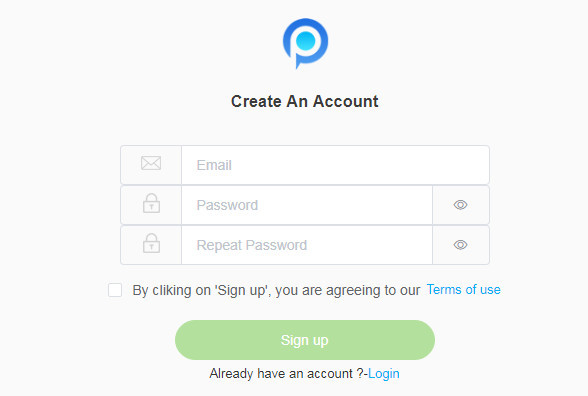 Step 2: Install PanSpy App on Samsung Galaxy S21/S21 Ultra
Go to Samsung Galaxy S21 and enter panspy.me on browser to download and install PanSpy app on it. Then login your account which you previously registered with to authorize PanSpy to access data on monitored device according to instructions given on screen. You now need to set up both important permissions and optional permissions on the device. All the important permissions are needed while optional permissions depend on your own needs and you can jump some of them. But to locate your Samsung device, remember that the Location service and Location feature must be turned on. If you have any problems during the set-up, you can simply refer to this page.
Note: There is no need to root Samsung Galaxy S21/S21 Ultra.
Step 3: Start Tracking and Locating Your Lost Samsung Galaxy S21/S21 Ultra
After you install PanSpy app on Samsung Galaxy S21 with permissions required fully authorized, just visit PanSpy console panel with any browsers and refer to Location on the left to start locating your lost Samsung phone as well as tracking its location histories.
As you will notice all supported features including but not limited to contacts, calls, messages, emails, apps, photos, browser histories, key logger, Viber, Snapchat, WhatsApp, Line, Facebook are listed on the left panel, you can remotely monitor what other people did with your phone.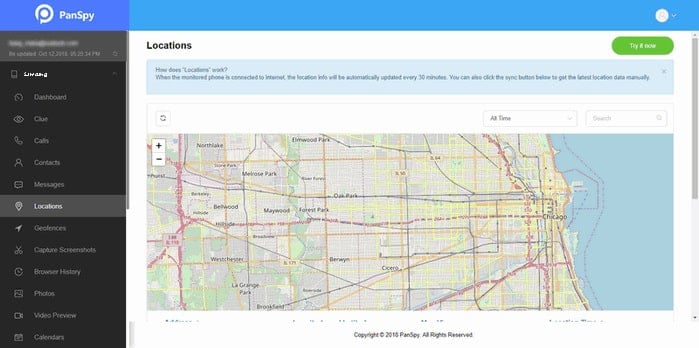 Features of PanSpy
Track Cell Phone Activity: Contacts, Messages, Call logs, Phone call, E-mails, Document, Calendar, Photo, Video, Apps and more.
Track Current Location: GPS, Geofencing, WiFi logger
Monitor Social Apps: WhatsApp, Skype, Facebook, Instagram, Snapchat, Line, Kik, Tinder, Hangouts and more.
Remote Control: App blocker, Schedule restriction, Screen time management, Website filter.