Locate My Husband Current Location by His Phone
If you can read all information on your husband's phone freely, then you will not even click this article. This article helps partners who need to track their husbands' phones secretly. And even you can get your husband's phone at home, you may not find any critical information. If your husband is cheating on you, then he is more likely to delete all call logs, messages or emails before coming home. His rel-time location will tell you what he said was true.
There are different tracking apps. Among all of them, PanSpy provides a more professional service. It works well on Android or iOS devices. You are allowed to remotely track and locate your husband with its help. Meanwhile, all the activities including call history, location, E-mails, Document, Calendar, Photo, Video, Social Apps like WhatsApp, Skype, Facebook, Instagram, Snapchat, Kik, Tinder, Line and more are available on the target phone. And if you want a secret monitoring, PanSpy can also be helpful.
Here are some features of PanSpy:
Track Cell Phone Activity: Contacts, Messages, Call logs, Phone call, E-mails, Document, Calendar, Photo, Video, Apps and more.
Track Current Location: GPS, Geofencing, WiFi logger
Monitor Social Apps: WhatsApp, Skype, Facebook, Instagram, Snapchat, Line, Kik, Tinder, Hangouts and more.
Remote Control: App blocker, Schedule restriction, Screen time management, Website filter.
Step 1: Create A PanSpy Account.
Go visit the official website of PanSpy. The first thing we need to do is to create a personal account. On the website, navigate to the top right corner of this page, tap Sign Up button. Then a registration window pops up. You need to enter your authentic email address and set a password for protection. Afterwards, you will receive a confirmation email on your mail box. In that email, locate a confirmation link and click it, which helps you to activate your new created account. Then follow the Setup Wizard to complete the following setup process. Choose the operating system that is running on the target device.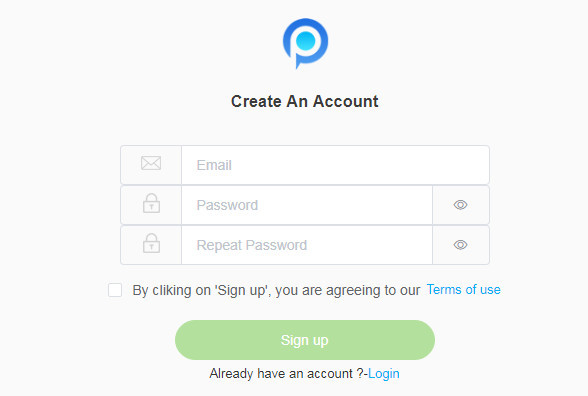 Step 2: Select A Subscription .
Before properly start monitoring, you need to decide which edition you need. Currently, there are two editions: Premium Edition, Ultimate Edition. Both editions support for 1-month subscription, quarter subscription and 1-year subscription. Choose a edition according to the its pricing details. After a subscription, you can check a control panel on your computer.
Step 3: Install PanSpy App on Target Phone.
Soon after, you will get a download link from PanSpy. From that link you are able to install PanSpy on the target phone. When setting up this app, you need to get access to your husband's hone. Follow its prompts to set up and log in with your PanSpy account. Remember to authorize PanSpy for data accessibility according to the instructions. Then, you can choose to remove the app icon or keep it on the home screen.
Step 4: Start Checking Text Messages of the Target Mobile Phone.
After finished the setup process on the cell phone, just return your husband's phone. And open the control panel on your computer. Here you can get complete access to the target phone and all supported features are listed on the panel. Choose any category to start monitoring, including calls, messages, emails, apps, photos, browsing histories, Viber, Snapchat, WhatsApp, Line, Facebook, etc. Simply click Location on the left side of the dashboard, you will get a real-time location of your husband. All location records are displayed for your reference.