If you're a parent you must be aware that your child could easily come across adult content on a tablet or smartphone with an Android operating system. Apps in Google Play, Movies, and Google search can bring up images you do not want your children to see. Even searching for the word "Small" can bring up images and websites on the first page of the Google search. The good news is, you can restrict these. As a parent, we sometimes hand our phone to our child to keep them content while running errands. If you are someone who does this, you should seriously consider putting restrictions on your phone.
Truth to be told, there are various ways to block adult sites. And to help you out, we have listed the best and the most reliable ways to how to block adults websites in Google Chrome.
6 Ways to Block Adult Websites
1. Turn on Google SafeSearch
Perhaps the easiest way to block porn on Android is by enabling the Google Safe Search feature. SafeSearch blocks inappropriate or explicit images and video from Google Search. It adds a layer of protection against malicious content. Turning this on and off can be done on each web browser. Once this is set up, it will start blocking potentially harmful videos, images and websites both while browsing the internet and the Play Store.
Set your search engine to Google. Check the settings on whichever browsers your kids use (Chrome, Safari, Internet Explorer, Firefox, etc.) and make sure they use Google as their default search engine. (On an iPhone, go into your phone's settings, scroll down and tap on Safari, and then choose Google under Search Engine; in Chrome, tap or click on the three dots either at the top or bottom of the screen).
Enable SafeSearch. On mobile devices, open your Google app (you may need to download it). Tap on the gear icon, scroll down and tap on Search Settings, and then tap "Filter explicit results" under SafeSearch filters. On desktops and laptops, go to www.google.com and click Settings in the bottom-right corner; click on Search Settings; and click Turn on SafeSearch and then Lock SafeSearch.
Check all devices, and recheck periodically. Perform steps one and two for all devices your kids use. Regularly check the Google app or preferences section to make sure SafeSearch hasn't been turned off.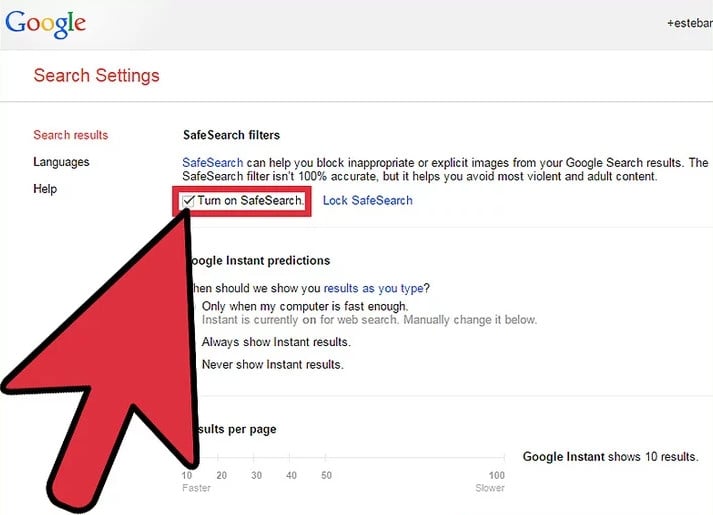 2. Add Restrictions on Google Chrome
If you just do not wish to go for any of the third-party available tools out there, free ways are here for you. You can simply block adult websites Chrome, with the restrictions feature of Google Chrome. All you need to do is add all the website URLs manually which you want to block. Follow below steps:
Step 1: Open Google Chrome and just navigate to Settings by tapping the 3-dot icon present on the right top side. Now simply navigate to Advanced & System & Open Proxy Settings.
Step 2: Once the Internet Properties interface is opened, navigate to the tab of Security. Choose the option Restricted Sites. Tap on the option "Sites".
Step 3: With this a new Restricted Sites pop-up will be opened. Now all you need to do is provide all the adult website URLs manually that you want to block. Now tap on option "Add".
Step 4: Now simply save all the made changes and just re-open Google Chrome. You are done with blocking of adult websites.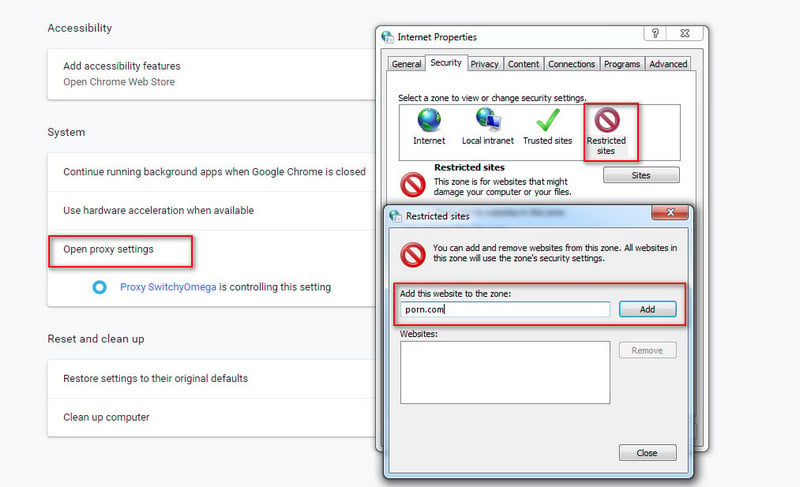 3. Use Google Play restrictions
Turn on the restriction on Google Play on their Android devices will prevent children from downloading apps, games and other web resources that are not appropriate for their age. First of all, you have to choose Google Play Store icon from the app list on child's device.
Then you need to open 'Settings'. You can do this by tapping the menu sign in the upper left corner of the Play Store home screen and choose 'Settings' from the window that will open. From the 'Settings' screen you need to choose 'Parental controls'.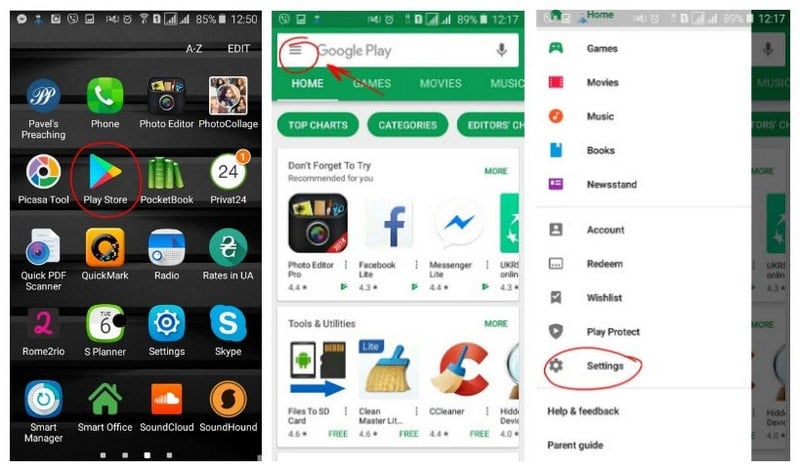 After taping it you will go to 'Parental controls' screen where you have to turn the feature on. After doing that you will be offered to create PIN and block the content you don't want your child to have an access to. You will use it to change parental control settings for this account. Do not tell PIN code to your child. And then you can set restrictions based on age rates for each category.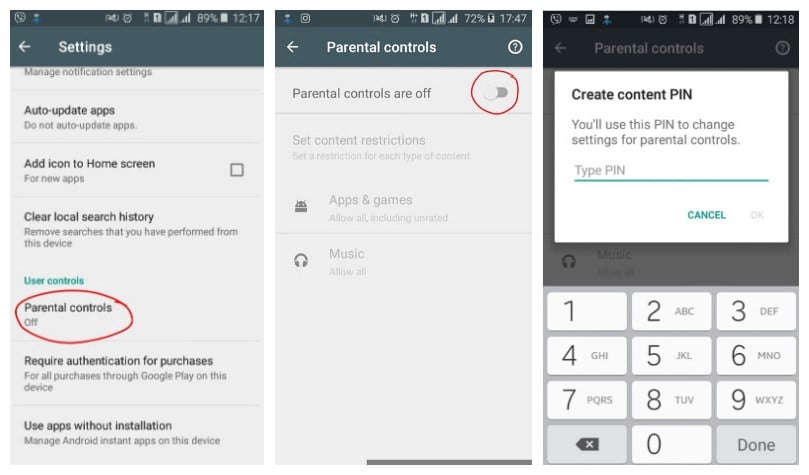 4. Block Adult Websites on a Mac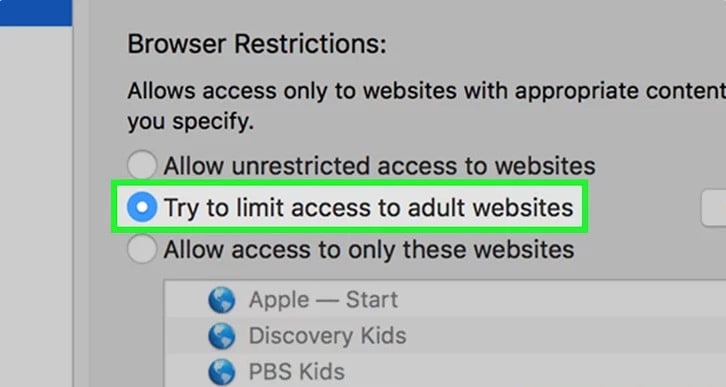 Step 1: Click the Apple menu. It's the apple-shaped icon in the top-left corner of the screen.
Step 2: Click System Preferences. This option is near the top of the drop-down menu.
Step 3: Click Parental Controls. It's a yellow icon with a graphic of an adult and a child.
Step 4: Click the lock icon. It's in the bottom-left corner of the window. Enter your administrator password. This is the password you use to log into your Mac.
Step 5: Click OK. Doing so will unlock the parental controls app. Click a user's name. Usernames are in the left-hand pane of this window. This should be a user for whom you wish to restrict browsing.
Step 6: Click the Web tab. It's at the top of the window. Click the "Try to limit access to adult websites" circle. It's near the top of the window. This option will prevent blatant adult content from appearing in Safari.
Step 7: Click the lock icon again. Doing so will save your changes.
5. PanSpy parental control
Sometimes, using the methods above are somewhat ineffective. Apps like the Safe Browsers can be uninstalled, OpenDNS settings can be changed back to their original settings, and other blocking devices can be worked around, uninstalled or simply ineffective against new websites and forms of content. So, what are you supposed to do to protect your children and loved ones?
PanSpy, a professional monitoring solution provider specializing in tracking and monitoring tools for smartphone users, helps you get access to Contacts, Calls, Text messages, location, photos, and multiple social apps like WhatsApp, Skype, Facebook, Instagram, Snapchat, Line, Kik, Tinder, Hangouts etc. With this ultimate parental control solution, you can remotely track and control the activity of kids on their Android devices by only three steps. And here's how:
1. Create a PanSpy account
Open PanSpy official website on your browser (both desktop or mobile are available), find Sign Up button and click on it. Use an authentic email address to sign up PanSpy. After successfully create a PanSpy account, it will send a confirmation link to your Email to activate your account, simply navigate to your Email address, tap the link to activate your account, then follow the Setup Wizard to finish the following setup process.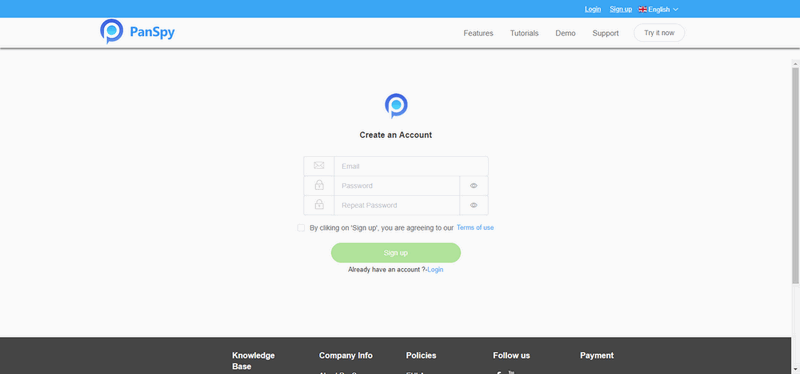 2. Select a subscription and install the PanSpy app
You need to select a subscription before using PanSpy app, currently it offers two different editions, one is Premium Edition, the other is Ultimate Edition. Both editions support for 1-month subscription, quarter subscription and 1-year subscription, you can check the pricing details here.
After successfully subscribe the service, you will get a download link to download and setup the PanSpy app. So simply download and install the app on your child's mobile device, login your PanSpy account, and follow the instructions given to set and give the app permission to access data on the target device. Once you finished all process and started the service, you are allowed to delete the app icon or keep it anyway on the screen.
3. Start monitoring on target phone
After finished the setup process on target device, you need to turn back to your computer (or your own mobile device) to view the monitored data. You can always access the data on the control panel. And for the first time you enter the dashboard or control panel, it takes some time to sync all data from monitored device. All supported features are listed on the panel so that you can click each category to view the data. To sync latest data from target device, simply click the refresh button. And you should be noted that PanSpy will fail to sync newest data if the target device is powered off or disconnected to the internet.
Now you can check photos/videos your child downloaded from Internet, track Internet browser history and set keyword alert for porn/drugs or other things you don't want your child get access to. You can set time limit of phone usage on their phone, for example, the phone is set to be locked after 11:00 pm. PanSpy mobile monitor can even help you track their real-time location in case of any danger happen to your loved ones.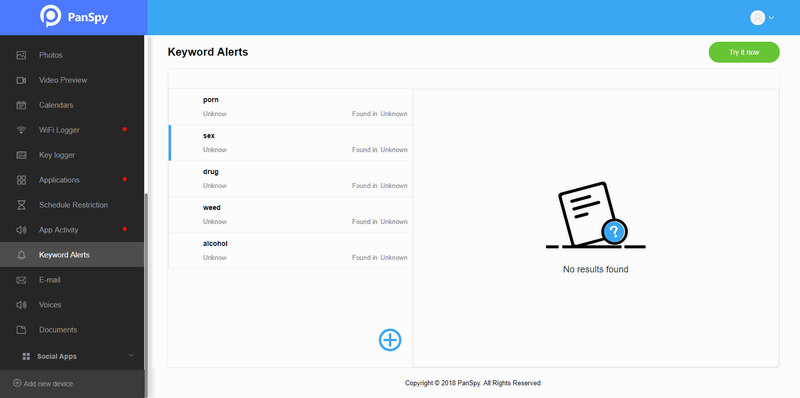 6. FamiKit parental control
FamiKit is another professional parental control app which is highly recommended to help you block adult websites in Google chrome. And it's really simple to use this app. You can follow the steps below:
1. Download FamiKit app
Firstly, go to FamiKit official site and find its downloading page, click on the download button to download the app to your kid's device and your own device. And then tap the .apk file to install it.
2. Set up FamiKit app on your kid's device
Open FamiKit app, simply register an account with a Email address. After that, sign in your account and select "Kid" option to continue. And then you need to follow the instructions given to set up the app on your kid's device. After several simple clicks, your kid's device now is ready.
3. Set up FamiKit app on your own device
Now turn to your own device, open FamiKit and sign in the same account you logged in on your kid's device. Click on "Features" tab, you will see "Website Filter" option, tap on it. The "Adult Content" is listed on the top. To block adult contents on your kid's device, switch the Allow button to "Prevent".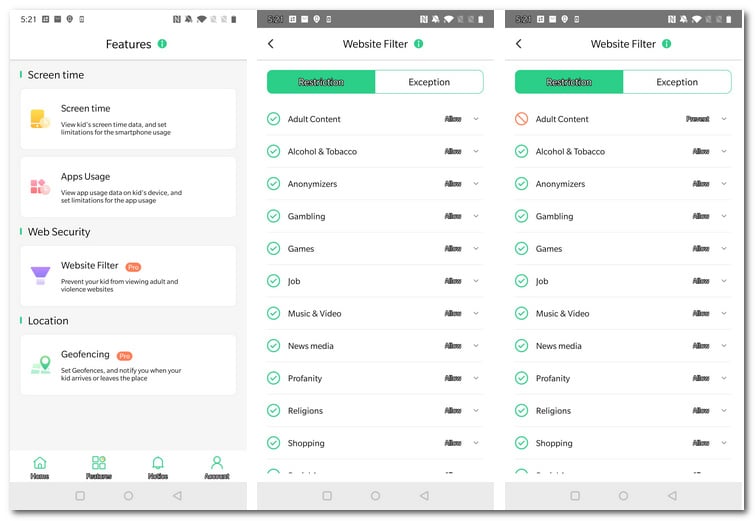 After reading this article it should be clear to you, how to block adult websites easily. Blocking adult content is not a complicated task if you follow a proper step by step guideline. In this article you will get to learn 6 best ways to block adult content in a step by step process. But the best way to block adult content is using PanSpy – the most reliable parental control app. So without wasting any more of your time and money on other useless apps and start using the best parental control app to block adult content. If you have any query you can contact them by filling their contact us portal, call or email.