Smartphones make our life easier. However, smartphones enables us to access all kinds of information including those harmful contents with ease. Things are worse with your children, who are vulnerable to these inappropriate contents. If you suspect that your child is watching pornography on his smartphone, how do you detect if there are porn and adult contents in the device, as well as block them to protect your child's physical and mental health? The good news is, you do have the options. This article tells you how to easily detect and block porn in your child's Samsung device.
PanSpy, a professional monitoring solution provider specializing in tracking and monitoring tools. It offers massive great features to help parent to monitor the smartphone usage. With PanSpy, you can remotely track all activities of kids on their Samsung devices, and detect if your child's device has porn or other adult contents. And here's the details:
1. Create a PanSpy account
Open PanSpy official website on your browser (both desktop or mobile are available), find Sign Up button and click on it. Use an authentic email address to sign up PanSpy. After successfully create a PanSpy account, it will send a confirmation link to your Email to activate your account, simply navigate to your Email address, tap the link to activate your account, then follow the Setup Wizard to finish the following setup process.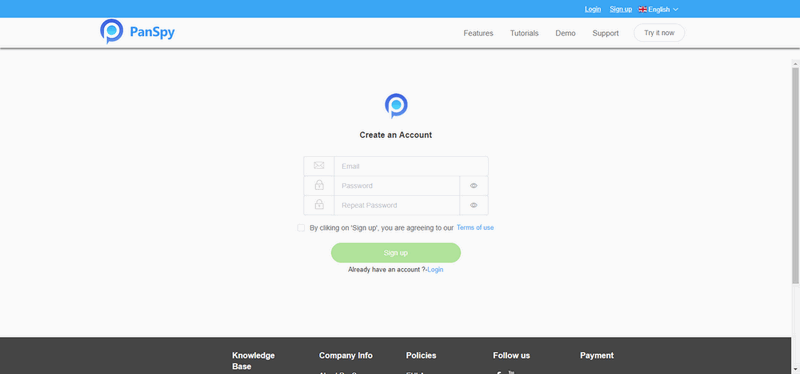 2. Install and Setup PanSpy App on Kid's Device
After you sign into your account, it will give a link to download PanSpy app. You need to install and set it up on your kid's Samsung device to proceed. The steps are quite simply, you just need to follow the step-by-step tutorial to do it. And you are allowed to delete the app icon on the screen so that your kid won't be noticed.
3. Check Browser History in Your Kid's Device
Your kid may search porn or other adult contents in the browser, so you'd better to check the browser history in the smartphone. Sign into the console, click on the Browser History tab on the left of the panel, you will see what your kid were searching and viewing in the browser.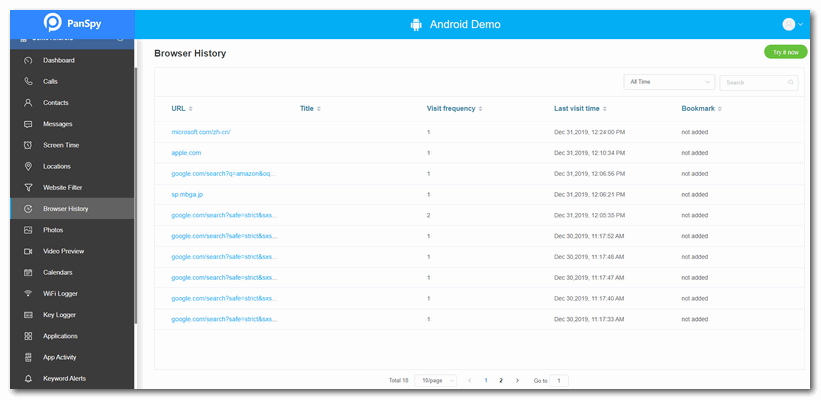 4. Check Media Files Saved on Smartphone
Your kid may save porn or adult contents on the smartphone, so need to check the media files on the device. Similarly, sign into the console, click on the Photo and Video tab on the left of the panel, all images and video will be listed there, you can check if there are porn in the smartphone.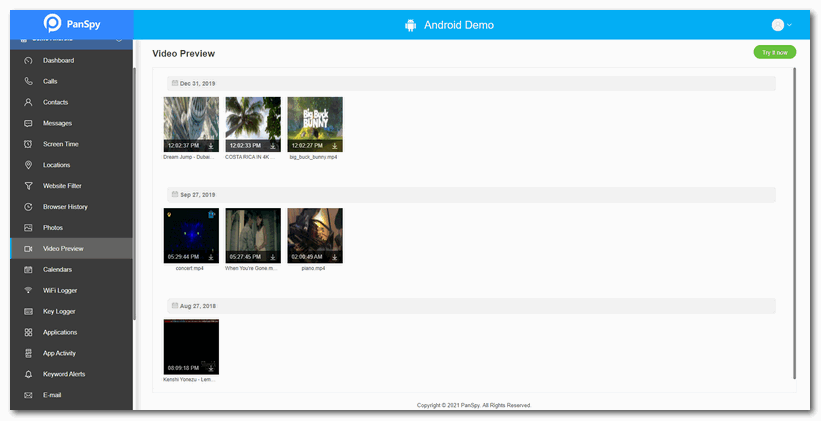 5. Block Porn Websites or Search Results in the Browser.
PanSpy enables you to directly block adult websites and search results in the browser to protect your child. To do so, you need to click on Website Filter tab on the left of the control panel, you will see some categories listed there, switch the Adult button to Block option so that all adult websites and search results in the browser will be filtered out.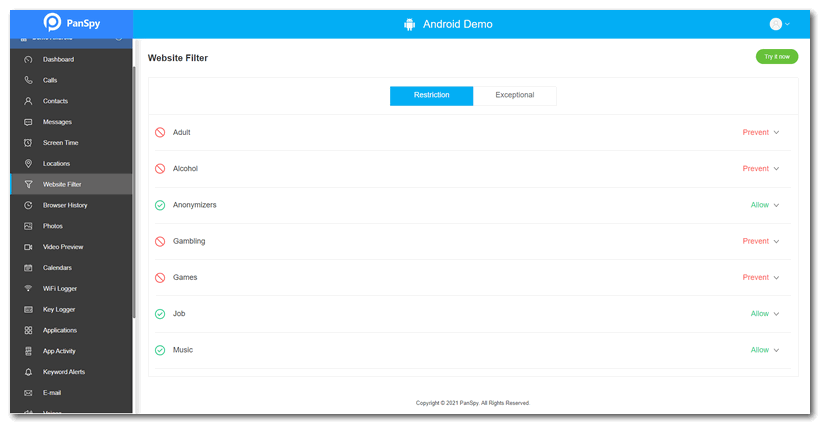 6. Check All Social App Activities.
Some social apps contain adult contents which your kid can view them. The good news is, PanSpy allows you to track all mainstream social app activities such as WhatsApp, Facebook, Snapchat, Instagram, Tinder, etc. To do so, you need to click on Social Apps tab on the left of the control panel, you will see all supported social apps listed there, click on the one which you'd like to check.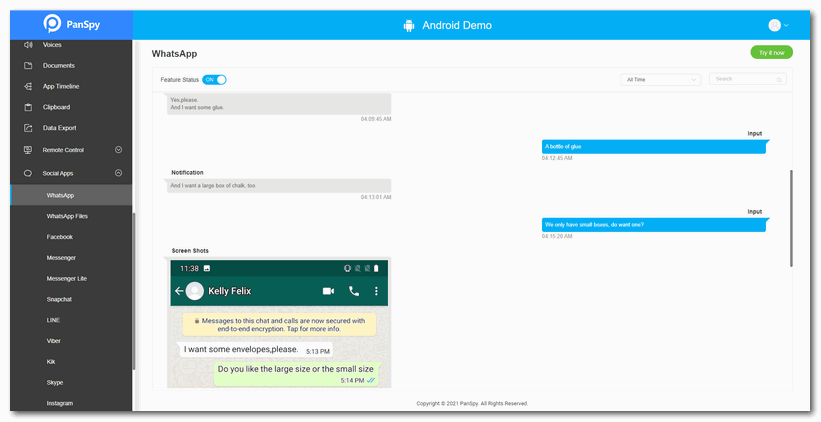 As you can see, PanSpy gives you these helpful options to check if your child were viewing porn or other contents in the Samsung device. What's more, PanSpy offers other features like real-time location, schedule restriction, call recording, SMS message, etc. PanSpy is your ultimate choice if you want to take full control of your kid's Samsung device. So don't hesitate to have a try on PanSpy to protect your kid. If you have any other problems after reading this article, please feel free to contact us, we will get back to you very soon. And if you think it helpful, please share this article to others.