How to monitor my wife's phone secretly? So you see signs that your wife is cheating on you. Now you want to prove it, but how? We can't deny the fact that being with a trustworthy partner can lead to a peaceful life! But, when relationships come at stake, and you start suspecting your wife to be cheating you, it is imperative to know if you're being deceived or not.
Here, we will share you some ways on how to track my Wife's phone Without her knowing.
Part 1. Six Signs Your Wife Is Cheating on You
Although men often make the mistake of treating their women with suspicion and mistrust, now infidelity statics clearly shows that more and more wives admit that they had an affair or been unfaithful in their marriages.
She doesn't post pictures of you anymore. If your wife is scrubbing her social media clean of any evidence of your relationship, it could be a sign that she's actively hiding it in order to make herself look available.
Her phone is always on silent. If your wife is using her phone to communicate with her lover, then she is going to be sure to keep it on silent so as to avoid any questions about calls or texts.
She works, works, works. There's no doubt that working women are much more likely to cheat on their partners than a stay at home mom. To add to this, they are more likely to get nasty with a co-worker.
She is unhappy with you. When a girl says she isn't happy in her marriage, she's more than five times more likely to cheat on her man than women that say their marriage is happy.
She doesn't really get angry or jealous in your relationship anymore. Whenever you screw up in the relationship, she doesn't really get angry or upset with you.
New perfume. You find new clothes, accessories, or perfumes in her closet that you have never seen before.
Now, let's learn how to track down my wife's cell phone using a mobile phone tracker in the next section.
Part 2. The Best Way to Track Wife's Cell Phone without Her Knowing
If you have a query regarding how to track my wife's phone remotely and secretly, PanSpy should be what you need. PanSPY is a reliable and versatile mobile phone tracking tool that works well over mobile devices. With the help of this mobile phone tracker, you are able to remotely view all the activities including call history, location, E-mails, Document, Calendar, Photo, Video, Social Apps like WhatsApp, Skype, Facebook, Instagram, Snapchat, Kik, Tinder, Line and more on your wife's phone. Plus, it works in stealth mode so that you can know everything about your wife without him knowing.
Why Choose This Tool to Track Your Wife's Phone Without Her Knowing: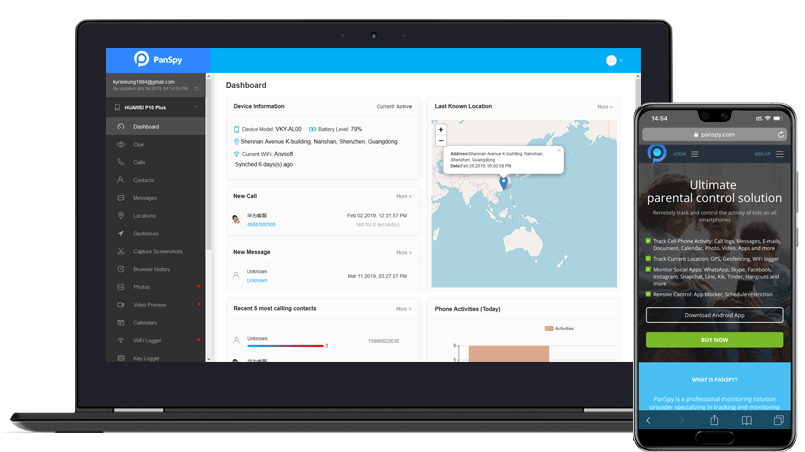 Track Your Wife's Real-time Location: PanSpy is a perfect solution on how to track my wife's cell phone GPS, as you can monitor her location remotely. It lets you set Geofence of your wife's phone, if she transgresses any certain location, you will receive the updates for the same.
Monitor Text Messages: With this mobile phone monitoring tool, you can view a complete record of all sent and received SMS and shared content, check the sender's information and view time and date stamps.
Track Call Logs Easily: This tool also help you keep track of incoming, outgoing, missed or rejected phone calls including contact names, phone numbers, call duration, timestamps, chronology.
View Web Browsing History: The spy app also allows users to access target device's browsing history including link of browsing website, the correct records of browsing date and time. You get to know what your wife has been browsing over the internet and view the history of it.
Check Instant Messaging Chats and Other Social Apps: What's more, you can read chats conversation from WhatsApp, Skype, KIK, Wechat, Snapchat and and other social medias on the monitored.
Remote Control: You are also able to block apps as well as schedule restrictions on target device.
Four Steps to Catch A Cheating Wife
Step 1: Create A PanSpy Account.
Initially, create a PanSpy account by clicking the Sign Up option on the top right corner of this page. Then, enter your authentic email address and make the password for it. After that, PanSpy will send you a confirmation link. Simply navigate to your Email address, tap the link to activate your account. Then follow the Setup Wizard to complete the following setup process. Choose the operating system that is running on the target device. Here, we are selecting Android.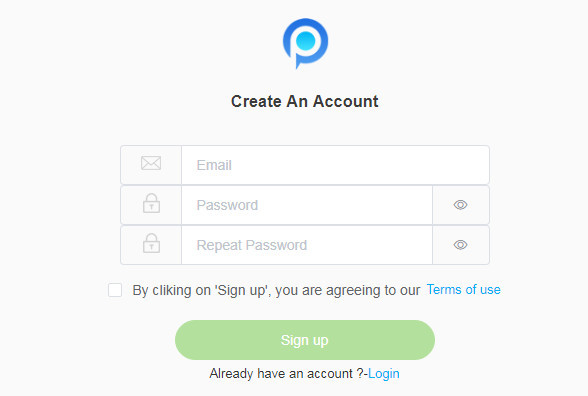 Step 2: Select A Subscription .
Currently, there are two editions: Premium Edition, Ultimate Edition available. Ultimate Edition supportS for 1-month subscription, quarter subscription and 1-year subscription, you can check the pricing details here. Simply select a subscription you need and move on. At last, you can see a control panel on your computer.
Step 3: Install PanSpy App on Target Phone.
After successfully subscribed the service, you will get a download link, simply download and setup the PanSpy app on the target phone. Login in with your PanSpy account and authorize PanSpy to access data on the monitored mobile phone according to the instructions. Then, you can choose to remove the app icon or keep it on the homescreen.
Step 4: Start Viewing activities on the Target Mobile Phone.
After finished the setup process on the cell phone, turn back to the Control Panel on your computer. Now, you get complete access to the target phone and all supported features are listed on the panel. From the Control panel, select the data variants that you feel will give you an accurate detailing of your wife's activities, such as calls, messages, emails, apps, photos, browsing histories, Viber, Snapchat, WhatsApp, Line, Facebook, etc.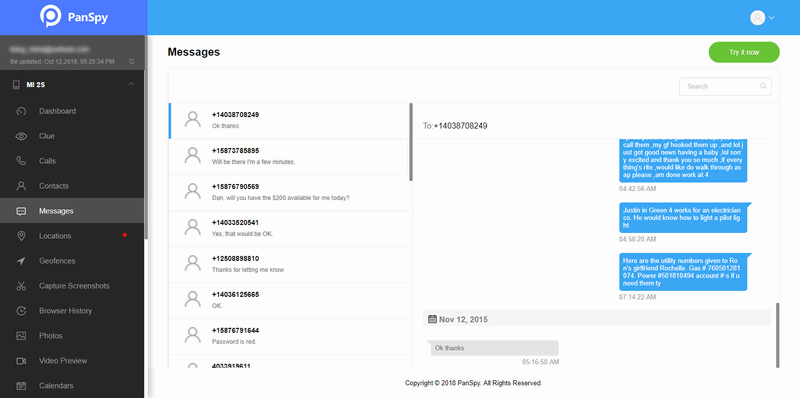 Part 3. Tips on How to Improve Your Relationship with Your Wife
After all, isn't anything easier if you have someone you love and trust to go through it with? Let's take a look at 5 unique ways to improve your relationship with your wife daily.
Talk. This one seems easy, but when was the last time you actually asked your spouse how their day was or what they'd like to do? Make it a goal to ask your spouse daily how they're doing and if they need anything from you.
Spend quality time with your spouse. Quality time is time that you reserve unconditionally and completely for your spouse. No matter what happens, you should reserve this time for your spouse.
Be open and honest with each other. Honesty is tremendously important in a relationship, especially if you're married. You want to feel that you can trust your spouse, and you want your partner to feel the same way.
Remember the small things. If your partner mentions a conversation that he or she wants to have with a manager, take note on your calendar and remember to ask about it the day of. The fact that you're able to refer back to the topics and details that your partner spoke about is one that will touch her. Overall, it's the little things that mean the most, and there's no better way to show this than starting with your relationship.
Learn your partner's boundaries. Does your wife wish to be left alone when she is upset? Does she mind that you want to text throughout the day? These questions are simple, but the answers to them will help you understand the boundaries of your partner — and stop you from crossing them.
Just install this powerful and high-tech application on your wife's device and fetch all the details from her phone without her knowing. Once you get a clear vision, you can take further action accordingly.