Part 2. The Best Way to Track Wife's Cell Phone without Her Knowing
If you have a query regarding how to track my wife's phone remotely and secretly, PanSpy should be what you need. PanSPY is a reliable and versatile mobile phone tracking tool that works well over mobile devices. With the help of this mobile phone tracker, you are able to remotely view all the activities including call history, location, E-mails, Document, Calendar, Photo, Video, Social Apps like WhatsApp, Skype, Facebook, Instagram, Snapchat, Kik, Tinder, Line and more on your wife's phone. Plus, it works in stealth mode so that you can know everything about your wife without him knowing.
Why Choose This Tool to Track Your Wife's Phone Without Her Knowing: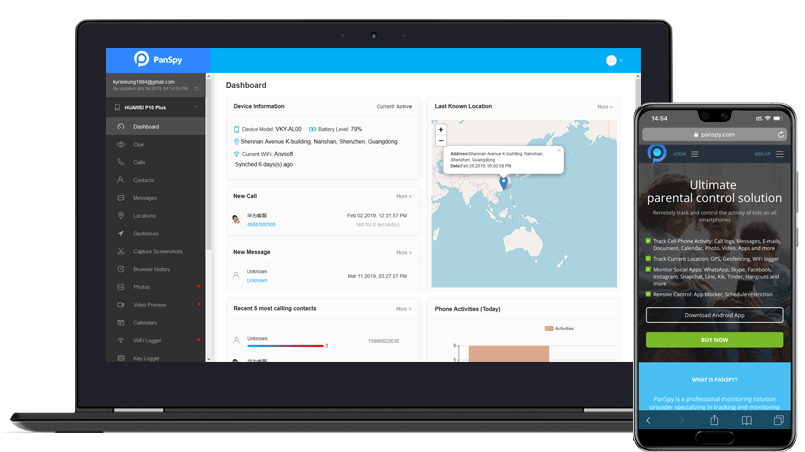 Track Your Wife's Real-time Location: PanSpy is a perfect solution on how to track my wife's cell phone GPS, as you can monitor her location remotely. It lets you set Geofence of your wife's phone, if she transgresses any certain location, you will receive the updates for the same.
Monitor Text Messages: With this mobile phone monitoring tool, you can view a complete record of all sent and received SMS and shared content, check the sender's information and view time and date stamps.
Track Call Logs Easily: This tool also help you keep track of incoming, outgoing, missed or rejected phone calls including contact names, phone numbers, call duration, timestamps, chronology.
View Web Browsing History: The spy app also allows users to access target device's browsing history including link of browsing website, the correct records of browsing date and time. You get to know what your wife has been browsing over the internet and view the history of it.
Check Instant Messaging Chats and Other Social Apps: What's more, you can read chats conversation from WhatsApp, Skype, KIK, Wechat, Snapchat and and other social medias on the monitored.
Remote Control: You are also able to block apps as well as schedule restrictions on target device.
Four Steps to Catch A Cheating Wife
Step 1: Create A PanSpy Account.
Initially, create a PanSpy account by clicking the Sign Up option on the top right corner of this page. Then, enter your authentic email address and make the password for it. After that, PanSpy will send you a confirmation link. Simply navigate to your Email address, tap the link to activate your account. Then follow the Setup Wizard to complete the following setup process. Choose the operating system that is running on the target device. Here, we are selecting Android.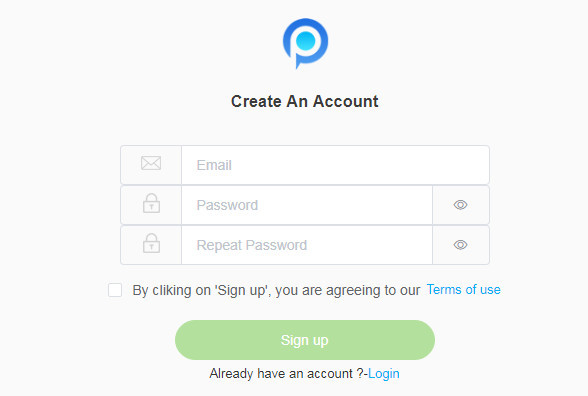 Step 2: Select A Subscription .
Currently, there are two editions: Premium Edition, Ultimate Edition available. Ultimate Edition supportS for 1-month subscription, quarter subscription and 1-year subscription, you can check the pricing details here. Simply select a subscription you need and move on. At last, you can see a control panel on your computer.
Step 3: Install PanSpy App on Target Phone.
After successfully subscribed the service, you will get a download link, simply download and setup the PanSpy app on the target phone. Login in with your PanSpy account and authorize PanSpy to access data on the monitored mobile phone according to the instructions. Then, you can choose to remove the app icon or keep it on the homescreen.
Step 4: Start Viewing activities on the Target Mobile Phone.
After finished the setup process on the cell phone, turn back to the Control Panel on your computer. Now, you get complete access to the target phone and all supported features are listed on the panel. From the Control panel, select the data variants that you feel will give you an accurate detailing of your wife's activities, such as calls, messages, emails, apps, photos, browsing histories, Viber, Snapchat, WhatsApp, Line, Facebook, etc.