Things happen that when you were riding the subway in Manhattan and your smartphone slipped out of a shallow jacket pocket. As soon as you were off the train and the doors were closed ----- You realized your blunder. Or there maybe circumstance that when you shuttled in the crowd street, later sadly found your smartphone was stolen by someone.
With the development of society, men may be able to live without water for 3 days but will definitely freak out without smartphones at hand within 3 minutes. You know that feeling when you reach into your pocket for your mobile and then get that immediate hot shock of panic when it's not there. Your heart races. Your stomach lurches. Your brain goes into overdrive. What to do? Dammit, you can't even post your 'missing mobile' status or tweet about your loss. Well actually the biggest thing is that our phone contains so much private information. Once it is maliciously used, owners will suffer secondary damage. So have you ever thought you can locate your lost smartphone and even ban every operations of it with the track tool? Well you've come to the right place if so. Here we offer solutions for both iOS and Android.
Part 1: Locate Your iPhone with Find My iPhone
Apple has made it really simple to go about tracking a lost device, protecting the data from prying eyes, and communicating with whomever may have found said device. The nice thing about Find My iPhone is that as long as you have the service enabled in the iCloud settings for each device, it's easily trackable via another iOS device, or a web browser on the desktop. Just follow the steps below to get more.
Step 1: Enable Find My iPhone
It's imperative to always be sure to enable iCloud and Find My iPhone whenever you restore your device. To make sure Find My iPhone is activated on your device, go to Settings, tap on your account at the top, and select iCloud > Find My iPhone. If it is not enabled yet, tap on it to enable the service now.
Step 2: Using Find My iPhone
Go to Find My app, sign in, and you'll be presented with a list of all of the devices linked to your iCloud account as well as a map giving you a pretty precise idea of where your devices are.
Each device contained within the list has a colored dot next to it on the left. If that dot is greyed out, then Find My iPhone was not able to locate that device. There could be many reason for this, perhaps the device has exhausted its battery life, it doesn't have an Internet connection, or the device was turned off. If the bubble next to the device is green, then you're in business. This means that Find My iPhone was able to track the device via GPS or Wi-Fi triangulation. Tap the device to load the info page for that device. This provides a map of the device's location, along with several additional options.
Step 3: Taking control
The info page allows you to perform a variety of actions on the missing device. Tap the action button at the bottom of the screen. From there, you can play a sound to help track the device — this is good if you've just misplaced it somewhere around the house. You can also enable Lost Mode, or erase the contents of the device.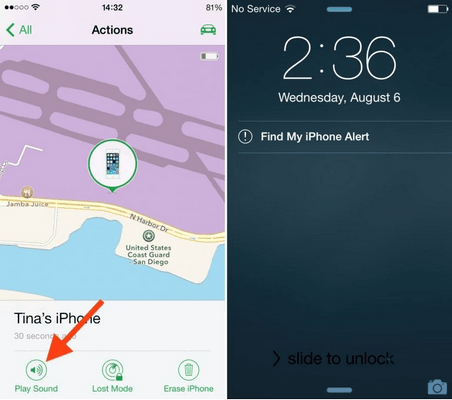 The Play Sound option is very straightforward. Simply tap the Play Sound button, and the device will make an audible beep in order to help find it under a couch cushion, or what have you. Even if the device is muted, or its volume is turned down, the device will still beep loudly. Along with the audible alert, a message appears on the device, notifying whoever finds it that an alert was purposely sent out. You'll also receive an email sent to the email address used to create the iCloud account.
The Erase iPhone feature, like the Play Sound option, is straightforward and to the point. Tapping erase invokes a popup verifying whether or not you actually want to erase the device. All of your content and settings will be erased, and of course this means that you can no longer track where the device is. I'd suggest only using this as an absolute last resort, or if you're worried about sensitive data potentially being compromised. Fortunately, you must verify the erase procedure by entering in your iCloud password before proceeding.
Part 2: Locate Your iPhone with Apple AirTag
Apple AirTag was just released by Apple, which is designed to help users keep track of some favorite Apple or non-Apple items including your keys or even bike. You can easily locate items that have an AirTag through the Find My Network tab. And of course, you can definitely use the Apple AirTag to find your iPhone. All you have to do is make sure that the tag is firmly attached to the phone. When the tag is attached, search for the signal on Find My Network tab to locate your iPhone.
Part 3: Locate Your Android Device with Find My Device
Google gives Android users much convenience with its service, you can use Google Find My Device to locate your Android devices. It's simple and fast. You can take only three steps to get the location of your Android devices. Here are the detailed steps:
Step 1. Sign in your Google account
First of all, make sure you have signed in your Google account. Go to Settings, scroll down to find Google, sign in your account if you did not.
Step 2: Set up Google Find My Device
After you sign in your account, tap on Security > Find My Device, turn it on. And then go to Google Find my Device website or download the app on any other of your device (iOS & Android). Sign in the same Google account to proceed.
Step 3: Track Android device remotely
It takes a few minutes to connecting the Android device to locate it, and then you can see where the device is on the map. There are other options, like Play Sound, Secure Device and Erase device, which helps you to find the device if you left it somewhere.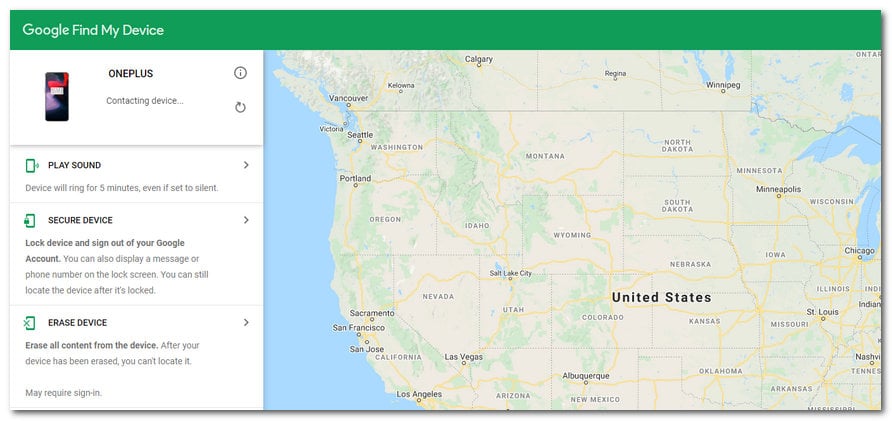 Part 4: Locate Your Android Device with PanSpy
PanSpy is one of the most famous cell phone monitoring apps for Android device which is pretty easy to use. All you've got to do is to create a PanSpy account, install the app on the target phone (the phone you are monitoring), and start monitoring target device on control panel. With this application, you'll be able to monitor phone's activity remotely through PanSpy online portal including Contacts, Call logs, Sent or Received SMS, Social Apps, Current GPS Location and even ban every operations of it. Simply follow the steps below to realize it.
1. Create a PanSpy account
Firstly, go to PanSpy official website on your browser, you will see the Sign Up button on the upper right corner. Click on it and use an authentic email address to sign up PanSpy. After successfully create a PanSpy account, it will send a confirmation link to your Email to activate your account, simply navigate to your Email inbox (Check junk or spam folder if you didn't find the Email), click on the link to activate your account.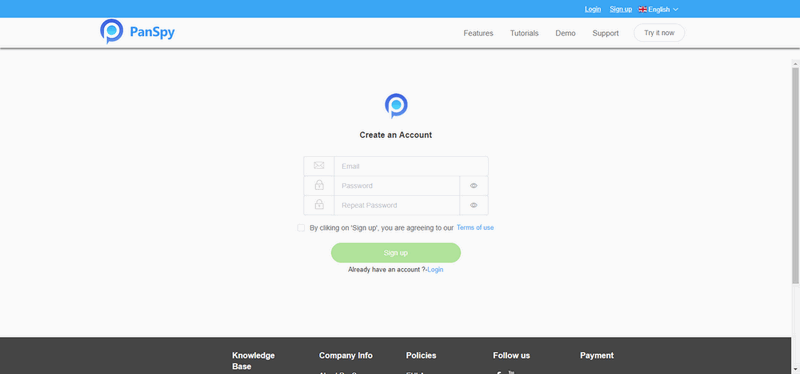 2. Install and setup PanSpy app on the device
Of course, you need to have access to your boyfriend's phone, and enter the download link given to install PanSpy app. You need to install and set it up on your boyfriend's phone to proceed. The steps are quite simply, you just need to follow the step-by-step tutorial to do it. And you are allowed to delete the app icon on the screen so that your boyfriend won't be noticed.
3. Start locating your Android Phone
After finish the setup process on target device, now turn back to your computer (or your own mobile device) to view the monitored data. You will notice that all supported features including Contacts, Messages, Locations, Photos, Social Apps, Browser History, Schedule Restriction and more are listed on the left panel so that you can click each category to view the data. If your Android device is unfortunately lost or stolen, you can simply go to Location to track where your device is and refer to Schedule Restriction to ban every operations on it. In this case, PanSpy offers you opportunity to prevent your private data from being compromised and even regain your lost device.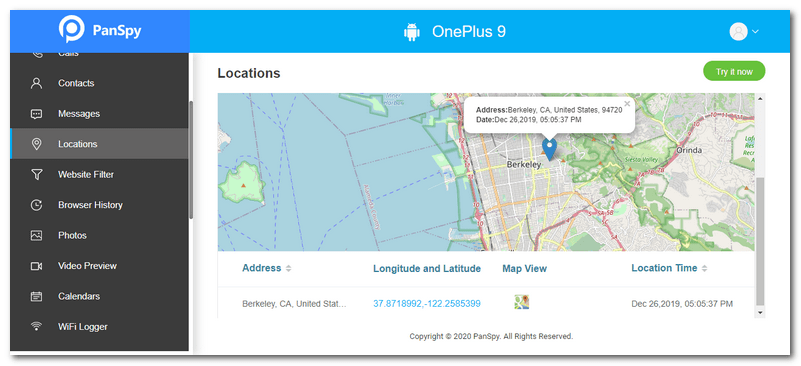 You can always access the data on the control panel. Please note that for the first time you enter the dashboard or control panel, it takes time to sync all data from monitored device. To sync latest data from target device, simply click the refresh button. Also you should be noted that PanSpy will fail to sync newest data if the monitored device is powered off or disconnected to the internet.
Above, we elaborately demonstrate how to track your lost iPhone or Android device with 4 methods. Hope you guys can take precautions in case of being helpless the next time you unfortunately lost your smartphone. If you have any other problems after reading this article, please feel free to contact us, we will get back to you very soon. And if you think it helpful, please share this article.