Most of its new television models also support connectivity with Android and can be remotely controlled through an app as well. Most phones with IR blasters come with included remote applications for Android, allowing you to control televisions and other IR-supported platforms out of the box. If you find those apps lacking, or your want your remote app to look a bit more like the base remote for your television, take a look at our guide below. We'll be looking at a couple apps that mirror Vizio's remote controls, complete with the ability to launch the applications built into your Vizio television set.
SURE Universal is the world-leading and award-winning Universal Remote Control App for home entertainment and smart home. SURE can send music, videos and photos to a Smart TV and other smart media devices. Legacy devices are supported using Infra Red (IR) using a phone with a built-in IR Blaster or a WiFi-to-IR converter (sold separately) . You can also control your smart home devices with the power of your voice using SURE voice control. SURE Universal™ is truly an all-in-one home IoT solution – the soul of IoT.
Features of SURE Universal Smart TV Remote
Control your smart TV, media streamer, smart lights, air conditioner and more.
Embed voice control
Conveniently browse and play your music and video by folder.
Stream photos and videos from your phone to a smart TV
Copy files from shared folders in a local network to your mobile device and from your mobile device to a local network.
Price: Free basic plan while premium plans start from $5
Google Play Installs: 10,000,000+
Compatibility: Android 5.0 and up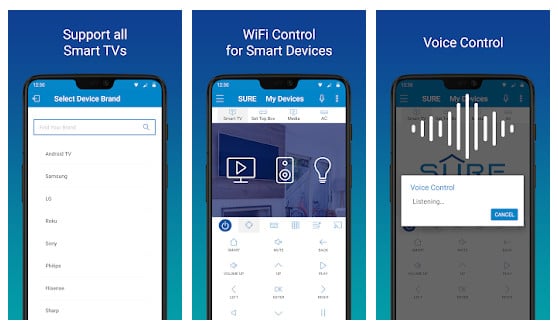 Peel Mi Remote is a TV guide extension for Xiaomi Mi Remote by "Peel Smart Remote". Please make sure you have Xiaomi Mi Remote v.5.3.5 installed on your phone. This Remote Changes Everything! Peel Mi Remote revolutionizes your home entertainment experience by combining universal remote control and live or streamed TV listings into one simple-to-use app. This is the only remote and TV guide you need.
Features of Peel Mi Remote
Universal Remote Control: Reliably control your TV and set-top box, using the built-in infrared IR blaster on your Xiaomi smartphone.
Find Something Good to Watch: Show recommendations and TV guide listings based on your preferences and past viewing behavior, all organized in an easy to navigate interface.
Never Miss Your Favorite Shows: Easily set a calendar reminder so you never again miss a favorite show, movie or sports event.
Peel-in to Your Favorites: Customize your Peel Mi Remote by selecting your favorite channels and shows. Finding out when and where your favorite programs and movies are available to watch on TV has never been easier.
Personalize Your TV Program Guide & Listings: Easily personalize your TV channel listing to match your local over-the-air, dish or cable provider or streaming service.
Easily Discover Streamed Content: Discover your favorite shows and movies on your streaming video services. Whether you prefer Netflix, Hulu, Roku, Apple TV or dozens of other digital content providers, Peel will help you find something good to watch.
Price: Freely available
Google Play Installs: 1,000,000+
Compatibility: Android 4.1 and later versions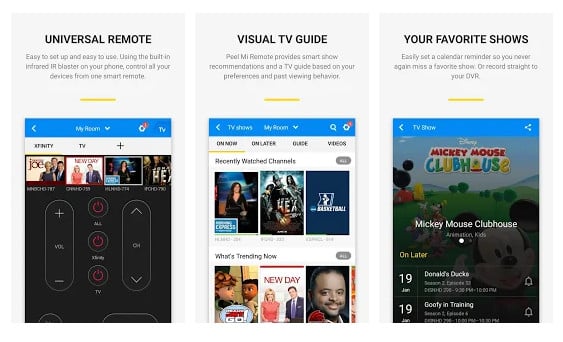 With VIZIO SmartCast Mobile™, you can control your entire entertainment experience with your Android device. Browse & discover movies, TV shows, music, live streams and more across multiple apps at once. Power on/off devices, play/pause content, modify advanced settings and more.
Features of VIZIO SmartCast Mobile™
Effortless Discovery: Brings together all your favorite entertainment from multiple apps into one simple experience.
Launch Apps on your TV: Build your own list of favorite apps.
Simple controls wherever you are: Power on/off devices, play/pause content, adjust volume and more all from the palm of your hand.
Watch free content: Enjoy easy access to free TV shows, movies, music and more.
Type with a keyboard: Enter text on your TV/display from your smartphone using a full keyboard.
Swipe to navigate SmartCast Home: Use the touchpad to quickly play your favorite entertainment from featured content to the most popular apps right from your TV/display.
Easily access advanced settings: Adjust aspect ratio, select input, calibrate picture and more.
See All the Details: Get a quick look at show ratings, synopsis, cast, crew, clips and more.
Price: Freely available
Google Play Installs: 1,000,000+
Compatibility: varies from devices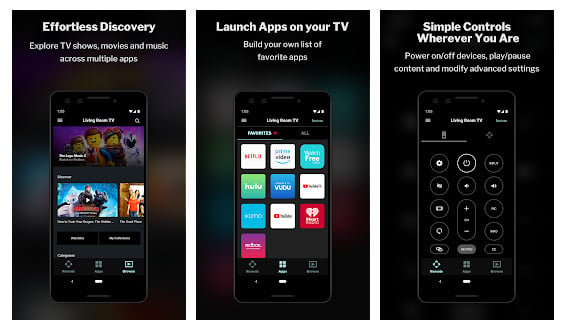 The vizio smart tv remotel is highly recommended when your normal vizio smart tv remote has been broken or has run out of batteries, and you want to use the phone as a vizio replacement remote. You only have to follow the instructions and select the model of your TV from the list.
Features of TV Remote Control For Vizio
The app uses the IR blast present on all popular Android devices
It works quite well when placed in the line of sight
Lightweight app with the interface quite similar to that on an actual remote
Manual configuration support is also included
Price: Free
Google Play Installs: 100,000+
Compatibility: Android 4.0.3 and later versions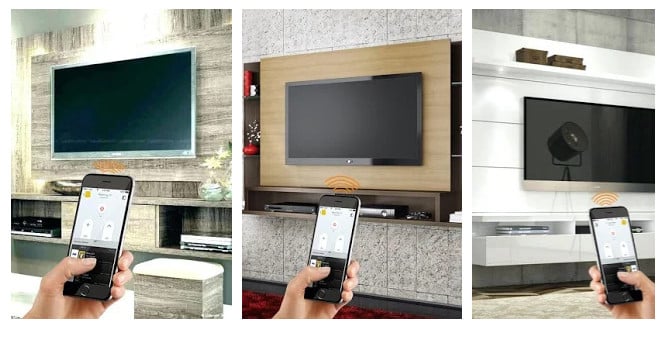 VizControl is remote control app allows you to control your Vizio SmartCast TV over the local network or any Vizio TV on phones with infrared port.
Features of VizControl
You can easily substitute the original Vizio TV remote with the app as it has all the major functions of an original remote.
It works fine on the range of 3 to 15 ft.
You can also set up streaming services like Netflix or Amazon Prime.
Haptic features are also included
Price: Freely available
Google Play Installs: 100,000+
Compatibility: Android 4.4 and later versions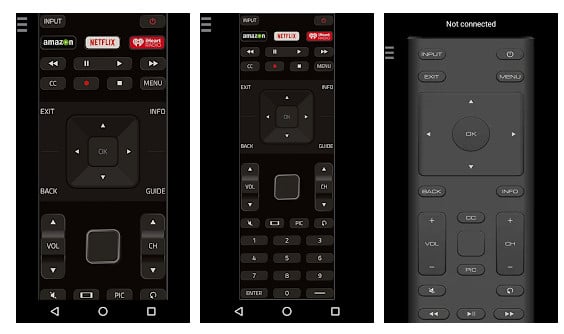 This is simple unofficial infrared remote control app for Vizio TV. It works with phones and tablets with built-in IR blaster. The purpose is not to replace the original remote. This app is handy in emergency situations (original remote is lost, empty batteries etc).
Features of VizRemote
Works with phones and tablets with built-in IR sender with Vizio TVs.
You must point your phone's IR blaster directly at the TV. Usual working range is ~5ft (max ~15ft).
NO additional hardware is needed
This app does NOT have full screen ads, no push notification ads or any similar annoying pop-up ads.
Price: Freely available
Google Play Installs: 100,000+
Compatibility: Android 4.4 and later versions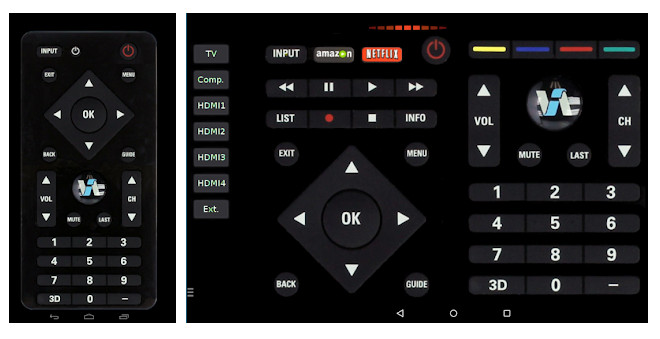 Tv Remote Control for Smarts And Universals Vizio TV,You Can Take control on your Vizio TVs.TV Remote for Vizio controls your smart TV using IR blaster in your Phone.
Features of TV Remote for Vizio tv
The app works on all the popular Vizio TV models like Vizio D series, P series, E series, and more.
You can turn the TV on or off, change the channels, control the volume, go to its Menu, and perform all the basic operations.
It relies on your phone's IR connectivity
Price: Freely available
Google Play Installs: 10,000+
Compatibility: Android 4.1 and later versions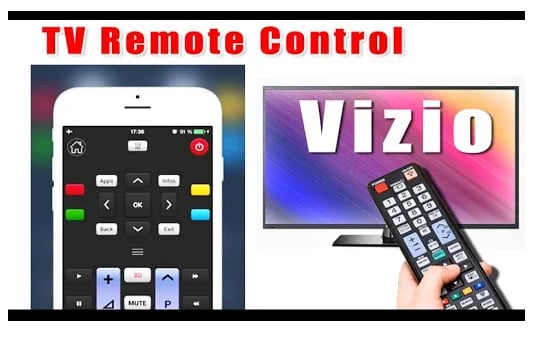 Peel is one of the most popular and effective universal TV remote apps that you can try. Already used by over 50 million users, it comes with tons of advanced features.
Features of Peel Universal Smart TV Remote Control
Use the remote widget on the lock screen to do basic control of TV and Satellite box
Use the full remote on tapping the yellow bubble
Tune into your favorite shows / movies by tapping on the show images
Get a list of shows, games and movies which are 'Trending Now' and you 'Recently Watched Channels' , just tune into those shows by tapping on shows
Get ribbons of shows of each genre
Set up reminders to watch your favorite shows /Games / Movies
Search your favorite shows /sport teams /channels
Get Notifications on popular sports games, Movie premieres and Show premieres, on tapping them, you will into those shows
Browse the channel guide and see the schedules of your favorite channels.
See trailers, highlights, short clips of your favorite shows in the 'Videos' section.
Price: Free with in-app purchases ($1-10)
Compatibility: Android 6.0 and later versions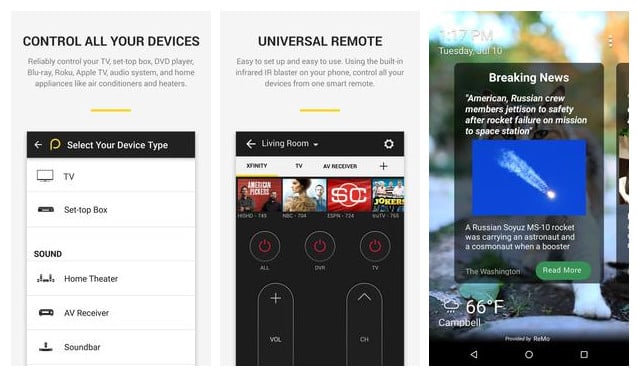 Control Any Android Device Remotely with PanSpy
By using a Vizio TV remote control app for Android, you can easily control your Vizio television set via your Android device. Though, if you wish to track someone else's Android device and monitor it remotely, then you can use PanSpy, a professional phone tracking application which provide you a platform to monitor target Android device in real time. Android devices which run above 5.0 can all be monitored. What's more, panSpy possesses some special functions, setting a time limitation to restrict children from playing mobile phone, sending a notification once the person you monitored has left this area, restricting some words to search, making screenshot on target phone without a trace. Of course, you can look through different kinds of data include Call logs, Contacts, Messages, locations, Browser History, Photos, Keylogger, Apps, E-mails, Media and other phone data.
Features of PanSpy
Track Cell Phone Activity: Call logs, Messages, E-mails, Document, Calendar, Photo, Video, Apps and more
Track Current Location: GPS, Geofencing, WiFi logger
Monitor Social Apps: Whatsapp, Skype, Facebook, Instagram, Snapchat, Line, Kik, Tinder, Hangouts and more
Remote Control: App blocker, Schedule restriction
Step 1: Create a PanSpy Account
Visit PanSpy official website on your browser (both desktop or mobile are available). Go to Sign Up button and click on it, which enables you to sign up with authentic email address to create a PanSpy account. You will receive a confirmation link from your email to activate your account later. After the confirmation, please follow the on-screen wizard to set up it.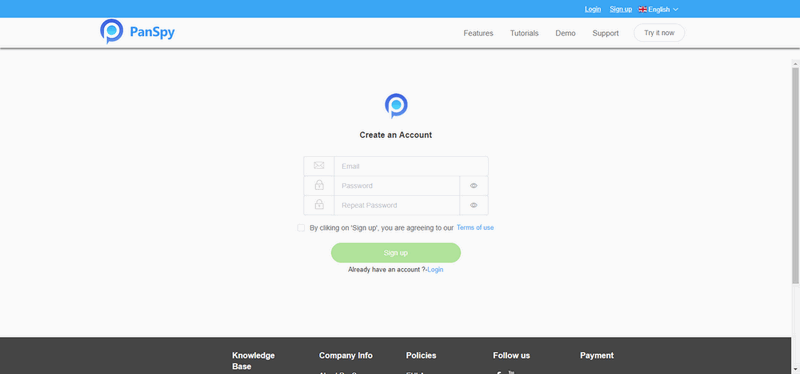 Step 2: Select a Subscription and Install the PanSpy App
We are now available for both Premium Edition and Ultimate Edition which support for 1-month subscription, quarter subscription and 1-year subscription. Find more pricing details here.
After successfully subscribe the service, you will get a download link to download and setup the PanSpy app. So simply download and install the app on your parents' mobile device, login your PanSpy account, and follow the instructions given to set and give the app permission to access data on the target device. Once you finish all procedures and start the service, you are allowed to delete the app icon or keep it anyway on the screen.
Step 3: Start Monitoring Target Device on Control Panel
After finish the setup process on target device, please turn back to your computer (or your own mobile device) to view the monitored data. You can always access the data on the control panel. And for the first time you enter the dashboard or control panel, it takes some time to sync all data from monitored device. All supported features including Schedule Restriction Contacts, Messages, Locations, Photos, Social Apps, Brower History and more are listed on the left panel so that you can click each category to view the data. To sync latest data from target device, simply click the refresh button. And you should be noted that PanSpy will fail to sync newest data if the monitored device is powered off or disconnected to the internet.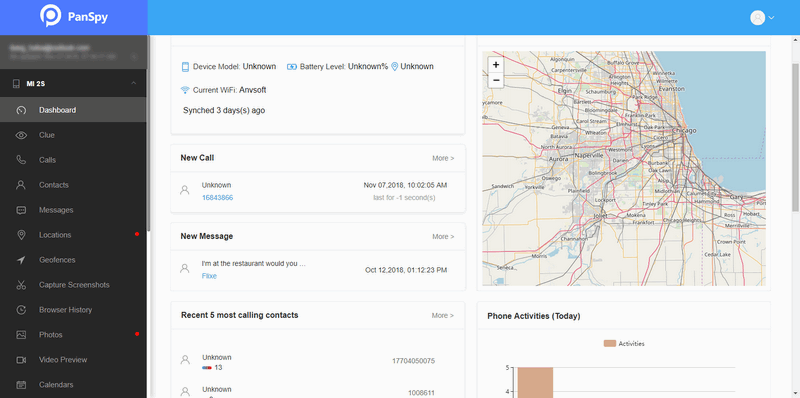 You can use any Vizio TV remote control app for Android that we have listed in this guide to control your television set without any hassle. Go ahead and give it a try.