Can WeChat account be hacked? How to hack WeChat account without knowing? WeChat is one of the mostly used social apps and people use it either for personal or professional reasons. For parents, they always want to figure out whom the kids spend all night in chatting with to keep them safe. Employers tend to make sure that workers focus on their job during company hour. Sometimes you may wonder whom your boyfriend or girlfriend chats with. Whatever, hacking WeChat account should be out of ethical purpose. There are various monitoring tools that are used for hacking WeChat. In this article, we've listed top 4 apps to hack WeChat account and how to do so.
Top 1: PanSpy
PanSpy is a powerful parental control app for remotely tracking and monitoring. With this app installed on target Android, you can login PanSpy console panel from your mobile device or computer to hack WeChat account. What's more, PanSpy supports to track contacts, messages, videos, photos, browser histories, WhatsApp, Facebook Messenger, Snapchat, Skype and more.
Features of PanSpy:
Track Cell Phone Activity: Call logs, Messages, E-mails, Document, Calendar, Photo, Video, Apps and more.
Track Current Location: GPS, Geofencing, WiFi logger.
Monitor Social Apps: WhatsApp, Skype, Facebook, Instagram, Snapchat, Line, Kik, Tinder, Hangouts and more.
Remote Control: App blocker, Schedule restriction.
Pros:
Easily to install and set up on Android devices
Monitor in stealth mode
Support wide range of features
No-jailbreak spy
Cons:
Not support to hide app icon for Android 10
Price: Start from $8.33/month
How to Hack WeChat Account with PanSpy Mobile Monitoring?
Step 1: Firstly, SIGN UP PanSpy to create an account with valid email address. After the registration, you'll get a confirmation email to activate your account.
Step 2: On Android device, enter panspy.me on browser to download and install PanSpy app on it.
Step 3: Launch PanSpy app, sign in with your account and give permissions required according to the instructions. You are able to delete the app icon for Android 10 below.
Step 4: Back to PanSpy console panel to start tracking WeChat.
Remotely view messages sent or received on WeChat
From PanSpy console panel, tap on Social Apps >> WeChat, you can remotely access messages sent or received on WeChat. PanSpy can also automatically take screenshots of WeChat activities, including photos, videos, and chat messages.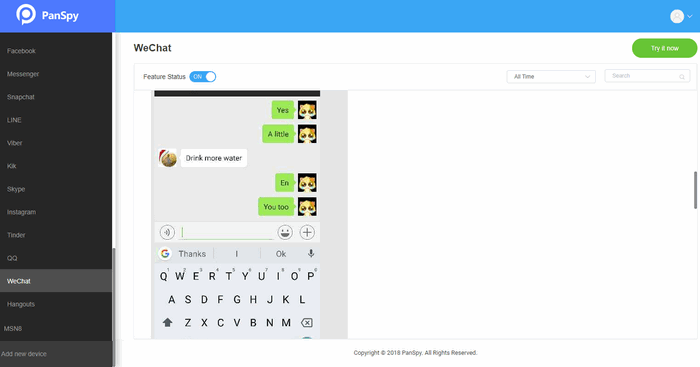 Track keystrokes to know what typed on WeChat
PanSpy records every keystroke on WeChat, including typed words and text pasted on the monitored device. You can simply tap on Key Logger on the left panel and tap on WeChat app, then all keystrokes on it will be displayed.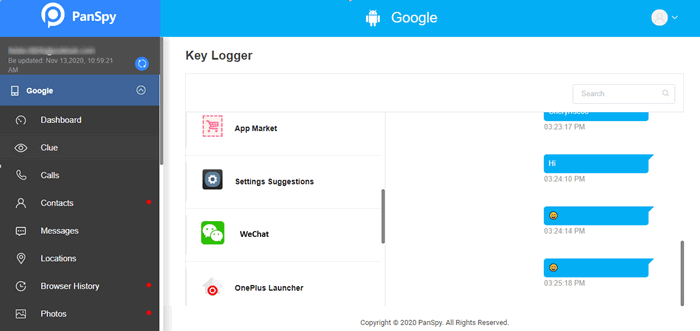 Block WeChat app
Simply refer to Applications and find WeChat app to disable the button. Then the person you track are not able to launch it without your permission.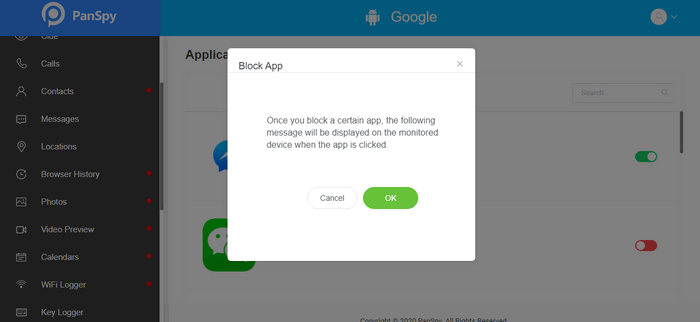 Top 2: iKey Monitor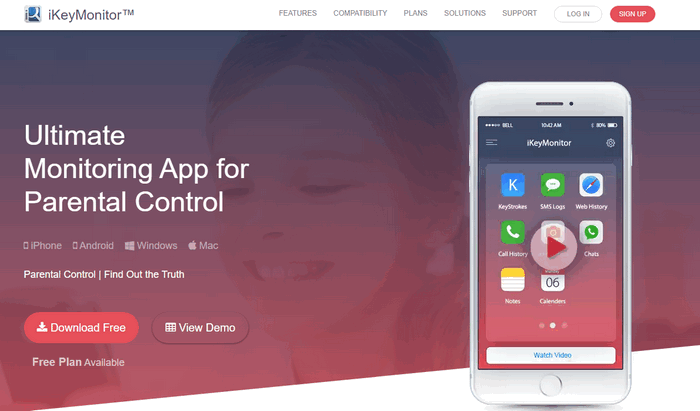 Features of iKey Monitor:
Access contacts, text messages and calls
Access Website history
Track real-time location
Support multiple SMS & MESSENGER
Pros:
Separate plans for pc, mac, and mobiles
Support multiple social apps
Cons:
Pricey as compared to other software
Price: starts from $29.99/month
Top 3: FlexiSPY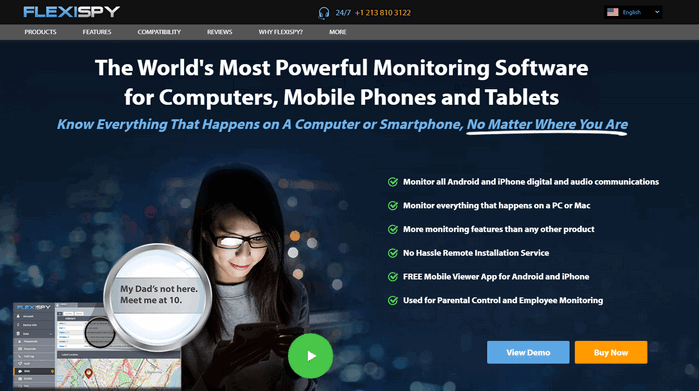 Features of FlexiSPY:
Record phone calls
Access pictures and videos
Track real-time GPS location
Track multiple social apps
Pros:
Supports cross-platforms
Cons:
Pricey as compared to other software
Price: starts from $29.95/month
Top 4: WeChat Hacker
WeChat Hacker is a basic app for hacking past WeChat conversations and activities. If you want to track real-time WeChat messages, this app won't be helpful for you.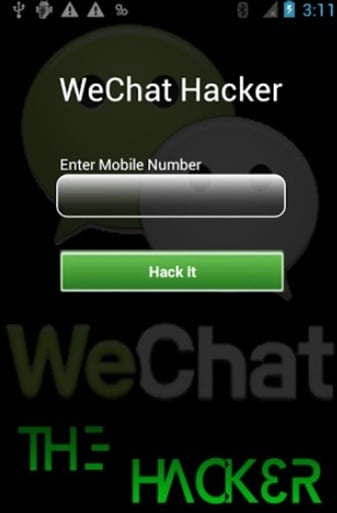 Features of WeChat Hacker:
Access past WeChat chats
Read targeted conversations without knowing
Pros:
Free and simple to download
Easy to use
Cons:
Only for accessing past WeChat messages
It is not that trustworthy
Price: Free
How to Hack WeChat Account with WeChat Hacker?
Step 1: Download and install WeChat Hacker app on your device.
Step 2: Simply enter the target's WeChat ID and then tap Hack It
Step 3: Wait till the WeChat ID is cracked and then you can access to messages sent or received in this account.
Summary
Before writing this article, we've searched for quite some established monitoring tools in market and ended up with finding these 4 feasible ways to hack WeChat account. The key features as well as pros and cons of them are clearly listed so that you can choose the one that suits you best. Well, as you can see in terms of performance and affordability, PanSpy outstands among them. If you find this article helpful, share with people!