Mobile phones have become the need of everyone. People appreciate the power of interactive mobile apps that establish mighty connection with underlying mobile environment. Do you constantly misplace your cell phones? Track them easily! Equip your android phone today with a state of the art phone tracker for free! Most of the time, users are worried about their phones because they cannot remember where they left it last time. Well, we offer a solution to this problem. Even more, you can track your phone if it got stolen. These top ten free cell phone tracking apps for Android offer all you need. Ranging from the state of the art GPS navigation systems to the advanced features like Geo-fencing and Stealth protection features etc.
Following is an overview of the top ten free cell phone tracking apps for Android.
PanSpy is an all-in-one mobile phone tracking app for Android aimed at tracking mobile phone data instantly and easily. With the help of this Android tracker, you are able to monitor text messages, calls, Snapchat, WhatsApp, web browsing history, website bookmarks, calendar, photo, video, apps, E-mails, etc on target phone remotely and secretly.
Top Features of PanSpy:
Track Cell Phone Activity: Call logs, Messages, E-mails, Document, Calendar, Photo, Video, Apps and more
Track Current Location: GPS, Geofencing, WiFi logger
Monitor Social Apps: WhatsApp, Skype, Facebook, Instagram, Snapchat, Line, Kik, Tinder, Hangouts and more
Remote Control: App blocker, Schedule restriction
PanSpy Android Tracker now offers one month free trial for all new users: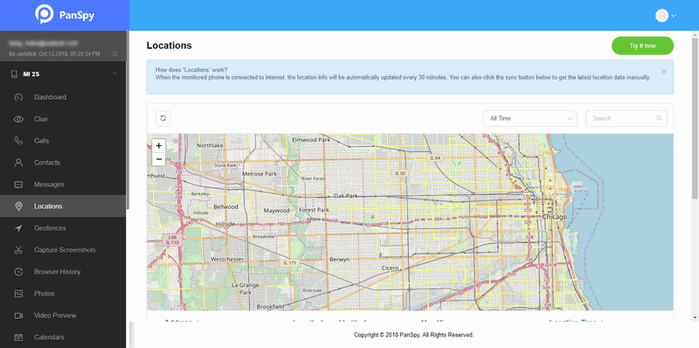 It is a Find My Phone App which helps you to instantly locate your phone. Where's My Droid can turn the ringer volume up and make your phone ring. The app can also get the GPS coordinates with a link to Google maps if you're not near enough to your phone to hear the ringer. You have the freedom to track your phone from anywhere with our online Commander system.
Features:
It locates the phone by using GPS Location.
Connecting it to a Commander option will enable you to control your phone even when it goes missing.
Its Pro-version allows you to take pictures or wipe off the data to avoid its misuse.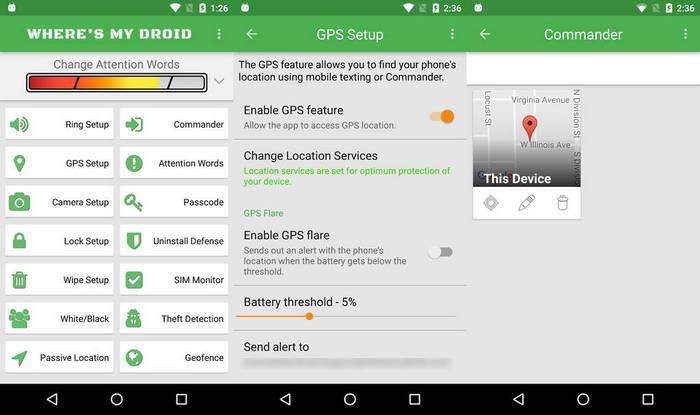 Glympse is a spontaneous all-round GPS tracking app for Android that has unrivalled power to track your location without compromising your privacy. This app is especially ideal for groups of friends or office contacts who only want to temporarily share one another's location. You can easily track a delivery, know the exact location of friends and colleagues, or inform people in your contact about their location.
Features:
Keeps your privacy intact and uninterrupted.
Helps in business by tracking real-time location of employees.
Customizable settings to enable personalized tracking.
Easy-to-use, intuitive and social interface.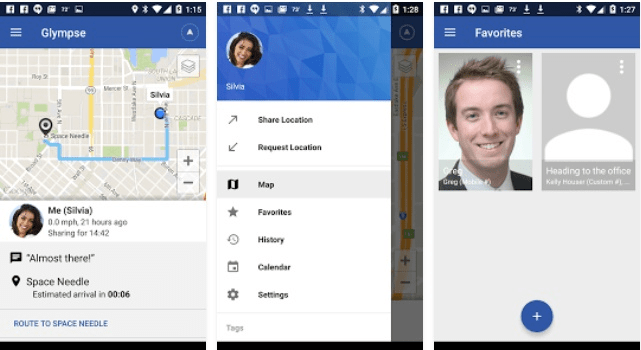 It's a highly flexible and versatile free Android phone tracking app. If you're looking for an excellent gps tracker, if you're a fan of action sports and long distance travel - this app is for you! Record tracks of your trips and share them with your friends!
Features:
It enables you to make a reverse journey in an unknown area.
You can use this app to tell your friends how to repeat your journey.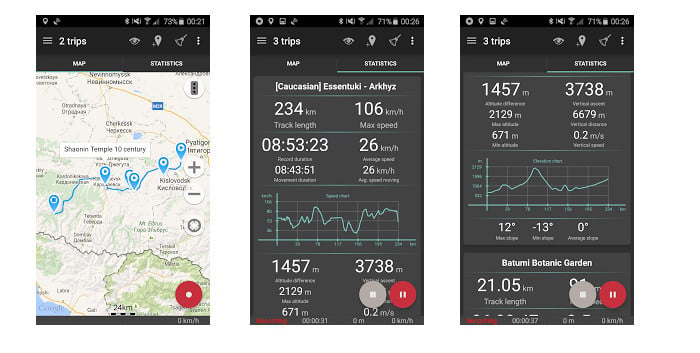 Family Locator, a yet another Android/iOS compatible app, serves as a one-stop solution for tracking the locations of your friends and dear ones by its unique feature of "circle". As well as letting you plot the position of your kids or spouse on a map, it includes integrated messaging features. After installing the app on the devices of your family members, they can easily access each other's location with a single tap on their smartphone. It has ability to sense crash, send emergency messages and size up your driving pattern.
Features:
With this Android location tracking app, you and your circle member's locations are shared over a private map.
Has an in-app messaging feature for the circle, you can create different groups for different people.
Group messages for private and emergency communication.
This app gives you real-time updates of your family's locations and destinations.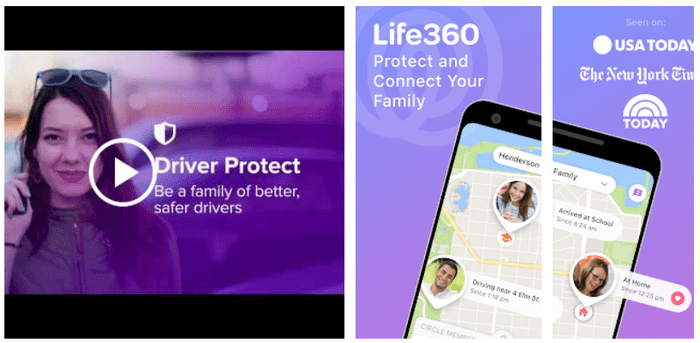 Find My Device is exclusively developed by Google for locating your mobile device. It is fully compatible with almost all Android versions and maintains your information safely. To track someone's location, you need to sign in your Google account and turn on Location Service on your phone.
Features:
Misplaced Devices can be easily found from this Android location tracking app.
User-friendly GUI, easy to use. Track the location/ sites without any hassle.
Using its Play a sound feature, you can remotely trigger the device to play a sound so that you can locate it if it is nearby.
If the target device is formatted, it become impossible to track the device.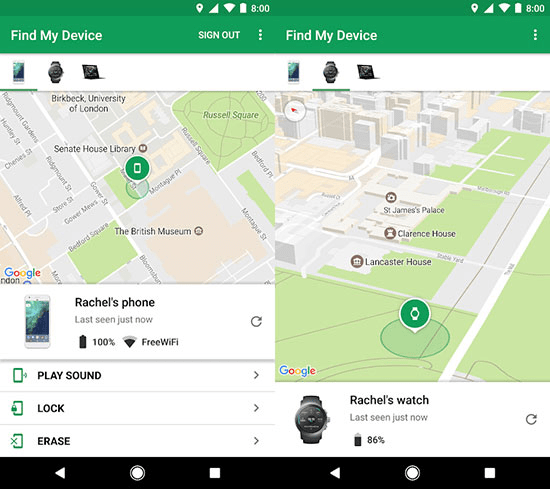 It is free android phone tracker which enables you to track the location of your friends as well as locate your phone by logging on to the app's website.
Features:
Finds your friends and lets you know their locations.
It enables you to know the location of your lost phone by logging into the app's website.
Allows you to check the location of your family and know about their whereabouts.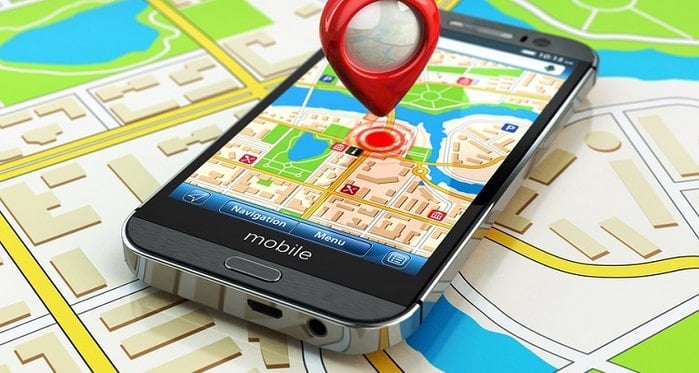 8. GPS Tracker-Mobile Tracker
A reliable family guard that enables you to track the location of your family and never lets you down. Always keep in touch with your loved ones even in tricky and unpleasant situations. The GPS sharing app will help your friends and relatives know your location, as well as share theirs for more convenient meet-ups or just a rain-check late at night.
Features:
Share your location with your family and friends and see where they are
Create your Circles of loved ones, friends, schoolmates to become even closer by staying in touch 24/7
Search for a lost or stolen phone
View location history for the last 30 days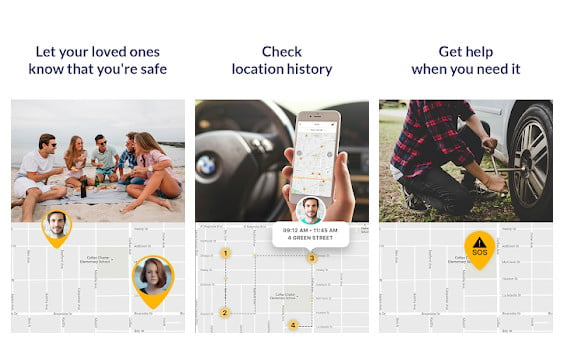 9. Tracker GPS Mobile
Is a mobile application that allows users to know the geographical location of their Vehicles, Motorcycles, Cargo and Assets. Display information about fleets of vehicles, drivers, receive alerts, create landmarks, send commands and generate reports.
Features:
It allows you to know the geographical location of your vehicles.
You can pin point the location of the fleet of your vehicles or drivers.
It provides accurate information and constantly updates in real time.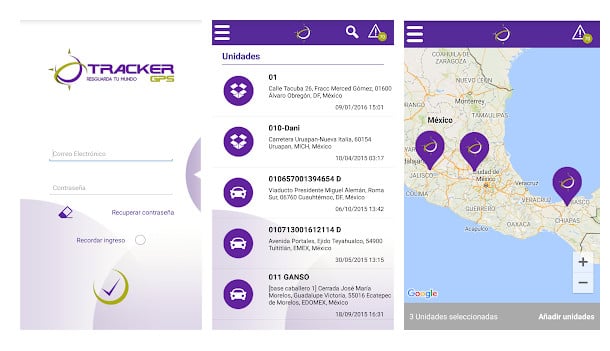 Find My iPhone & Android Phone is the essential tracking tool for anyone who has experienced the stress, worry, and inconvenience associated with a lost or stolen device. What's more, it's free for iPhone, and Android!
Features:
Find a lost, stolen or missing device whether it belongs to you, your spouse or your child
Keep tabs on a lost or missing device with real time location updates. When the missing or stolen phone is moved, its position is updated instantly on the app's map and our website.
You can even track & locate Android tablets, or an iPad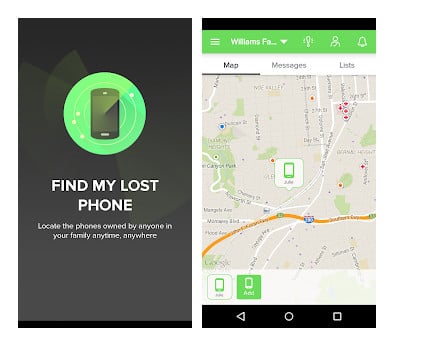 How to Use PanSpy to Track Android Location
Out of all the listed GPS location tracking applications, we highly recommend using PanSpy. It is compatible with both iOS and Android devices and runs in a stealth mode. Now, we'll show you how to use this Android phone tracking application to track your required person's location.
Within four steps, you can start to track someone's location:
Step 1: Create A PanSpy Account.
Click the Sign Up option on the top right corner of this page and enter your valid e-mail to create an account. Then make the password for it. After that, you will receive a confirmation link, simply navigate to your Email address, tap the link to activate your account, then follow the Setup Wizard to complete the following setup process. Choose the operating system that is running on the target device. Here, we are selecting Android.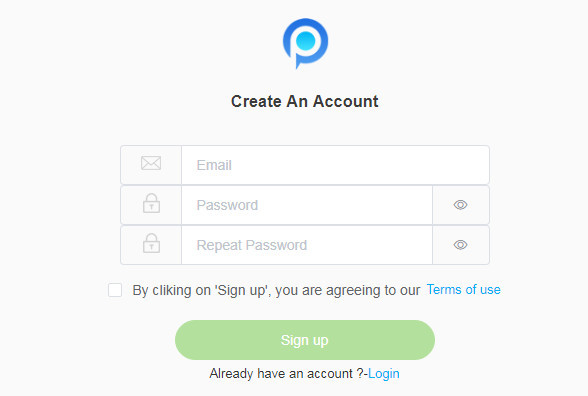 Step 2: Select A Subscription.
Currently, there is an Ultimate Edition available, which supports for 1-month subscription, quarter subscription and 1-year subscription, you can check the here. Select a subscription you want and move on. At last, you can see a control panel on your computer.
Step 3: Install PanSpy App on Target Phone.
After successfully subscribed the service, you will get a download link, simply download and setup the PanSpy app on your mobile device. Login in with your PanSpy account and authorize PanSpy to access data on the monitored mobile phone according to the instructions. Then, you can choose to delete the app icon or keep it on the home screen.
Step 4: Start off with Tracking the Location.
After finished the setup process on target device, turn back to the control panel on your computer. All supported features are listed on the panel so that you can click each category to view the data. To track someone's location, simply click on Location tab on the left side of the dashboard.
Note: for the first time you enter the dashboard or control panel, it takes some time to sync all data from monitored device. PanSpy will fail to sync newest data if the monitored device is powered off or disconnected to the internet.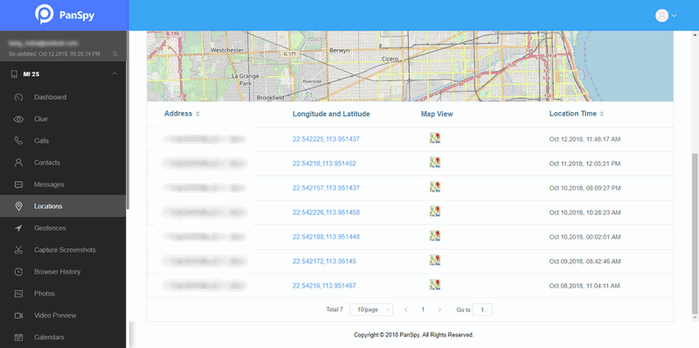 That's it. As you can see, these are some of the best Android apps to track someone's location and you can choose any of them you prefer to locate your needed person's location. If you have any other questions, please let us know.