Why you want to record your kid's phone calls? If you find your kid was acting crazy with his/her smartphone or constantly calling someone, maybe you are worried about him/her. And there are other more reasons which you need to track your kid's phone calls:
1. He/she's constantly making phone calls with someone.
2. He/she had a bad performance at school recently.
3. To ensure him/her online safety.
4. Prevent others from defrauding your child.
5. Prevent others inducing your child.
To secretly record all phone calls on your child's device, we need to handy tool to help us with that. PanSpy, a professional monitoring solution provider specializing in tracking and monitoring tools. It offers massive great features to help users to monitor the smartphone usage. With PanSpy, you can remotely track all activities on your child's smartphone, including record all phone calls and then listen to them. And here's how to do that:
1. Create a PanSpy account
Open PanSpy official website on your browser (both desktop or mobile are available), find Sign Up button and click on it. Use an authentic email address to sign up PanSpy. After successfully create a PanSpy account, it will send a confirmation link to your Email to activate your account, simply navigate to your Email address, tap the link to activate your account, then follow the Setup Wizard to finish the following setup process.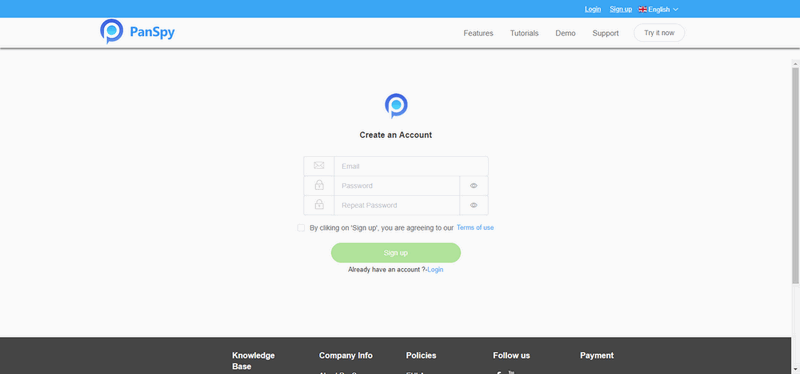 2. Install and setup PanSpy app on your child's phone
After you sign into your account, it will give a link to download PanSpy app. You need to install and set it up on your kid's smartphone to proceed. The steps are quite simply, you just need to follow the step-by-step tutorial to do it. And you are allowed to delete the app icon on the screen so that you can track your kid's phone without him/her knowing.
3. Check phone calls made in your boyfriend's phone
You can see all incoming/outgoing/missed phone calls on the console after you finish the setups. To do so, sign your account into the console, click on the Calls tab on the left of the panel, you will see who your kid was calling recently. And even if the calls have been deleted you can still see them as long as they have been uploaded to the console.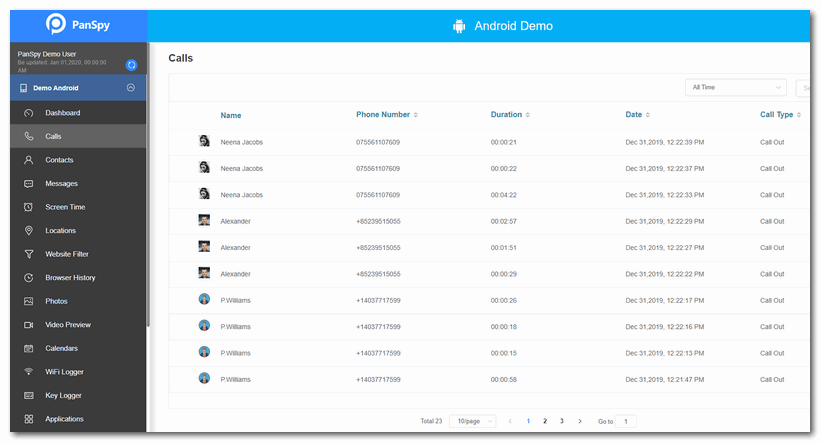 4. Download and listen to all phone call recordings
All calls will be recorded and uploaded to the console automatically so that you can download and listen to them. Similarly, sign into the console, click on the Voices tab on the left of the panel, you will see all call recordings listed there, you can download and listen to them on your device if you want.
5. Check other activities on your child's phone
As you can see, there are many other features you can try besides of phone calls, such as Screen Time - Set time limit on your child's device; Social Apps - Track all kinds of social app activities; Website Filter - Filter out all inappropriate websites; Location - Know your child's real time location or set a safe zone for him/her. All these features are developed to help you ensure your child's safety. You can have a try on them if you need.
PanSpy makes it easy to check all calls made on your child's phone. PanSpy is your ultimate choice if you want to take full control of your kid's smartphone. So don't hesitate to have a try on PanSpy to protect your kid. If you have any other problems after reading this article, please feel free to contact us, we will get back to you very soon. And if you think it helpful, please share this article to others.