2. Install a monitoring app to locate your Huawei P30/P30 Pro
If you've installed a monitoring app on your Huawei P30 before it gets lost, you can track the live GPS location of Huawei and check what's happening on it silently and remotely. It's significant to learn how to make sure that your Huawei P30 / P30 Pro can be found if it gets lost.
As an effective monitoring app, PanSpy is highly recommended to locate your lost Huawei P30 / P30 Pro once it's stolen. It is an all-in-one mobile tracking tool, which remotely and silently obtain live GPS location on a virtual map of Huawei P30 / P30 Pro, watch through route history and check recent locations of target device. Besides, it lets you check text messages, calls, Snapchat, WhatsApp, web browsing history, website bookmarks, calendar, photo, video, apps, E-mails, etc on target phone remotely and secretly.
Features of PanSpy
Track Cell Phone Activity: Call logs, Messages, E-mails, Document, Calendar, Photo, Video, Apps and more.
Track Current Location: GPS, Geofencing, WiFi logger.
Monitor Social Apps: WhatsApp, Skype, Facebook, Instagram, Snapchat, Line, Kik, Tinder, Hangouts and more.
Remote Control: App blocker, Schedule restriction.
Within four steps, you can be prepared once your phone get lost in future:
Step 1: Sign in With PanSpy Account.
Firstly, create a PanSpy account on www.panspy.com. Navigate to SIGN UP button on the top right corner of the official page. Follow the instructions to sign up with your invalid email address. After that, a confirmation link will be sent to your email. Check the email to activate your account.
Then get back to Setup Wizard to complete the setup process. Choose the operating system that is running on the target device. For Huawei P30 / P30 Pro, we are selecting Android.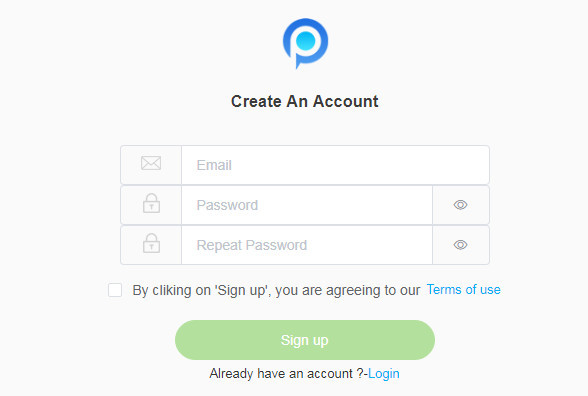 Step 2: Select A Subscription.
After the setup, you are able to choose Premium Edition or Ultimate Edition currently. Both editions provide three options: 1-month subscription, quarter subscription and 1-year subscription. More subscription details you can check on this page.
Select a subscription you need then a remote control panel will load on your computer. With your PanSpy Account, you can log in anytime.
Step 3: Install PanSpy App on Huawei P30 / P30 Pro.
PanSpy will send you a download link for installing the apk to the target phone. We are talking about Huawei P30 in this tutorial. Access to your target Huawei P30 / P30 Pro and download PanSpy using the provided download link. Install it and Sign in with your created PanSpy account.
You need to authorize PanSpy to access to the data on the target device. You should know that, it's your choice to remove or keep the app icon after the installation. The monitor will not be noticed if you choose to remove the app icon.
Step 4: Access Huawei P30 / P30 Pro Live Location.
Finally, get back to computer, on the remote control panel, you are allowed to get knowledge of everything happened on your Huawei P30 / P30 Pro, including checking messages, contacts, emails, social chatting apps, live locations and more. To find your Huawei P30 / P30 Pro, check the live location by clicking on Location tab on the left side of the dashboard.
Note: for the first time you enter the dashboard or control panel, it takes some time to sync all data from monitored device. PanSpy will fail to sync newest data if the monitored device is powered off or disconnected to the internet.