So you've lost your phone. We've all been there. It was just in your pocket a minute ago — and now it's gone, lost to the phone fairies, forgotten between the seats of your couch, or misplaced somewhere during your busy day. Maybe it's just in your other coat, or maybe it's already in the hands of someone who found it on the sidewalk. Either way, all you want to do is get it back.
If you're reading this article, it might be because you've been the unfortunate victim of smartphone theft, or you've simply lost your phone. Whether it's the dollar value of the phone or all the personal data it holds that has you worried, having a missing phone is always bad news. Nevertheless, it's important to act quickly if you want to get it back. Thankfully, there are plenty of ways to get a hold of your missing phone. If it's a smartphone, chances are good it already has the software needed to hunt it down — or there's an app you can install to track your phone. Here's our guide on how to find a lost phone or a similar device.
1. Locate, lock, erase your lost Huawei P30/P30 Pro using Google Account
Android offers several ways to find your lost or stolen smartphone. The best known one is Google's Find My Device, which you can access from the website on your computer or the app from the Google Play Store. You can find, lock, or erase it when you lose an Android phone like Huawei P30 / P30 Pro via Google Find My Device.
Step 1. You should make sure you've added a Google Account to your Huawei P30 / P30 Pro before loss. The lost Android phone could be tracked only when it's connected to your Google Account, turned on and connect to the internet.
Step 2. When your Huawei P30 / P30 Pro get lost, navigate to website "android.com/find" and sign in to your Google Account (Or you can google "where is my phone" directly to enter in the website).
Step 3. If you have added several Android phones to this Google Account, you need to choose the one you lost from the list. It will automatically try to track down your lost phone once the site is loaded. You are able to check the location of the lost phone now. The location is approximate and might not be accurate. If your device can't be found, you'll see its last known location.
Step 4. Three options will provided by Google:
❶ Play sound: Rings your device at full volume for 5 minutes, even if it's set to silent or vibrate.
❷ Lock: Locks your device with your PIN, pattern, or password. If you don't have a lock, you can set one. To help someone return your device to you, you can add a message or phone number to the lock screen.
❸ Erase: Permanently deletes all data on your device (but might not delete SD cards). After you erase, Find My Device won't work on the device.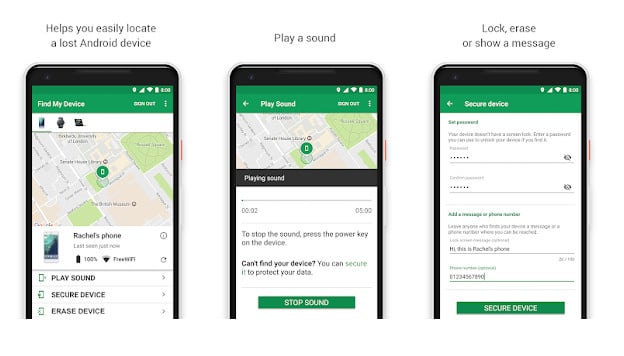 2. Install a monitoring app to locate your Huawei P30/P30 Pro
If you've installed a monitoring app on your Huawei P30 before it gets lost, you can track the live GPS location of Huawei and check what's happening on it silently and remotely. It's significant to learn how to make sure that your Huawei P30 / P30 Pro can be found if it gets lost.
As an effective monitoring app, PanSpy is highly recommended to locate your lost Huawei P30 / P30 Pro once it's stolen. It is an all-in-one mobile tracking tool, which remotely and silently obtain live GPS location on a virtual map of Huawei P30 / P30 Pro, watch through route history and check recent locations of target device. Besides, it lets you check text messages, calls, Snapchat, WhatsApp, web browsing history, website bookmarks, calendar, photo, video, apps, E-mails, etc on target phone remotely and secretly.
Features of PanSpy
Track Cell Phone Activity: Call logs, Messages, E-mails, Document, Calendar, Photo, Video, Apps and more.
Track Current Location: GPS, Geofencing, WiFi logger.
Monitor Social Apps: WhatsApp, Skype, Facebook, Instagram, Snapchat, Line, Kik, Tinder, Hangouts and more.
Remote Control: App blocker, Schedule restriction.
Within four steps, you can be prepared once your phone get lost in future:
Step 1: Sign in With PanSpy Account.
Firstly, create a PanSpy account on www.panspy.com. Navigate to SIGN UP button on the top right corner of the official page. Follow the instructions to sign up with your invalid email address. After that, a confirmation link will be sent to your email. Check the email to activate your account.
Then get back to Setup Wizard to complete the setup process. Choose the operating system that is running on the target device. For Huawei P30 / P30 Pro, we are selecting Android.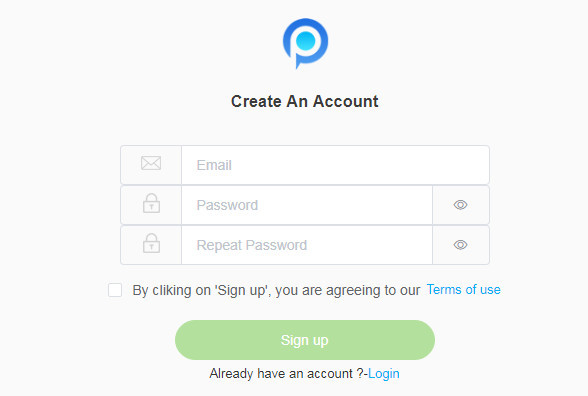 Step 2: Select A Subscription.
After the setup, you are able to choose Premium Edition or Ultimate Edition currently. Both editions provide three options: 1-month subscription, quarter subscription and 1-year subscription. More subscription details you can check on this page.
Select a subscription you need then a remote control panel will load on your computer. With your PanSpy Account, you can log in anytime.
Step 3: Install PanSpy App on Huawei P30 / P30 Pro.
PanSpy will send you a download link for installing the apk to the target phone. We are talking about Huawei P30 in this tutorial. Access to your target Huawei P30 / P30 Pro and download PanSpy using the provided download link. Install it and Sign in with your created PanSpy account.
You need to authorize PanSpy to access to the data on the target device. You should know that, it's your choice to remove or keep the app icon after the installation. The monitor will not be noticed if you choose to remove the app icon.
Step 4: Access Huawei P30 / P30 Pro Live Location.
Finally, get back to computer, on the remote control panel, you are allowed to get knowledge of everything happened on your Huawei P30 / P30 Pro, including checking messages, contacts, emails, social chatting apps, live locations and more. To find your Huawei P30 / P30 Pro, check the live location by clicking on Location tab on the left side of the dashboard.
Note: for the first time you enter the dashboard or control panel, it takes some time to sync all data from monitored device. PanSpy will fail to sync newest data if the monitored device is powered off or disconnected to the internet.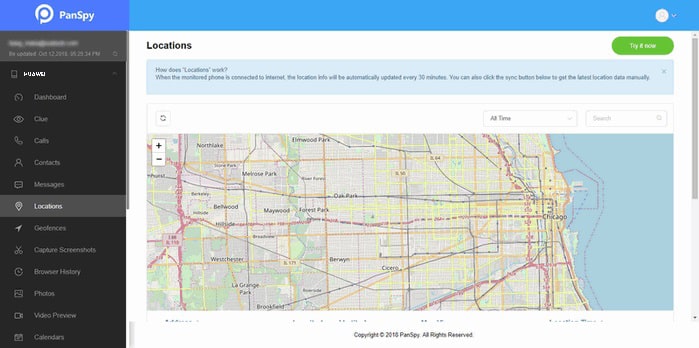 3. Use IMEI number to track your lost Huawei P30/P30 Pro
IMEI (International Mobile Equipment Identity) is a unique 15-digit code authorized by GSMA, just like an identity certificate for your phone. Every time a phone uses a particular network to make or receive a call, send or receive a message, its IMEI number is automatically emitted and tracked. Because the police and service providers have databases in which these ID numbers fall into white and black lists, an owner can report his/her IMEI number and make it blacklisted after a theft.
Get the IMEI number of your Huawei P30 / P30 Pro
Step 1. Getting to know the number is easy. The fastest way is to dial *#06#, a command to make the unique ID appear.
Step 2. Another easy way to find the IMEI number is to navigate through "Settings" and tap "About Phone" to check the IMEI code of your Huawei Android phone.
Step 3. In most cases, the IMEI number exists on the reverse side of a phone, or underneath the removable battery. If your phone is lost, but its packaging is kept, you are still able to find the IMEI number on the label.
Using IMEI number to locate your Huawei P30 / P30 Pro
Step 4. Search for "IMEI tracker" in Google Play. Then, start installing the app to locate your phone using IMEI number.
What else you can do?
The IMEI number is used by a GSM network to identify valid devices and can therefore be used for stopping a stolen phone from accessing that network. For example, if a mobile phone is stolen, the owner can call his or her network provider and instruct them to "blacklist" the phone using its IMEI number. In addition, if you lost cell phone you can tell the police what the IMEI number is.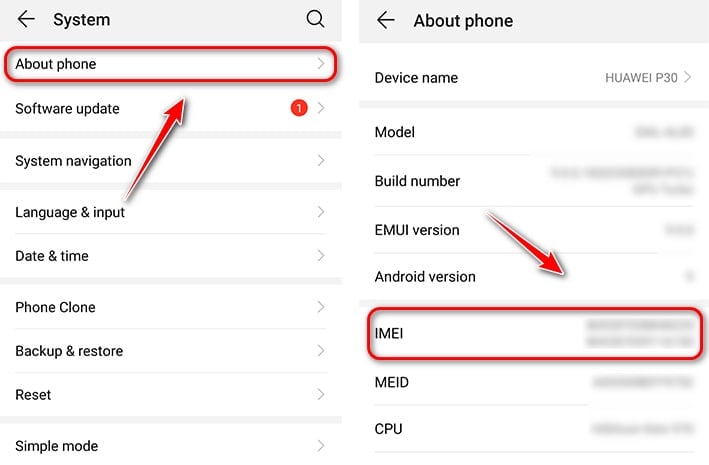 Extra Tip. Make a full backup of Huawei P30 / P30 Pro in case of any loss
When your phone gets lost, you want to try everything to get it back. But what if it gets lost forever even though you've tried your best? At that time, you should make sure you could retrieve the lost data as soon as possible for your normal daily life.
The risk of data loss would be seriously unaffordable for every mobile phone user since we stored almost everything important on our cellphone. You may have to wipe all data on your lost or stolen phone when it's necessary. That means you'll lost everything important even if you find your lost phone. You really need a full backup of your phone in case of any loss.
If you want to backup your Huawei P30 / P30 Pro in case of any data loss, here, we have a helpful tool. Syncios Data Transfer supports to transfer different kinds of data including contacts, text messages, call history, photos, songs, videos, apps, bookmarks etc with only one click.
Download Syncios Data Transfer Win
Download Syncios Data Transfer Mac
Step 1: Connect Huawei P30 / P30 Pro to PC.
At first, Syncios Data Transfer needs to be installed on your computer. Syncios Data Transfer provide both Windows and Mac version. After the installation, launch the program and enable USB debugging mode on your Huawei P30 / P30 Pro. Connect your Huawei P30 / P30 Pro to computer via USB cable or by using Wi-Fi connection. Three modes are available on the main interface: 'Transfer', 'Restore', and 'Backup'.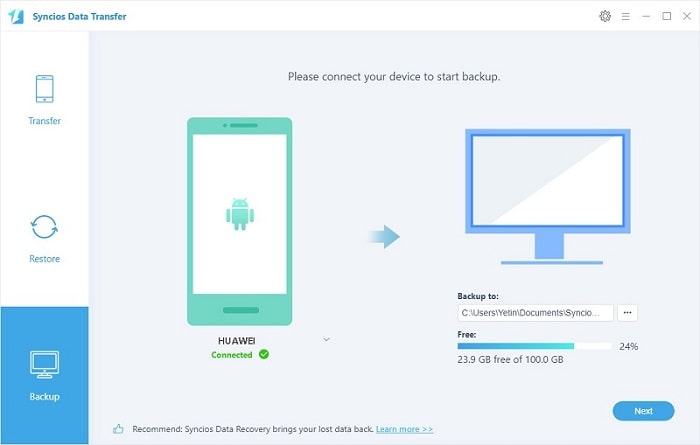 Step 2: Backup Huawei P30 / P30 Pro to PC.
To backup Huawei to computer, select Backup mode on the primary interface. And click on Next to move on after the connection. All transferrable contents will be displayed on the content interface. Select contents you need. Syncios will start loading the selected contents. If you need to change the saving path, navigate to "setting" button on the top right to set a proper exporting location. Then click Next to launch the transfer process.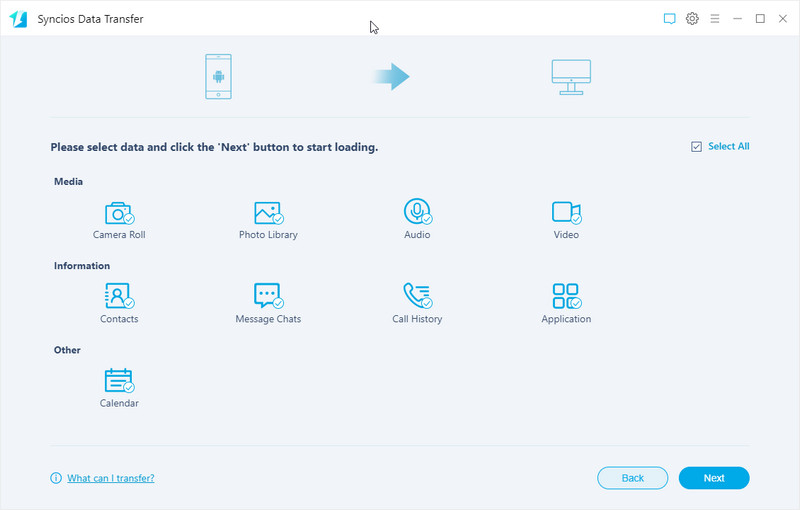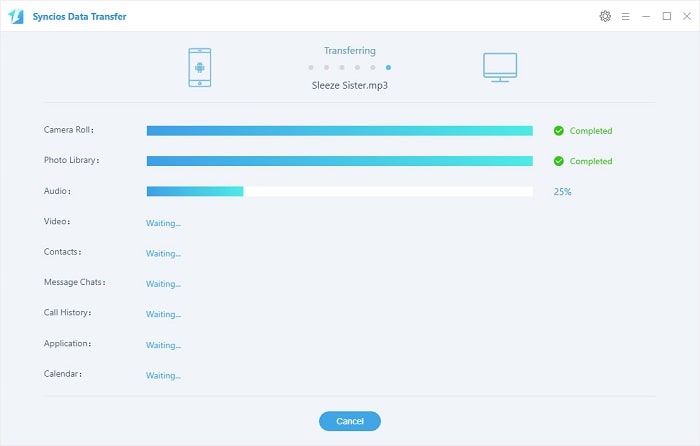 Step 3: Select Backup to Restore.
When you phone gets lost, you could restore the saved backup to any iOS or Android device. Connect your new device to computer. On the start-up interface, choose Restore mode and tap Syncios Backup. Syncios will list all saved backups on your computer. Choose one backup you need and click on Next to move on.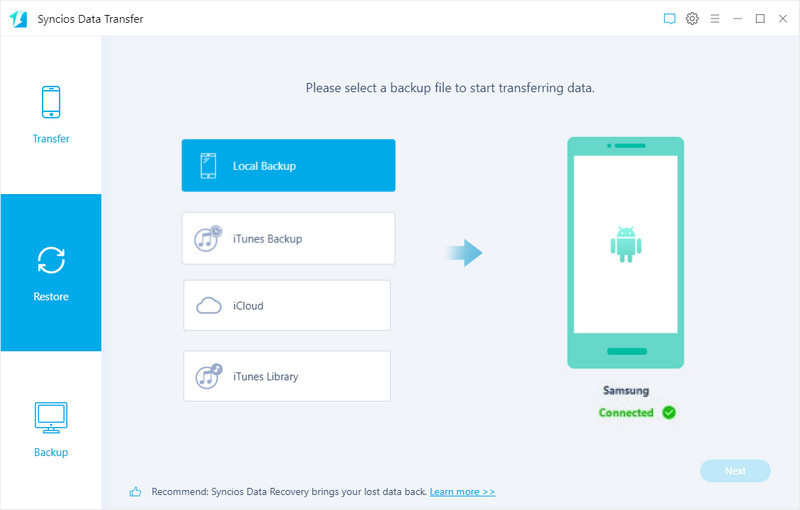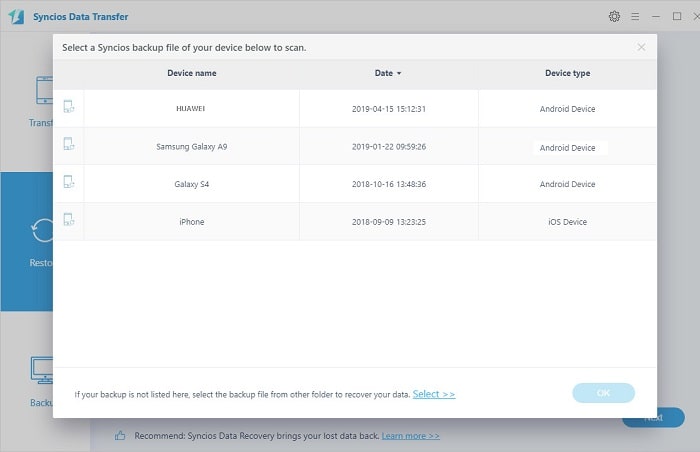 Step 4: Restore Saved Backup to Any iOS/Android Device.
On the content interface, tick off contents for restoring and wait for data loading. Then click on Next to launch the restore process. Syncios will restore backup files to the connected device. Wait for a while, the backup files will be restored to your phone.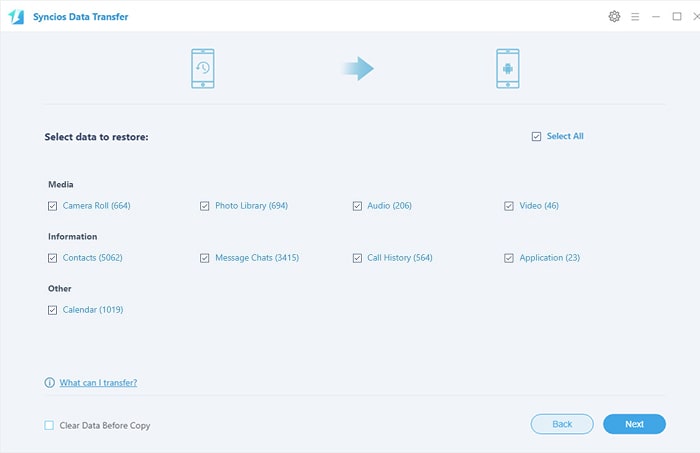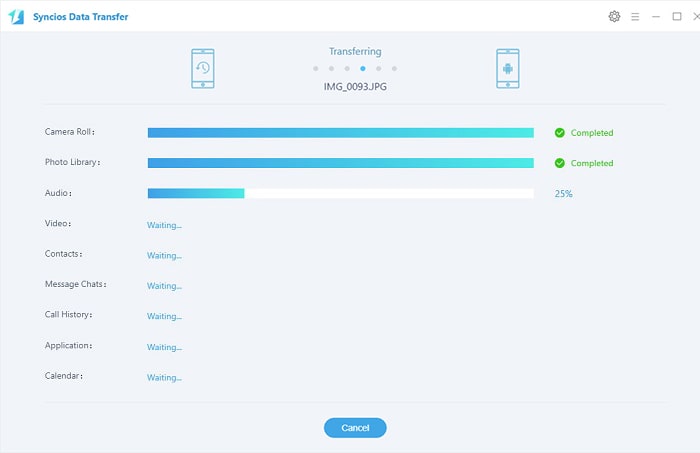 In this post, you've learned how to track and locate your Huawei P30 / P30 Pro as soon as it gets lost. You should read all solutions in detail in case of any loss in the future. You can act quickly once anything happens.