3. Locate Your Lost or Stolen OnePlus Device with PanSpy Mobile Monitoring Solution.
If you don't like both methods mentioned above, do we have any better solution? The last app I'd like to recommend is the most impactful app: PanSpy, a professional monitoring solution provider specializing in tracking and monitoring tools for Android smartphone users. With this handy app, you can locate the target Android device and see the location history of it. Let's see how it work:
1. Sign up a PanSpy account
Similarly, to start with, you need go to PanSpy official website to create an account with a valid Email address, you will find Sign Up button on the upper right corner, click on it and enter an authentic email address & passcode, it will send a confirmation link to your Email address to activate your account after that, simply go to your Email inbox (you may also need to check the spam or junk folder as well) to find the Email, and click on the link to activate your account.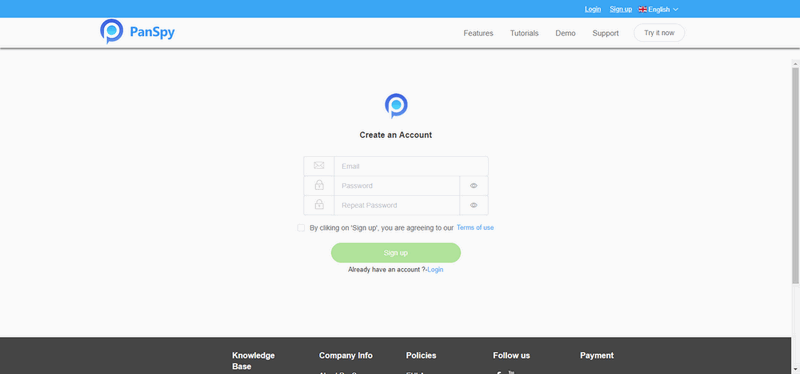 2. Download and install the PanSpy app
After you activated your account, go back to sign in your account. And it will lead you to complete the following setup, click on Next to proceed.
After that, you need to download and install an app, so navigate to your OnePlus device, enter the download link on the browser address bar, download and install the app. Open the app and login your PanSpy account you just created, and follow the instructions given to setup the app. All the important permissions need to be enabled, and you can enable your desired optional permissions. Of course, to locate your OnePlus device, the Location service and Location feature must be turned on. Once you finished all process and started the service, you are allowed to delete the app icon from the screen.
If you have doubt on how to setup PanSpy app on OnePlus device, you can view this video tutorial as well.
Step 3. Start locate the OnePlus device.
Now turn back to your own device or computer and sign in your account to PanSpy console, click on the Location button on the left of the panel. You can view the location of your OnePlus device. And it needs some time to upload new data. The console will upload new data automatically every 30 minutes, you can also sync the latest data by clicking the refresh button. And please noted that it won't upload any data if the device has no network. And it will record the all-time location data of your OnePlus device.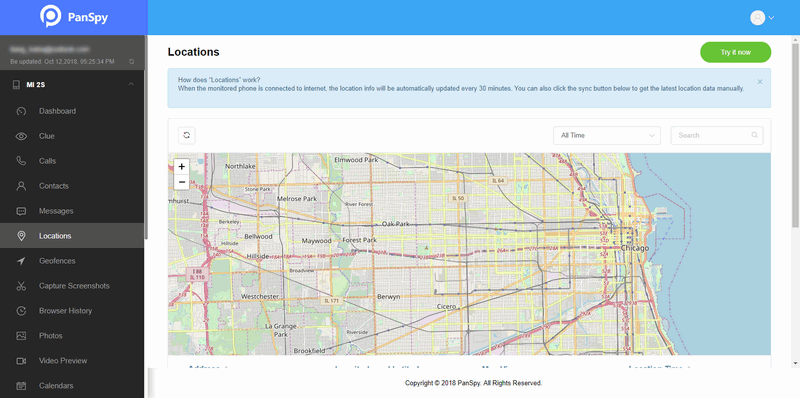 PanSpy also allows you to view all kinds of data on the target device only if you have enabled PanSpy to access them while setting up the app. So if you needs to view the data on the target device or you want to monitor the device at real time, you can have a try.