Mobile phones have become the need of everyone. People appreciate the power of interactive mobile apps that establish mighty connection with underlying mobile environment. GPS is an important functionality every mobile users have on their device, which is why GPS tracking apps have captured fair attention.
It is good to be aware of where your family or loved one is at all times. You should always be certain that your family is safe and protected in any situation. We're here to help. There are several great cross-platform options for location sharing. Here, we will talk about the 6 best android location tracking apps so that you can track someone's location in the most efficient manner.
PanSpy is an all-in-one mobile phone location tracking app for Android aimed at tracking someone's real-time location instantly and easily. Moreover, PanSpy works smoothly over both Android and iOS operating systems. With the help of this location tracker, you are able to monitor recent GPS location on a virtual map, watch through route history and check recent locations of target device. Apart from tracking someone's location, this mobile GPS location tracker also lets you spy on text messages, calls, Snapchat, WhatsApp, web browsing history, website bookmarks, calendar, photo, video, apps, E-mails, etc on target phone remotely and secretly.
Top Features of PanSpy:
Track Cell Phone Activity: Call logs, Messages, E-mails, Document, Calendar, Photo, Video, Apps and more
Track Current Location: GPS, Geofencing, WiFi logger
Monitor Social Apps: WhatsApp, Skype, Facebook, Instagram, Snapchat, Line, Kik, Tinder, Hangouts and more
Remote Control: App blocker, Schedule restriction
Price: Premium version starting from $24.95.
How to Use PanSpy to Track Android Location
Out of all the listed GPS location tracking applications, we highly recommend using PanSpy. It is compatible with both iOS and Android devices and runs in a stealth mode. Now, we'll show you how to use this Android phone tracking application to track your required person's location.
Within four steps, you can start to track someone's location:
Step 1: Create A PanSpy Account.
Click the Sign Up option on the top right corner of this page and enter your valid e-mail to create an account. Then make the password for it. After that, you will receive a confirmation link, simply navigate to your Email address, tap the link to activate your account, then follow the Setup Wizard to complete the following setup process. Choose the operating system that is running on the target device. Here, we are selecting Android.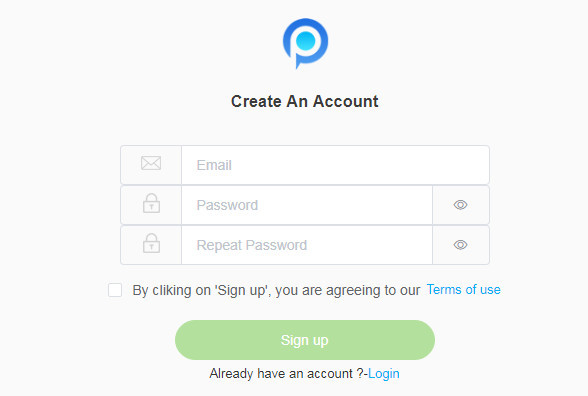 Step 2: Select A Subscription.
Currently, there is an Ultimate Edition available, which supports for 1-month subscription, quarter subscription and 1-year subscription, you can check the here. Select a subscription you want and move on. At last, you can see a control panel on your computer.
Step 3: Install PanSpy App on Target Phone.
After successfully subscribed the service, you will get a download link, simply download and setup the PanSpy app on your mobile device. Login in with your PanSpy account and authorize PanSpy to access data on the monitored mobile phone according to the instructions. Then, you can choose to delete the app icon or keep it on the home screen.
Step 4: Start off with Tracking the Location.
After finished the setup process on target device, turn back to the control panel on your computer. All supported features are listed on the panel so that you can click each category to view the data. To track someone's location, simply click on Location tab on the left side of the dashboard.
Note: for the first time you enter the dashboard or control panel, it takes some time to sync all data from monitored device. PanSpy will fail to sync newest data if the monitored device is powered off or disconnected to the internet.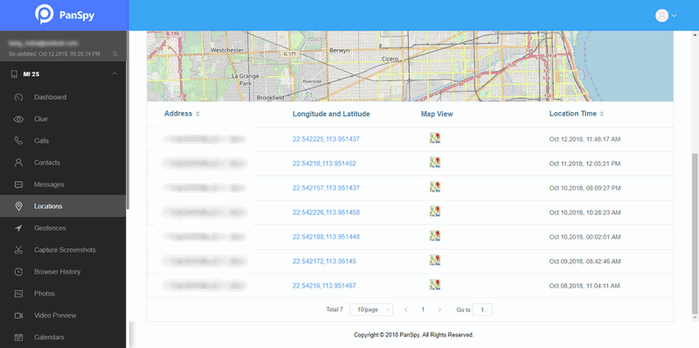 Spyzie is another one of the best popular Android location tracking apps. It's very simple and easy to use when it comes to knowing the whereabouts of your near and dear ones. Besides, it helps you record the messages of the victim, their call log, monitor IM chats, web browsing history, keylogger, GPS tracking, geo-fencing, and a lot more. It is compatible with all the leading versions of Android and iOS.
Top Features of Spyzie:
Provides a real-time location of the target devices.
It has a web-based interface that can be accessed remotely.
Also provides access to device's social media activity and other vital information.
Runs in stealth mode.
Price: Premium version starting from $29.99.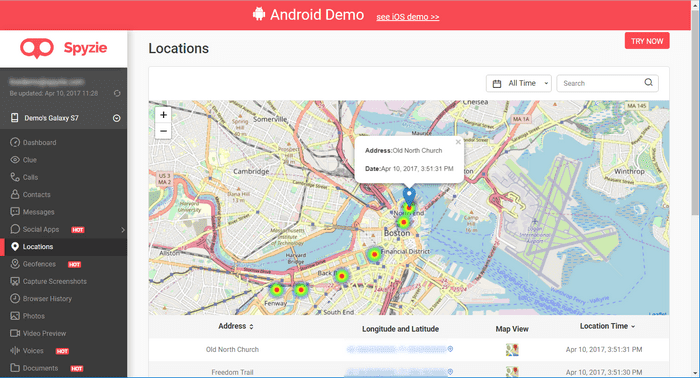 Glympse is a spontaneous all-round GPS tracking app for Android that has unrivalled power to track your location without compromising your privacy. This app is especially ideal for groups of friends or office contacts who only want to temporarily share one another's location. You can easily track a delivery, know the exact location of friends and colleagues, or inform people in your contact about their location.
Top Features of Glympse:
Keeps your privacy intact and uninterrupted.
Helps in business by tracking real-time location of employees.
Customizable settings to enable personalized tracking.
Easy-to-use, intuitive and social interface.
Price: Freely available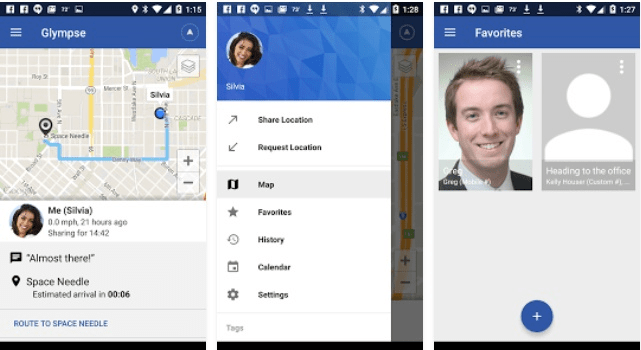 Family Locator, a yet another Android/iOS compatible app, serves as a one-stop solution for tracking the locations of your friends and dear ones by its unique feature of "circle". As well as letting you plot the position of your kids or spouse on a map, it includes integrated messaging features. After installing the app on the devices of your family members, they can easily access each other's location with a single tap on their smartphone. It has ability to sense crash, send emergency messages and size up your driving pattern.
Top Features of Family Locator:
With this Android location tracking app, you and your circle member's locations are shared over a private map.
Has an in-app messaging feature for the circle, you can create different groups for different people.
Group messages for private and emergency communication.
This app gives you real-time updates of your family's locations and destinations.
Price: In-app purchases (starts from $1.5)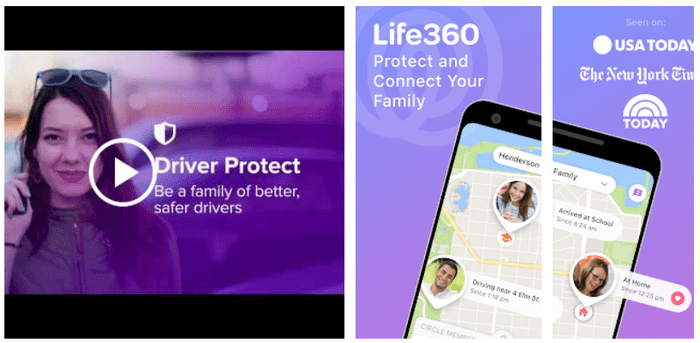 Find My Device is exclusively developed by Google for locating your mobile device. It is fully compatible with almost all Android versions and maintains your information safely. To track someone's location, you need to sign in your Google account and turn on Location Service on your phone.
Top Features of Find My Device:
Misplaced Devices can be easily found from this Android location tracking app.
User-friendly GUI, easy to use. Track the location/ sites without any hassle.
Using its Play a sound feature, you can remotely trigger the device to play a sound so that you can locate it if it is nearby.
If the target device is formatted, it become impossible to track the device.
Price: Free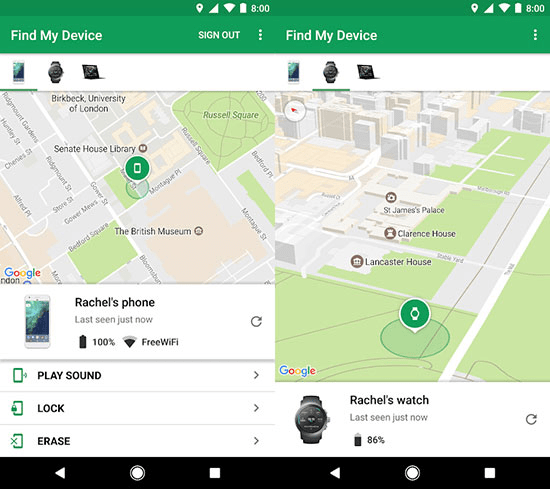 FamiKit is another professional parental control app, which designed for parents to monitor their kids. By installing this app on your kid's device, you are able to know your kid's real-time location, set a GEO-fence, block inappropriate contents and set time limits for your kid. To track your kid's real-time location with FamiKit, you can follow the steps below:
1. Download FamiKit app
Firstly, go to FamiKit official site and find its downloading page, click on the download button to download the app to your kid's device and your own device. And then tap the .apk file to install it.
2. Set up FamiKit app on your kid's device
Open FamiKit app, simply register an account with a Email address. After that, sign in your account and select "Kid" option to continue. And then you need to follow the instructions given to set up the app on your kid's device. After several simple clicks, your kid's device now is ready.
3. Set up FamiKit app on your own device
Now turn to your own device, open FamiKit and sign in the same account you logged in on your kid's device. You will see your kid's real-time location on the top of the main interface. And you can tap on "Features" > "Geofencing" to create a safe area for your kid, you will get notified when he/she left the area.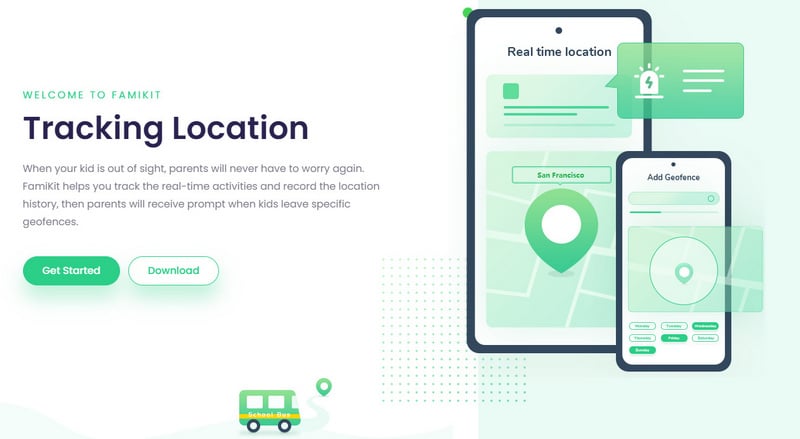 That's it. As you can see, these are some of the best Android apps to track someone's location and you can choose any of them you prefer to locate your needed person's location. If you have any other questions, please let us know.